The Transatlantic Aviation Market Reopens in November and Scheduled Airlines Respond by Cutting Capacity Further!
Global airline capacity has increased week-on-week but remains stubbornly below the 80 million mark with an additional 180,000 seats taking the global total to 79 million (with a little bit of rounding up). A 0.2% increase in seats is at least a positive development compared to recent weeks, but capacity remains 30% below the 2019 level with little hope of an improvement in the coming weeks. The reopening of the United States, at a date sometime in November, may have resulted in a surge of airline bookings but it certainly hasn't resulted in airlines adding capacity as we will highlight later.
Airlines continue to cut more and more capacity to the year-end, with another 13.2 million seats removed to the end of December around the globe. Since the first week of September, airlines have removed nearly 75 million seats to the year-end; that is not the behaviour of an industry full of confidence about the forthcoming winter season, despite the gradual easing of travel restrictions we are seeing in many markets. The capacity pattern for 2021, as shown in the chart below, now has a much more sensible pattern compared to the last normal year of 2019. It looks like 2021 will finish with global capacity of around 3.5 billion, which will be around 8% up on 2020 and around 40% below 2019 capacity levels. Demand may well be more than 40% below the 2019 level as the long journey to recovery continues.
Chart 1 – Scheduled Airline Capacity by Month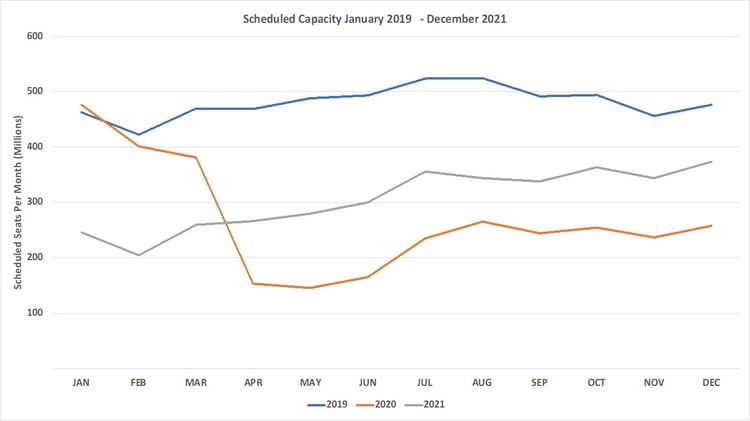 Source: OAG
The major regional markets only report marginal changes in capacity this week, with North America down week-on-week by just 40,000 seats and North East Asia up by over 271,00, as Chinese carriers ramp up capacity for this week's Golden Week holiday that starts on Friday. Collectively these two regional markets account for nearly half of all capacity operated; in the same week in 2019, that share was 43% indicating the increased importance of these two regions.
In percentage terms, the two largest growth regions this week are South East Asia and Southern, both of which have increases of over 7% in week-on-week capacity. As we have noted in recent weeks, the gradual reductions in Europe have continued this week as airlines scale back at the end of the summer season, Western Europe has seen capacity drop by close to 200,000 seats, and in Eastern Europe just over 150,00; further reductions can be expected through October to the end of the summer programmes.
Table 1– Scheduled Airline Capacity by Region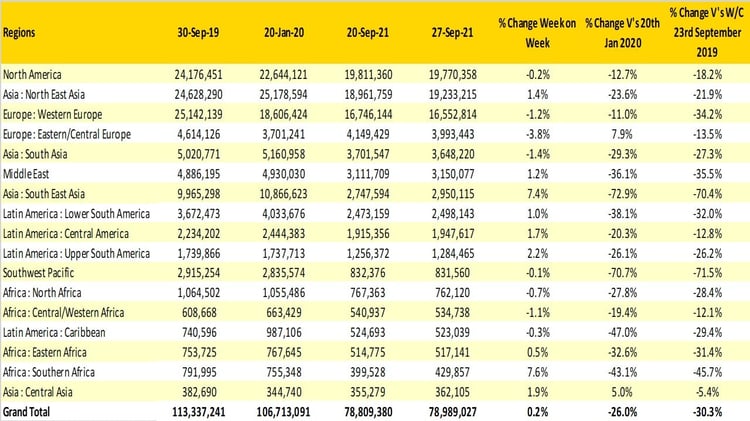 Source: OAG
The top twenty country markets remain unchanged week-on-week. Both Japan and South Korea report capacity reductions of more than 8% week on week but have retained their positions of 7th and 16th respectively, as the only positional change this week is Indonesia, moving ahead of France in the listing.
Table 2- Scheduled Capacity, Top 20 Country Markets
Source: OAG
The big story last week was of course the announcement that the US would reopen in November, with a date and time yet to be specified, which makes the announcement seem like a bit of a PR stunt to avoid any embarrassment from high profile meetings taking place last week at the United Nations. It seems that the 'non-announcement' resulted in a booking rush and expectation that airlines would be adding capacity back at a rapid rate to grab some of that revenue. In fact, week-on-week, many airlines have cut capacity for December as the table below highlights.
Table 3 – Western Europe – United States Scheduled Capacity by Airline, December 2021. Weekly Capacity Changes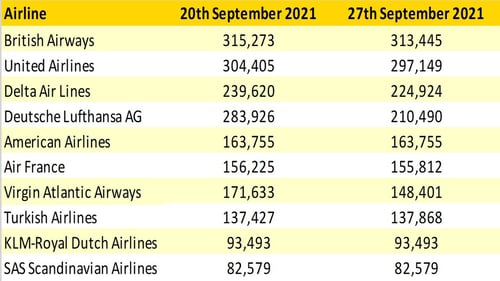 Source: OAG
Several airlines, including Lufthansa and Virgin Atlantic, have cut capacity quite significantly in the last seven days, perhaps hoping to maximise load factors and revenue through a programme of frequency consolidation. Indeed, none of the major carriers have added any capacity, which would seem very sensible given the clarity about a reopening date… Just in case November becomes December.
In the last two weeks, there have been a series of positive developments in various markets around changes in travel restrictions, and each of those has had a positive result in terms of booking activity according to the metasearch companies. However, airlines (in most cases) have been very cautious about such developments, preferring to shave back more capacity and seek to maximise yields through to the year-end. Whilst that may not provide the journalistic sound bite that some would have hoped for, it does seem like a sensible decision on the carriers' side. Has common sense broken out in the airline industry? Only time will tell on that front.
Stay safe everyone.