Traditionally, purple has been a colour associated with kings and in the Indian domestic market, IndiGo appears to reign. The airline has steadily increased capacity over the past few years and in turn gained market share. Today, the airline operates two in every five scheduled airline seats in India. Although there are a number of rivals, none have seen the sort of meteoric growth experienced by IndiGo.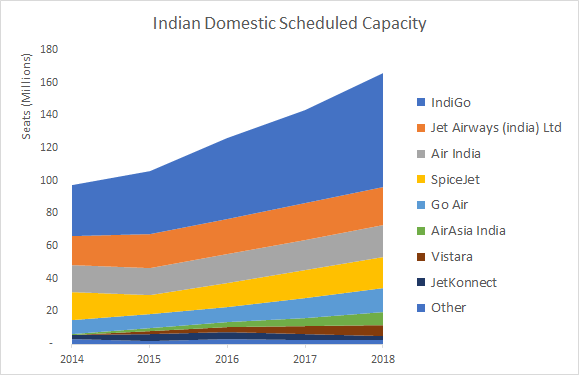 Source: OAG Schedules Analyser
In recent weeks, various domestic competitors have complained of tactics aimed at weakening yields and forcing other airlines out of markets. Indeed, none of Jet Airways, Air India, SpiceJet, Go Air and JetKonnect have been able to match the average annual growth of 22% that IndiGo has managed since 2014.
The difficulty for carriers trying to find a foothold in this market is illustrated by the arrival of AirAsia India. While AirAsia India only operates around 5% of domestic capacity, this is an increase from 0.5% four years ago. While IndiGo has more than doubled the number of routes and capacity operated, AirAsia India has grown by a factor closer to eight making it the fastest growing airline in India's domestic market.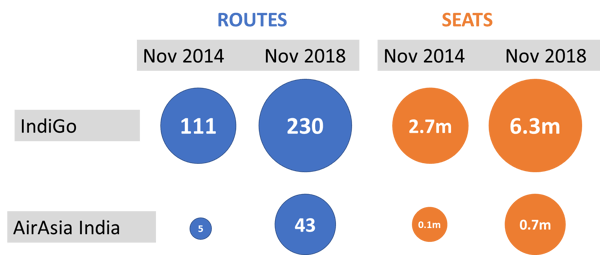 Source: OAG Schedules Analyser
The extent of the IndiGo route network across India means that virtually every new route for an airline, such as AirAsia India, is already operated by IndiGo. Of the 43 routes in the AirAsia India network, all but one appears to compete with IndiGo today.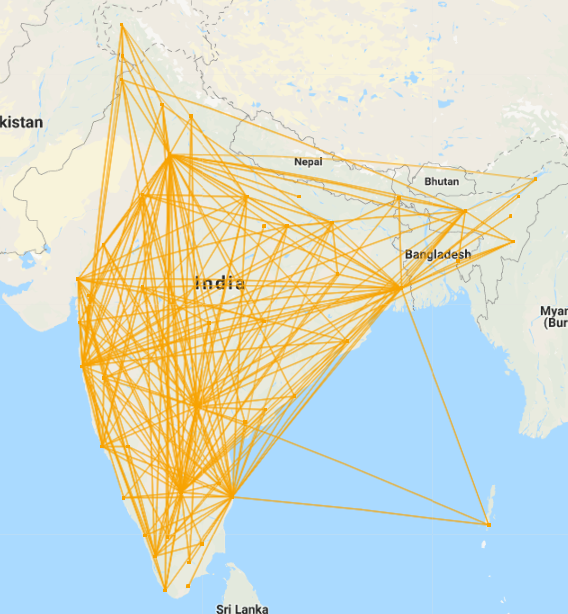 Source: OAG Schedules Analyser
However, as the following diagram shows, AirAsia India does not seem to be daunted by the competition. Rather, a number of routes seem to have been added after IndiGo entered the market, as if they follow where IndiGo leads. They have certainly followed IndiGo's example when it comes to fleet with both airlines operating an all-A320 fleet.
Whatever their strategy, with rising fuel prices and a weak rupee, getting it right will be more important than ever for India's domestic airlines.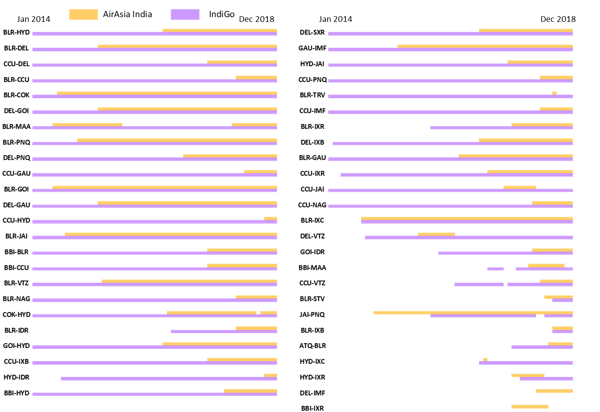 Source: OAG Schedules Analyser
For more insight on the rapid capacity growth of the Indian market, view our infographic.