Emergent markets, new airlines, burgeoning low cost sector, new alliances, partnerships and record passenger volumes. We must be talking about Asia?
We're not! Sometimes we lose sight of remarkable changes happening in other mature markets, where apparently nothing much happens. The transatlantic market is certainly not new, certainly felt like it was mature but in 2016, it has grown by its highest level in the last decade, taking many by surprise. Traditionally we think of British Airways, Air France, United and the other legacy carriers operating highly profitable sectors, full of premium fare passengers and connecting traffic across the two continents. However, the market is changing and changing fast.
2016 has seen three low-cost airlines enter the market with plenty of frequency. Norwegian is no longer new to the market but have expanded its frequency by 44% this year. Westjet's ambitious launch of six Canadian destinations to London Gatwick appears to be delivering better than expected load factors. Whilst of course Reykjavik is now firmly established as a low-cost hub for both Icelandair and Wow. Low-cost long-haul services have tripled across the Atlantic since 2014 and with only a current 3.3% share, there is clearly room for more.
Map – Low-Cost Long-Haul Services 2016 Western Europe – North America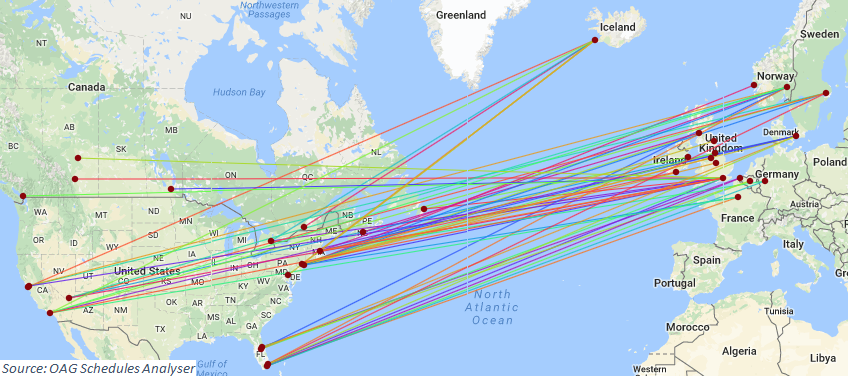 *For a larger image, click here*
Alongside that LCC growth, TAP Air Portugal have literally turned on the tap this year with a near doubling of operations to New York and Miami, building on their new Boston – Lisbon service. Add to that Aer Lingus' and an impressive return to LAX, new services to Hartford and Newark; Air Berlin adding services to San Francisco and Boston and SAS following Norwegian to Florida and California, and there is a lot happening.
The transatlantic market may be old but in its own way 2016 may well represent a breakthrough year for low-cost long-haul services. However, only 2017 will tell!