The biggest airports often get the most attention but, as our recent North America's Airport Leaders 2019 report demonstrates, there are great things happening at some of the continent's smaller airports. Among the Medium airports (0.05%-0.24% of total airline seats) and the Small airports (more than 10,000 seats but fewer than 0.05% of all seats) we noticed a handful of Canadian airports which are seeing rapid growth.

Among these was Toronto Hamilton Airport (YHM), situated at the western end of Lake Ontario and equidistant from downtown Toronto and Niagara Falls. Between the 12-month period to the end of May 2018 and the most recent 12-month period, airline capacity grew by 54%, remarkable for an airport of this size in a relatively stable market and with a major competitor just up the road. Similarly, Abbotsford Airport, not far from Vancouver, grew by 43%. Abbotsford is located just 63km from Vancouver but also competes for airline business and passenger traffic with Bellingham which is only 29km away across the border, and possibly Seattle too.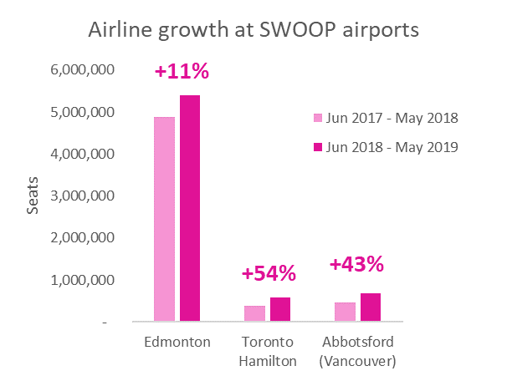 What these airports have in common is that Westjet's new ultra-low-cost carrier SWOOP has decided to fly from each of them, demonstrating how fast the landscape can change for a small-to-medium sized airport given the right carrier.
Even Edmonton Airport, classed as a Large airport, and significantly bigger than either Hamilton or Abbotsford, has seen the effect on total capacity as a result of Swoop's sudden interest, with the number of outbound airline seats rising by 11% year-on-year.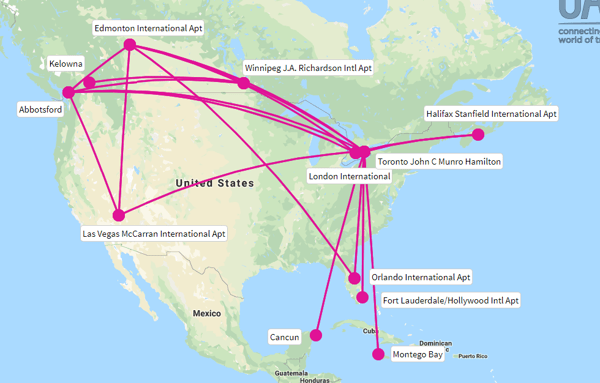 Swoop has been building its network across Canada, and although it focusses on point-to-point services, its choice of airports is well considered. Frequent flights to both Edmonton (YEG) and Winnipeg (YWG) potentially allow self-connecting passengers to take international flights from these airports – and both airports feature in the Airport Leaders report based on their position as gateways beyond Canada.
Then there are the flights south, enabling Canadians to escape the winter or enjoy the summer sun: Las Vegas, Cancun, Florida, Montego Bay.
Therefore, the Airport Leaders report categorises Toronto Hamilton Airport as a Trailblazer, one of the medium sized airports with the highest number of new routes added. There must be many airports of the same size wishing and hoping for airline interest that would allow them to more than double the number of destinations served.
Clearly these airports – and the communities they serve - are benefitting from the new services which SWOOP brings. The market is being stimulated by the availability of low and bundled fares, but airports are not passive recipients of air services. No doubt each of these airports will have worked to ensure that the product they offered met the needs of their new customer and invested in building that relationship. It takes two to tango, as they say.
Download the full report here