---
In July 2019, Spirit Airlines issued an Investor Update which explained how some of the changes it had been making to its network had made it somewhat less resilient in the face of more adverse weather challenges than had been expected. New routes, increased aircraft utilisation, lower levels of pilot reserves meant that recovery when flights were delayed or cancelled due to bad weather was tougher and passenger service suffered. Efforts would be made to play around with the business model to reverse the slide in what the carrier refers to as 'guest experience'.
Three months later at the start of September, Category 5 Hurricane Dorian ripped through the Bahamas with speeds of up to 295km per hour, causing catastrophic damage. Spirit has now reported that the hurricane has cost it $25 million in third quarter revenues following the need to cancel 768 flights. While every airline operating in the area has to proactively cancel flights, OAG flight status data shows that the hurricane had a greater relative impact for Spirit which cancelled 4.8% of all flights in September, compared to 2.3% for United and JetBlue, and just 1.6% for Southwest and 0.4% for Delta. As a consequence of this, as well as softer yields in the market generally, according to the airline, the carrier is now expecting revenue per ASM to be lower than the figures previously given to investors.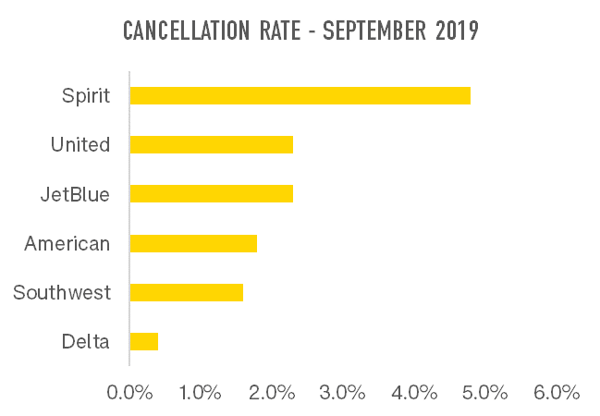 Source: OAG Schedules Analyser
So, on the face of it, it has been a tough six months for Spirit. While OAG can't forecast the weather going forwards, we can continue to monitor how the airline is changing the way it operates.
Spirit Airlines has a unique operating model. Combining a fast-growing network of low fare point-to-point routes operated on a low frequency basis, with almost 50% of revenue coming from ancillary sales[1]. The airline itself reports that it expects what it calls 'non-ticketed revenue recovery' to be in the order of $56-57 per flight segment in 2019 so the business model is about much more than just getting the route network right and the price of seats right.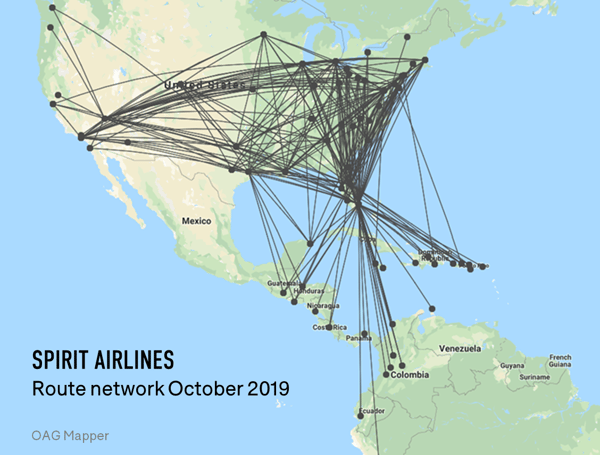 Fast-growing is a phrase which can definitely be used of this airline. In October 2019, the carrier will be operating flights on 268 routes across the United States, and into Latin America. This is 46 more than in October last year, so an average of nearly one new route each week. The number of flights has grown by 23.3% in a year, and Spirit says it seems plenty more opportunity in the market for continued growth. However, for any airline to grow at this pace brings operational challenges in itself, and adverse weather only compounds those.
Across the network, the average route is operated with just 2.24 flights per day. That's only just over one flight in each direction. A dozen or so routes have three or more flights in each direction, but this is very clearly the minority of routes. A total of 202 routes have exactly 2 flights each day, one each way, or fewer.
Although the airline pointed to progressively shorter routes, with less buffer to aid recovery, as one of the causes of poor performance earlier in the year, it doesn't appear that there has been a change of direction with regard to the type of routes being flown. The average stage length of the routes Spirit operated at this time last year (October 2018) was 1672km. This is now 1627km, so there is a clear move towards shorter stage lengths. This might seem a small difference, just a 3% reduction, but implemented over a single year shows that the airline still seems to be pursuing shorter routes.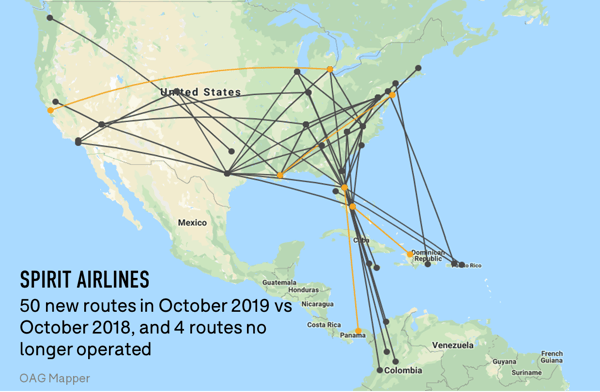 The addition of routes such as Las Vegas (LAS) to Sacramento (SMF), which is the busiest of the new routes, with 3 flights each way each day, contributes to this average reduction in stage length given it's a flight of less than 650km.
The problems earlier in the year came to prominence in the on-time performance figures for the airline. OTP declined between March and August 2018 as the skies typically get busier through the summer period, and the same pattern has been exhibited this year. However, through 2019 OTP has been poorer in every single month compared to the same month last year. June 2019 was particularly bad with OTP falling to 71.4%, according to OAG flight status data. In contrast, in June the airline had managed to operate 79% of flights on-time. A small improvement in July was followed by an even lower OTP of 70.8% in August.
For comparison, the average on-time performance for the Top 5 US carriers saw an improvement every month between January and June this year, compared to the same month last year. Although in the subsequent three months, their average OTP was below last year's, they did not see the sharp drop that Spirit experienced.

Over the year to August 2019 Spirit moved from being the best for OTP in this group to being towards the bottom.
September's improvement in OTP is therefore all the more important. The proportion of flights which were on time rose to 83.6%, which was within striking distance of the OTP for September 2018 which was 84.9%. September's results are all the more impressive as cancelled flights are included in the OTP figures.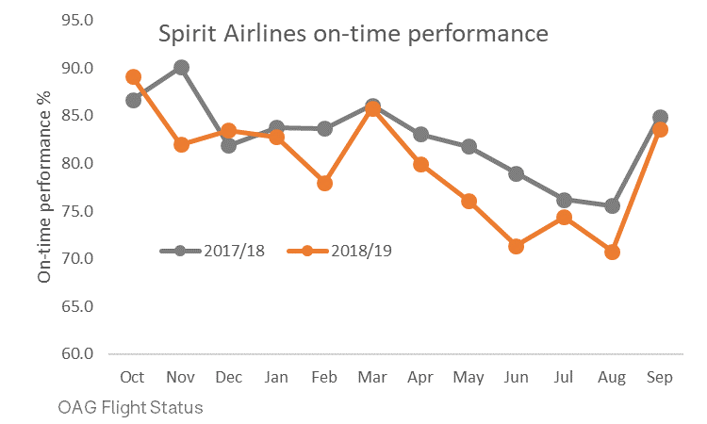 With Spirit due to release its third quarter results later this month, it will surely be pointing out to investors the improvement in on-time performance as an indicator that it knows how to make the adjustments necessary to meet both their expectations and those of their passengers in the air.
[1] 2018 CarTrawler Yearbook of Ancillary Revenues shows 46.6% of total revenues at Spirit Airlines were derived from ancillary sales, the highest share of any airline reported.