Aviation is full of great iconic airline battles, it's what makes the industry so fascinating; unless of course you are an airline CEO. Battles for dominance of airport hub and markets take place every day whilst smaller skirmishes over product quality and scheduling take place in those many "moments of truth". Those battles generally take place in mega cities such as London, New York, Hong Kong, Tokyo and Singapore…and now you can add Sofia to that list.
Sofia, a relatively small market by any standards is hosting the first real "coming together' of two of Europe's mega low cost airlines; Wizzair and Ryanair. It's looking like an interesting meeting! The chart below shows the Summer season capacity at Sofia for the last decade; some growth, some declines but nothing spectacular or abnormal from a typical capital city in Europe; well until this summer.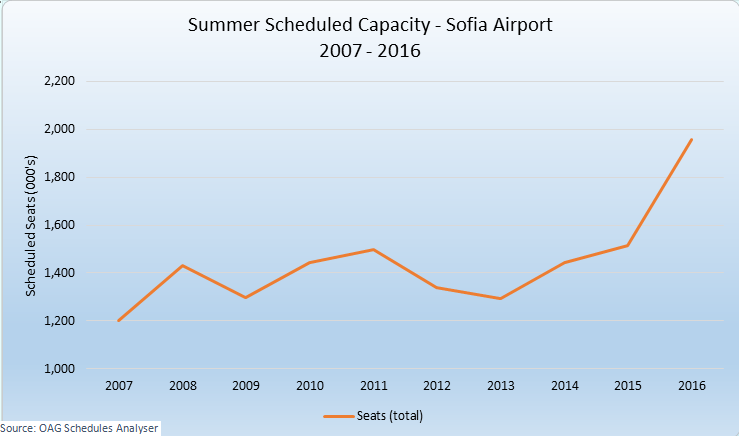 Since 2014, scheduled frequency has increased by 28% and capacity by a staggering 36%. Over the last two summer seasons, Wizzair has increased capacity by 68% and is now the leading scheduled airline at the airport, serving 31 city pairs compared to 17 in Summer 2014. Whilst Ryanair in its first summer of scheduled services operates to 18 city pairs and have in its first season of operation risen to fourth in the list of top airlines at the airport.
All of which leaves the locally-based carrier, Bulgaria Air's recent expansion of capacity of 23% over the last two years look conservative despite it representing its largest phase of expansion over the last decade. Now serving some 30 city pairs from Sofia, the timing of its expansion is perhaps not ideal given the flexing of capacity from its two main low-cost airline rivals.
Undoubtedly, both Ryanair and Wizzair will have maximised load factors through the summer as only such focused low-cost carriers can; the impact on other airlines performances is not yet quite so clear. Summer 2016 may be a "breakthrough moment" for Sofia, increased capacity, a greater range of city pairs served and more competition are great and provide opportunity for perhaps longer-haul ambitions to be realised.
Summer 2017 may be even more interesting as both the dust settles and each carrier reflects on their success or wounds.