The global Skift Travel Health Index stands at a new record high of 106 points for September 2023. Keep reading for insights from the Skift team in the Skift Travel Health Index: September 2023 Highlights.
OAG helps enable Skift's Travel Health Index by providing flight data (powered by OAG Metis). The Index records travel performance along with other key data points and is a vital source to track the travel industry's recovery from the COVID-19 pandemic.
The Skift Travel Health Index is 106 in September 2023.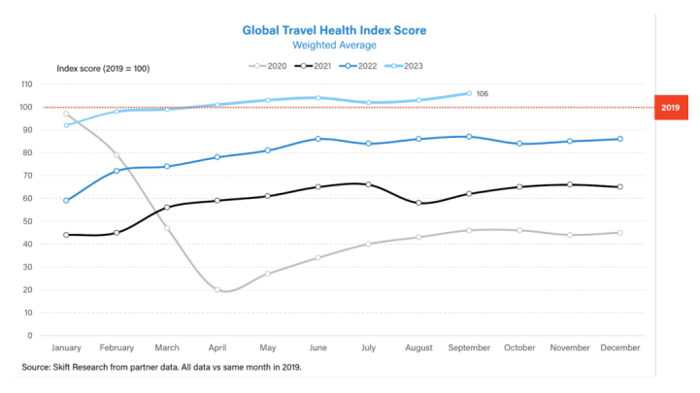 Highlights from this month's Skift Travel Health Index include:
Argentina and China lead the charts but all regions registered growth over the previous month.
Performance across all travel sectors is on an upward trajectory. Hotel performance did experience a 2-point dip this month, but is still 9pp above the same month in 2019.
The aviation sector has improved by one point over August 2023, from 95 to 96 points.
" The Skift Travel Health Index stands at 106 this month, achieving a new record high. However, there is a disparity in the performance of several countries in the Asia Pacific, suggesting that efforts to attract Chinese travelers to nations dependent on inbound tourism may be progressing at a slower pace than anticipated." - Saniya Zanpure
Download the latest Skift Travel Health Index Highlights here
---
Related OAG Content: