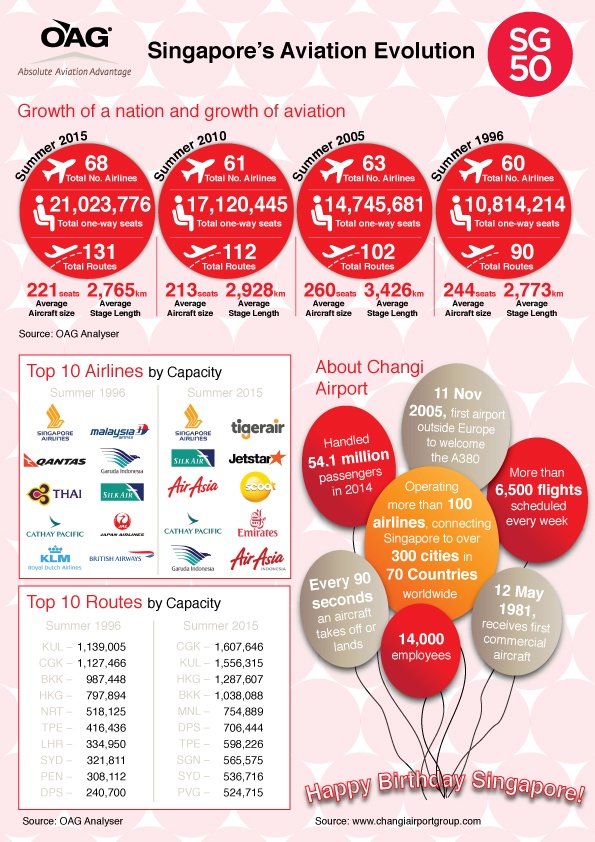 With Singapore set to celebrate 50 years of independence this weekend we take a closer look at Singapore's aviation growth and in particular, the stats and stories behind Changi Airport, using our Schedules Analyser product.
Using each summer season as the backdrop, we've reviewed the numbers and in the last 20 years in particular, we've witnessed incredible growth at Changi.
The total capacity has almost doubled since the summer of 1996 with the number of routes increasing by almost 50%. There are also a few indicators here that highlight the rapid expansion of low cost services in the region.
As Singapore started to develop further as an intercontinental hub during the 90s, the average stage (flight) length grew to almost 3,500km and in every year, apart from 2008, it has been decreasing since. This is in no small way reflective of the rapid rise of LCCs in the South East Asia region. Looking further, we can see the impact in terms of the airline brands now dominating the top 10 at Changi Airport. Half of them in 2015 are LCCs.
In 2014 Changi handled 54.1 million passengers, ranking it 16th in the world, being served by over 100 airlines (passenger and cargo) – however growth has been slow in the last 3 years. Other airports in the region have seen faster growth as they take advantage of much larger home markets becoming more mobile and, with ever changing airline dynamics, Changi has been losing some of the vital transfer traffic that helped transform into what it is today.
Changi has certainly developed into one of the leading hubs in the world in recent years, and as Singapore celebrates 50 years of independence, and Changi having ambitious growth plans of its own, it will be fascinating to see how both the nation and aviation evolve in the coming years.