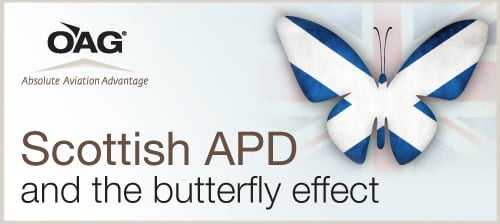 With election fever about to take over the UK in the coming weeks, there is a decision looming post election which may change the shape of the UK aviation industry.
Control over APD has been offered up to the Scottish Government as part of a post referendum settlement, and the next term of government will see the legislation put in place in Scotland to make this happen. To what extent APD will be reduced in Scotland is not yet clear, but the expectation is that this may be by up to 50%, giving Scotland's airports and airlines a clear advantage over other regions.
APD in the UK is one of the highest passenger taxes in the world, second only to Chad, and provides the UK Treasury with nearly as much revenue as is raised by inheritance tax. Scotland is not the first country in the United Kingdom to receive special treatment – APD was devolved to Northern Ireland in 2012 when passengers voted with their feet and started usingDublin Airport to connect to the United States rather than Belfast when Ireland reduced their tax regime in 2011.
Whether we see a surge of passengers flocking north of the border to Scotland, or whether a reduction in APD generates new demand, is as yet unclear.
What is likely is there will be greater pressure on the UK government to consider the impacts of these changes on the rest of the UK, particularly in the north of England.

Click here to read OAG's thoughts on the case for APD and what impact this change might have.