The first direct service from Kigali, Rwanda to London starts at the end of May with a four-time weekly A330 service operated by RwandAir. It's a brave, bold move for the airline to launch such a long-haul sector but also a reflection of how fast the market is developing.
The summer 2017 season will see an impressive 23% increase in capacity as services to London and Mumbai are opened, and capacity to Johannesburg, Libreville, Nairobi, Lagos and Dubai significantly increased. Leading the growth, unsurprisingly, is Rwandair Express, operating 550 additional scheduled flights this summer compared to last year as it expands its fleet with the addition of A330s.
Geographically, Kigali is perfectly placed to develop into a hub facility for the African Continent with long-haul connectivity to some of the major international cities that provide both local and 6th Freedom connecting opportunities. Landlocked, with a largely under-developed ground transport network, and an aspirational population of some 11.6 million, air service development is an important element of an economic recovery story rarely seen in Africa. Annual GDP growth is running at 7%, a national strategy that seeks to transform the country from a low-income agriculture-based economy to a knowledge-based service-oriented economy. With tourism at the heart of the modification, there are strong foundations for transformation.
Connectivity has always been challenging in Africa; a mix of low frequency services, small market sizes and regulatory challenges have frustrated many attempts in the past at such development. And, with the notable exception of Ethiopian Airways, such ventures have frequently failed to survive beyond their initial start-up phases. Analysis of the current three longer-haul market sizes highlights the scale of the challenge with some 30,000 bookings in 2016 on the already operated DXB route, of which one-third travelled via an indirect point, whilst the currently unserved London market is 12,000 and Mumbai 4,000 bookings.
Map – Kigali Network map, June 2017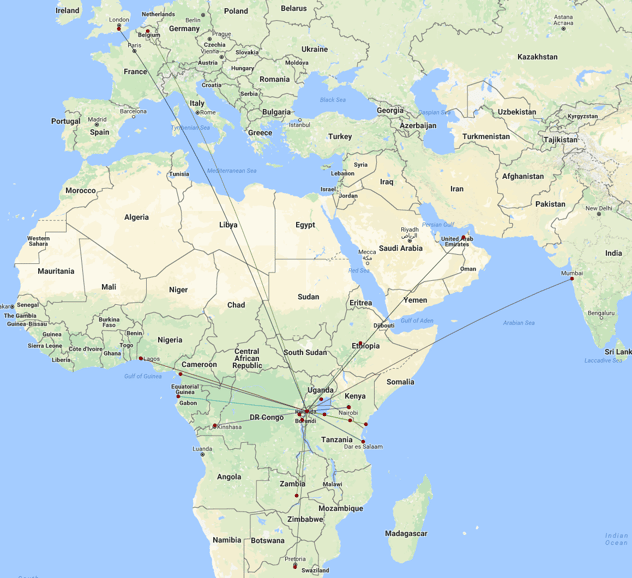 Source: OAG Schedules Analyser
There is undoubtedly a requirement for a central African regional hub that is carefully constructed over-time; if it happened to be a low-cost centre as well, then even better. When woven into a major programme of economic change, the chances of success are higher and perhaps that aligned thinking will allow Kigali to develop into such a position.