Just one year ago the aviation industry was in a very different position from where it is now. Lockdowns and restrictions on travel were still in place across many parts of the world and across the industry, resources were limited as aircraft had been parked up and decommissioned during the pandemic, and many people left the industry in search of alternative employment.
The re-opening of air travel began in earnest in April 2022, and this really brought into focus the challenge ahead for the industry as bookings came flooding in, including those for sometimes twice postponed trips. Airports and airlines began to gear up for the great travel recovery. Two years of pent-up demand ensued, with many not having travelled by air since 2019 and families and friends began to plan how they might be reunited with their loved ones.
What followed was one of the most challenging periods for the industry across many parts of the world as airports and airlines attempted to facilitate the huge demand for travel, and match resources to demand. Operationally, most in the industry would agree that the 2022 summer season is not one they would want to repeat. Early in the summer, it became evident that there were just not enough people to enable normal operations to take place at the pace the new demand for travel was setting - a resourcing crisis was underway.
Across Europe, North America and Australasia - where recovery was fastest as countries reopened and travel resumed - operational performance struggled. There was a degree of tolerance from travellers, who to some extent were just glad to be in the air again, however, this goodwill was sorely tested as the experience of travel in 2022 was characterised by long queues in airports, missing bags, and delays or cancelled departures. In an unprecedented move, airports across Europe imposed capacity restrictions in an attempt to manage operational performance.
Looking at OTP (on-time performance) by region highlights the gap between Latin America and North America. Carriers in Latin America managed to operate eight out of ten flights on-time, compared to North America where only seven of out ten flights performed on-time. Both regions have reached a similar level of flight recovery, with 2022 frequency sitting at 14% lower than 2019 in Latin America and 15% lower in North America. Cancellations in North America were very low, with an average of just 0.03% flights cancelled in 2022.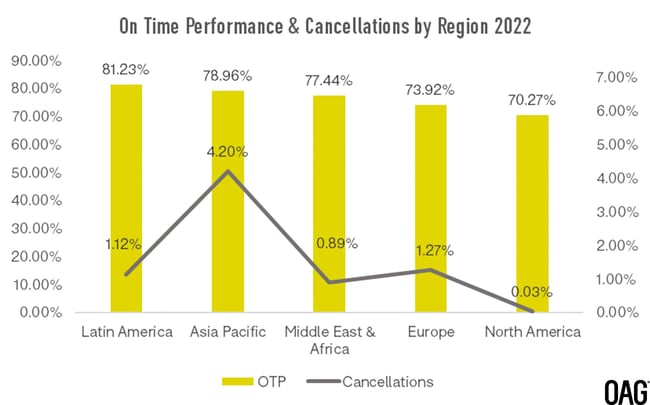 Source: OAG
Europe has also experienced a difficult year, with OTP running just below 74% in 2022, and cancellations second highest after Asia Pacific, with 1.27% of flights cancelled. This is down a few percentage points from the European average in 2019, when OTP was 76.97%.
In 2022 cancellations ran highest in Asia Pacific, impacted by ongoing lockdowns in China, and a slower re-opening across the region compared to others. Notwithstanding this, OTP across Asia Pacific was second highest, at nearly 79%.
As we embark on a new year, airlines and airports will be hoping that 2023 brings more stability and certainty than recent years.
Learn more about individual airline and airport OTP in OAG's 2023 Punctuality League.