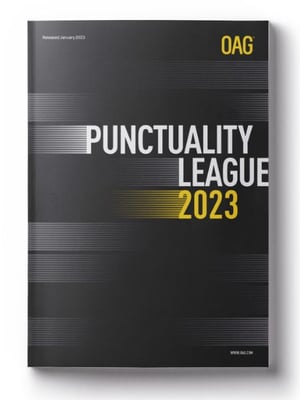 on-time performance for the world's largest airlines and airports
Analyzing the full year of flight data from 2022 (1 Jan – 31 Dec 2022) discover the world's most on-time airlines and airports.
The Punctuality League reveals on-time performance rankings for airlines, including the Top 20 airlines worldwide, the Top 20 Mega airlines, the Top 20 low-cost airlines, and the Top 10 airlines by region. On-time performance for airports includes rankings for the Top 20 airports worldwide, the Top 20 Mega airports, and the Top 10 airports by region.
Download your free copy now by completing the form.
Why is my airline/airport not included in the Punctuality League?

To qualify for inclusion in the OAG Punctuality League, OAG must have flight status data for at least 80% of all scheduled flights operated by the airline or airport.
Are flight cancellations included in the OTP (On-Time Performance) data?

Cancellations are included within the OTP (On-Time Performance) calculations and are counted as late flights.
What is OAG's definition of OTP (On-Time Performance)?

Flights that arrive or depart within 15 minutes of their scheduled arrival/departure times.
Which airlines are included?

Airlines included have been ranked among the largest global 250 airlines by annual ASKs (Available Seats Kilometres).
How is airline OTP calculated?

Airline OTP is based on arrivals data only.
Which airports are included?

Airports that have a minimum of 2.5 million departing seats a year are included in the report.
Are cargo flights included?

No, the report only contains data for scheduled passenger flights only.
How is airport OTP calculated?

Airport OTP is based on both departures and arrivals.
Download
Punctuality League 2023

to see the full criteria. If you have any further questions please email otp@oag.com