In June 2022, British citizens had an extended bank holiday weekend to celebrate the Platinum Jubilee of Queen Elizabeth, the first British monarch to reign for 70 years. . . Although OAG was founded well before 1952, it's made us think back to how far aviation has come in that 70 years. An era that has seen travel and aviation grow and innovate unlike any other point in time.
1952: The First Commercial Jet Plane Service
As the new Elizabethan age began, so did the era of scheduled jet air services. A British Overseas Airways Corporation (BOAC) aircraft became the first jet plane to enter commercial service, flying passengers between London and Johannesburg. Operating a four-engine de Havilland Comet with 36 seats, the aircraft took almost 24 hours to make the journey, stopping five times for refueling en route, at Rome, Beirut, Khartoum, Entebbe and Livingstone and changing crew at both Beirut and Khartoum. The first return airfares were £350.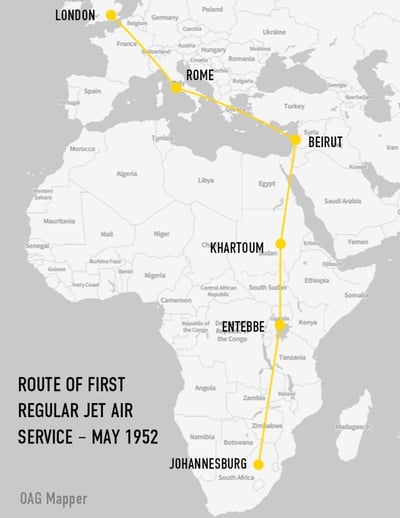 Of course, BOAC was providing regular air services well before this, just not on jet aircraft, as were a raft of other airlines. The world of commercial was about 30 years old by 1952 but jet aircraft were new. The Comet didn't last long, as BOAC ordered the new Boeing 707s a few years later. The BOAC name disappeared with the merger of British European Airways to form British Airways in 1974, but Boeing went from strength to strength and in May 2022 the manufacturer is responsible for the aircraft operating 38% of all flights.
While the original commercial jet service between London and Johannesburg took almost a full day and night, today's flying time is around 11 hours. Over the 4-day UK holiday weekend for the Platinum Jubilee, there will be 16 non-stop flights back and forth between London and Johannesburg, covering the 9,078 kilometers each way and carrying thousands of passengers back and forth. Remarkably, return airfares are available today for not much more than twice the amount paid in 1952.
The 'Jet-Set'
With regular passengers who often boasted celebrity status, air travel had become a glamorous affair- the year of 1964 even saw The Beatles, snapped in a now iconic photograph, leaving a Pan Am flight in London. It was to those affluent enough to travel on commercial jet airliners, that the newly-invented term 'jet-set' was attributed.
From the 60s onward a new golden age of travel was emerging. London Heathrow, now the busiest airport in the world, was officially born (with a renaming from just London Airport in 1966). Innovation continued and in the 1970s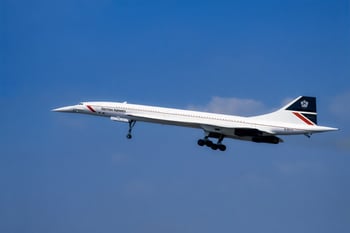 Concorde arrived with the first simultaneous commercial flights to the US leaving Paris and Lond
on in 1976. A year later Laker Airways started long-haul low-fare flights between London Heathrow and New York, and though the airline did not ultimately survive they pointed to a low-cost model of flying which has become commonplace.
The Queen celebrated her Silver Jubilee Year in 1977 with her first trip on Concorde, and the plane was also used for trips to Barbados in 1987 and 2003, as well as for a visit to the Middle East in 1984 and to the United States in 1991.
Flying Into History
OAG's Analyzer contains historical flight data going back to 1996. Back then there were already 16 million flights powered by jet engines annually, and the number grew steadily, peaking in 2019 at 32.5 million but with small dips following the events of 9/11 in 2001 and again following the financial crash of 2008. The number of flights by jet aircraft grew by an average of 3.4% each year between 1997 and 2019 before the global pandemic hit and the number of flights fell by 43% in a single year.
This shock was like no other before it and took the number of flights back to the level they had been in 2003, losing 17 years of growth almost overnight.
Just as with the other periods of disruption, a travel recovery is on its way, and the airline schedules for the full year of 2022 point towards a total number of jet-powered flights close to 28 million.
Jet travel is no longer for the jet-set, but is commonplace and used to keep families in touch, for commuting and to ferry the world's travellers back and forth to their holiday destination. Global tourism couldn't exist without the jet aircraft. Every day this month around 77,000 aircraft powered by jet engines take off from airports around the world, with enough room for around 12.8 million people. That's enough capacity for the entire population of a city like Kinshasa or Guangzhou or Los Angeles to take to the skies every day.
---
Recommended:
Updated: 02.11.2022