A busy week for the aviation industry sees the good and great meeting at the Dubai Air Show discussing everything aviation and of course placing orders for new aircrafts in support of the recovery. Meanwhile in Rome, the IATA 149th Slot Conference is taking place with airlines putting down their early markers for what should be a very strong second half of 2022.
Both events are symbolic steps on the road to recovery, symbolism is great, but we always need to remain mindful of the flight data, so what do this week's numbers tell us?
Weekly airline capacity has crept up this week to 76.4 million, an increase of just under 1% on last week (although still frustratingly -28% on the same week in 2019). Positively at least the numbers are not going backwards, which is more than can be said for the forward-looking period through to the end of February 2022. Scheduled airlines have cut capacity by 8.4 million this week through to the end of February; some of which is the normal tidying up process, but some airlines facing a shortage of resources are already cutting schedules for the first quarter of 2022. Especially in North America where crew shortages are becoming a real issue as we head towards the holiday seasons.
Chart 1 - Weekly Capacity Changes by Region, Forward Quarter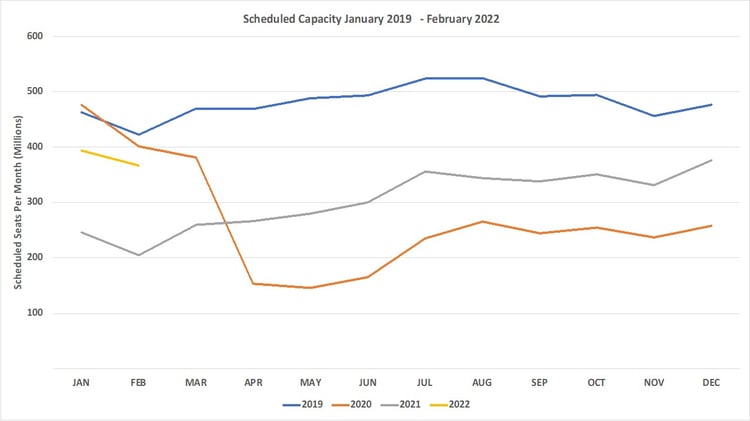 Source: OAG
South East Asia is the fastest-growing regional market week on week as more and more positive announcements are made in the region. Thailand is already open to most international visitors, Cambodia made a similar announcement over the weekend, Malaysia is confident of reopening before the year end and Singapore has once again expanded its Virtual Travel Lanes adding Malaysia to the list. All of the good news is much needed, the region remains at just one-third of its normal capacity level and has a very long way to go on its journey to recovery with many markets currently operating a greater proportion of long-haul services than regional flights, a very odd situation.
North East Asia continues to be below recent weekly averages as the Chinese authorities continue to lockdown major cities as they contend with the latest Covid-19 outbreaks. At the beginning of the pandemic Chinese airlines "successfully" refocussed their networks to almost pure domestic operations and there appears no urgency to bring back international capacity any time soon with no plans for expansion before the Winter Olympics in February 2022 and rumours of at least another year before any real change in international access. The impact on surrounding regional markets by that point will be huge and the ultimate pent-up demand probably larger than anything we have witnessed so far.
Airline capacity in North America is once again growing as airlines begin to schedule more capacity ahead of the Thanksgiving week which will in turn stretch the resources of all carriers. Fortunately, the last few weeks have seen most airlines scaling back capacity suggesting that they have been carefully planning resources for the next fortnight; let's hope that is the case!
Table 1 – Scheduled Airline Capacity by Region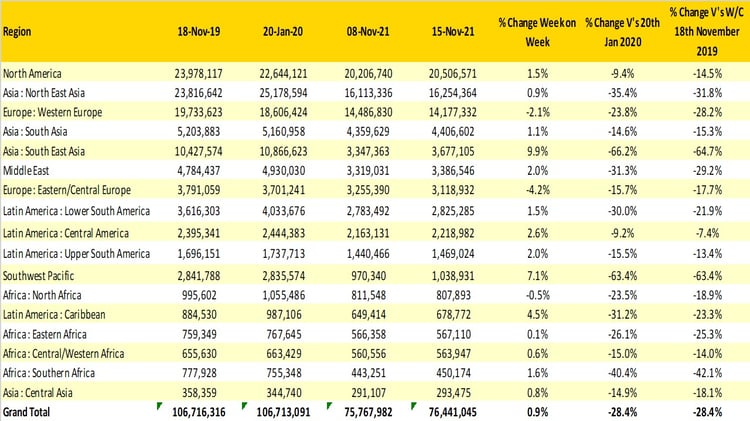 Source: OAG
The top twenty country markets remain unchanged and collectively these countries account for 60.7 million seats a week or 80% of current global airline capacity; in their own way supporting the 80:20 rule! Two of the standout markets through the whole pandemic have been Russia and Mexico where a combination of large domestic markets and limited international travel restrictions allowed airlines to operate most of their networks. Mexico remains at around 97% of its pre-pandemic capacity levels and Russia at 93% although in the case of Russia recent outbreaks of Covid-19 has resulted in some capacity being cut.
---
Recommended:
Is China's Zero-Covid Strategy Sustainable?
Thanksgiving Gifts as Airline Recovery Continues
Webinar: Sout East Asia - Rebuilding International Growth
---
Most country markets in Western Europe this week report slight capacity reductions with France leading the way with just over 85,000 fewer seats on offer, Germany some 29,000 fewer and then the United Kingdom some 18,000 fewer seats. All of which now makes the United Kingdom the largest country market in Western Europe and even more surprisingly puts the country in the global top 10; even when capacity remains at just two-thirds of its pre pandemic levels; that probably says more about other markets as much as it says about the UK!
Table 2 - Scheduled Capacity, Top 20 Country Markets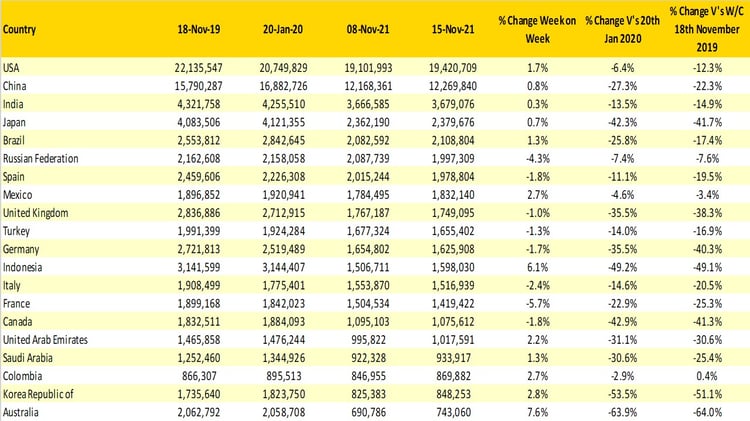 Source: OAG
The list of top twenty global carriers has a very familiar look this week although there is some movement in the middle of the rankings. With the US based low-cost carriers ramping up capacity ahead of next week's holiday period Spirit have jumped ahead of carriers such as easyJet, Air France and Emirates into 14th position which makes them the equivalent of Brentford in the English Premier League which sounds a perfect parallel!
The largest week on week capacity cut across the top twenty airlines came from easyJet who cut capacity by nearly 8% dropping around 75,000 seats which now makes the carrier about one-third the size of Ryanair. At the beginning of the pandemic easyJet were two-thirds the size of their fiercest competitor and like many carriers with a heavy reliance on the UK market have been slow to recover those capacity gaps; gaps that will probably remain until at least the Summer of 2022.
Table 3 – Top 20 Scheduled Airlines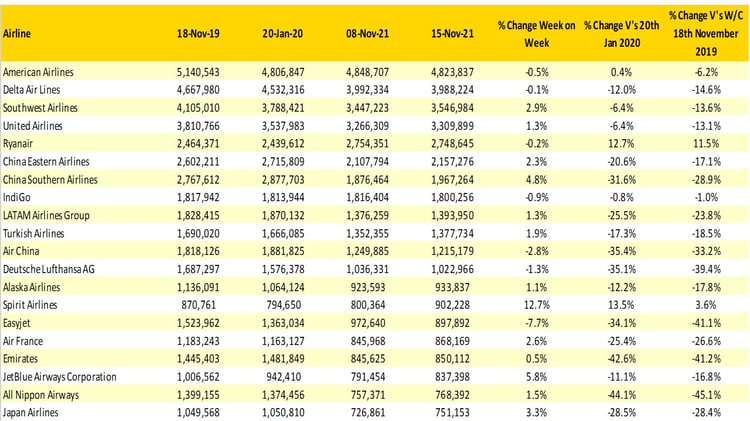 Source: OAG
With lots of positive messages around markets reopening and airlines clearly confident (or petrified of missing out) placing new orders for aircraft in the coming years it feels like the industry has at least crawled out of the pandemic and is beginning to take small steps forward each week. We cannot expect all the good news to translate into more capacity being added soon in most markets; there are already too many seats chasing too few passengers for additional capacity to be required before the Summer 2022 IATA season. Against that backdrop our expectation remains for global capacity this year to be around 3.6 billion seats allowing for a little capacity shakedown to the year-end; in 2019 global capacity was 5.8 Billion; reaching that capacity point before late 2023 looks extremely challenging!
Stay safe everyone!