As we continue our Asian hub connectivity series, one airport stands out as cutting new ground. Kuala Lumpur International Airport (KUL) is remarkable for the way that AirAsia has successfully built a low-cost airline hub operation. It is one thing for an airport to have the potential for large volumes of low-cost connecting traffic, and quite another to succeed in facilitating low-cost connections.
While Kuala Lumpur International Airport ranked 10th for low-cost connectivity in OAG's Megahub Index 2016, the Index reflects what is possible rather than reality; it may rank much higher if actual low-cost connections were measured.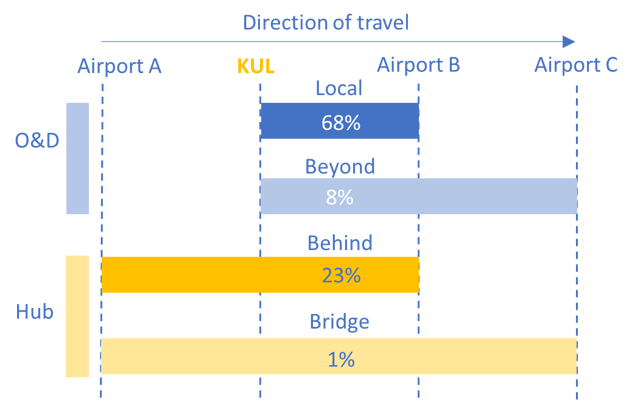 Of the 51 million passenger bookings to and from KUL in the 12 months up to February 2017, 12.1 million – or 24% - were connecting between flights at the airport. That's a higher proportion than at Bangkok Suvarnabhumi International Airport (BKK) and not much less than at Singapore Changi Airport (SIN). Over half of connecting passengers travel on Malaysia Airlines but AirAsia and AirAsia X together now account for a quarter of all hub traffic at the airport.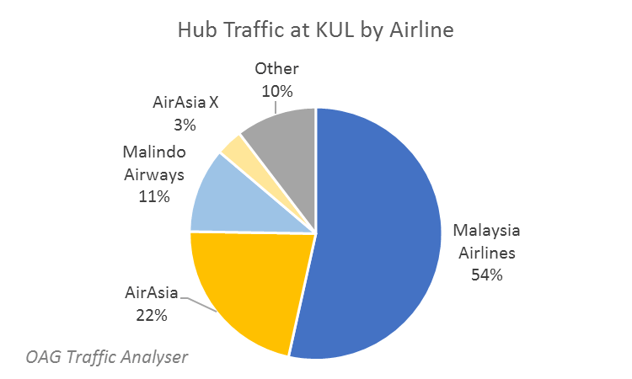 Originally known as providers of point-to-point air services, AirAsia's Fly-Thru connecting product enables passengers to transit KUL without the need to collect their bags. For international connecting passengers, there's no immigration clearance and exemption from the airport tax. If a connecting flight is delayed, the airline will book a passenger on another flight for free.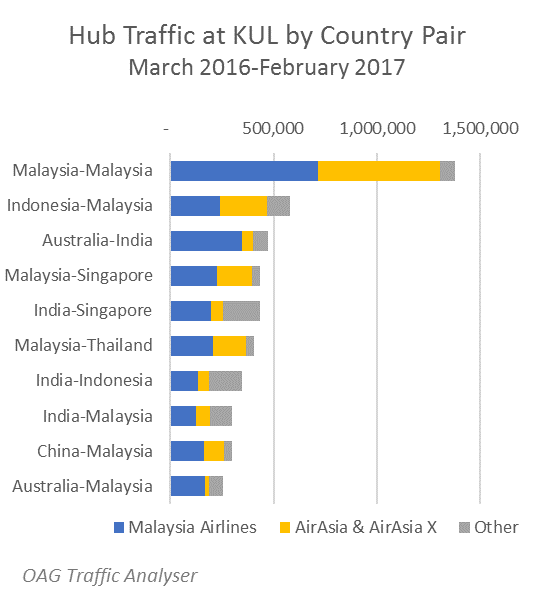 As a result, far from carving out entirely distinct markets, AirAsia is attracting connecting passengers who are travelling on very similar country pairs to the ones that Malaysia Airlines attracts. On many of the Top 10 connecting country pair markets, Air Asia is clearly competing strongly with Malaysia Airlines, especially in the domestic market, between Indonesia and Malaysia, between Malaysia and Singapore and between Malaysia and Thailand. Where AirAsia has a smaller proportion of connecting traffic is on the connections to and from India.
While there are good examples of airports facilitating self-connections for passengers travelling on low-cost airlines, such as Gatwick Airport, and there are other low-cost airlines facilitating connectivity, such as the Value Alliance, AirAsia's success leaves little to differentiate it from a full service carrier.