OAG's latest review of the World's Top 20 Airlines – Take Off provides high-level insight into current airline performance drawing on data from the summer season 2020.
Take Off not only provides data on global rankings, both domestically and internationally, for the Top 20 airlines, but includes data on the number of routes operated (minimum frequency of 1 flight per week), seats, flights, Top 5 airports, capacity trends since the start of the year, and fleet metrics.
The narrative and data, unsurprisingly, are unlike any other year. However, there is, as always, a spectrum of impact. Whilst the Top 20 airlines saw a fall in domestic capacity (seats) of 45% compared to last summer, and international air services reduced by a whopping 82%, some airlines have fared better than others and moved up the global rankings.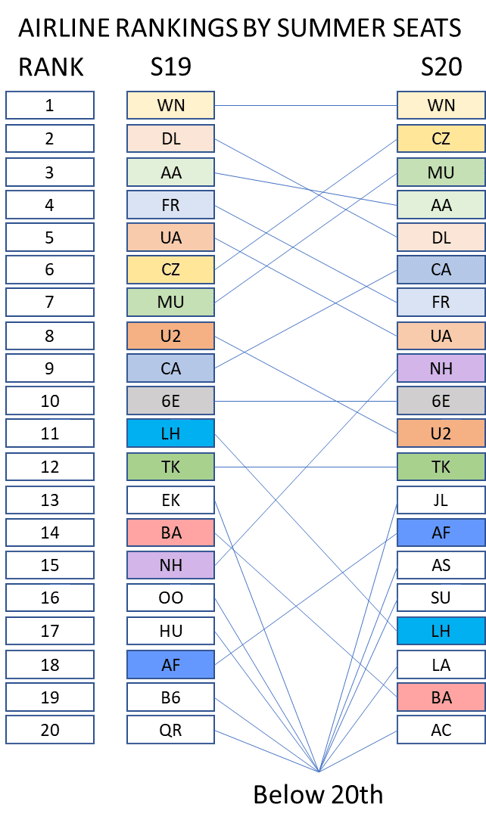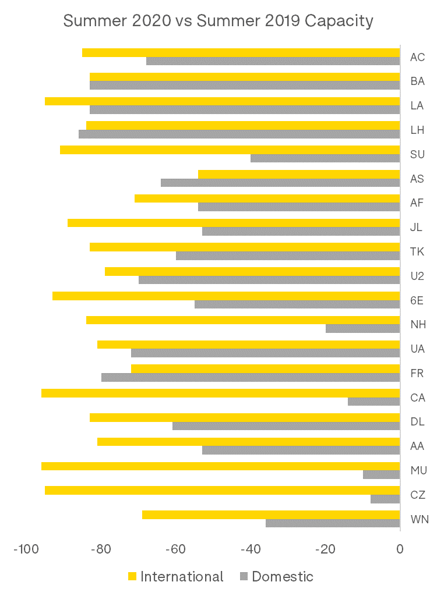 Some highlights:-

Bolstered by the scale of their domestic market and relative control of the pandemic, Chinese airlines China Southern, China Eastern and Air China have seen the least impact and moved up now placing 2nd, 3rd and 6th, respectively.
Southwest Airlines retains its position as the world's largest airline, also boosted by its focus on the sizeable US domestic market. Its major US peers, however, have fared much worse as hub operations have been affected by reduced services and consumer preference for direct flights.
The major US carriers, Delta Air Lines, American Airlines and United Airlines, have all fallen in terms of rankings as a result of the impact on their hub airports and reduced connectivity between international and domestic flights.
Some airlines have dropped out of the Top 20 airlines in Summer 2020; Emirates and Qatar Airways are two of these, both airlines with no domestic market and reliant on international markets.
Conversely, five airlines make it in to the Top 20 including Japan Airlines, Aeroflot, LATAM and Air Canada which benefit from sizeable domestic markets which have been relatively less affected.
The scale of the fleet changes is apparent in the airline orderbooks which have provision for increasing the narrowbody fleet by 44% and the widebody fleet by 19%.
Read the full report on the world's top 20 airlines and how they are faring now.