Chile's anti-trust approval of the American Airlines-LATAM Group joint venture in November 2018 was significant because it moved the airlines towards their goal of linking their networks. When finalised, the partnership will enable the coordination of schedules and fares, revenue sharing and of course, an expanded network.

The tentacles of the American Airlines network throughout the U.S. and Canada will meet the spreading network of LATAM across Brazil, Chile, Colombia, Peru, Paraguay and Uruguay to extend the airlines' footprint. Although the airlines may need to concede some operations to clear the final hoops of regulatory approval, the partnership will strengthen their position across the Americas.
The two airlines currently have only four overlapping routes appearing in the summer schedule (week commencing 6th May) between North and South America. Each route connects Miami with an airport in South America – Bogota, Lima, Quito and Santiago.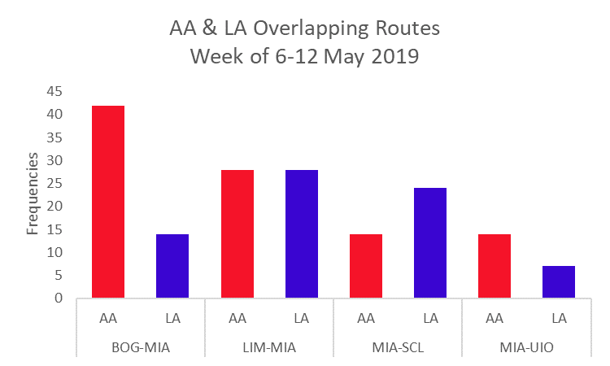 The tie-up will leave two of these key north-south routes – MIA-SCL and MIA-UIO - with no competition, while the other two will see American/LATAM compete with just Avianca.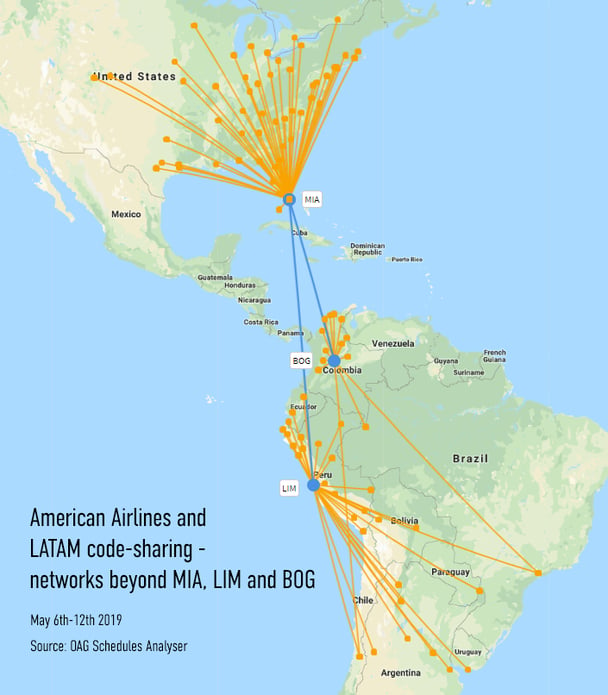 Currently the MIA-LIM and MIA-BOG routes are operated as code-shares by the two airlines. While this provides some ability to sell into the other's network, the benefits are limited.
At its most basic level, the tie-up will allow better schedule coordination. Lima, for example, currently has four scheduled arrivals each day in a typical week in May 2018 from Miami, operated by either LATAM or American Airlines. While the first LATAM flight arrives at 06:43, in time to meet the first wave of outbound departures, and the other LATAM arrival is returning to base at 22:20, both the American Airlines flights arrive in the late evening, at 21:37 and 23:23. These might work for aircraft rotations, but there is little in terms of onward connectivity. With the joint venture complete, we should expect to see at least one of the American flights rescheduled to arrive perhaps in the late morning, allowing onward connections and a more distributed pattern of flight arrivals from Miami through the day.

With so little carrier overlap, there is a lot to gain. Mapping the route structure of all direct and single connecting flights for a week in May shows that the joint venture gives each carrier extensive access into the other's home market.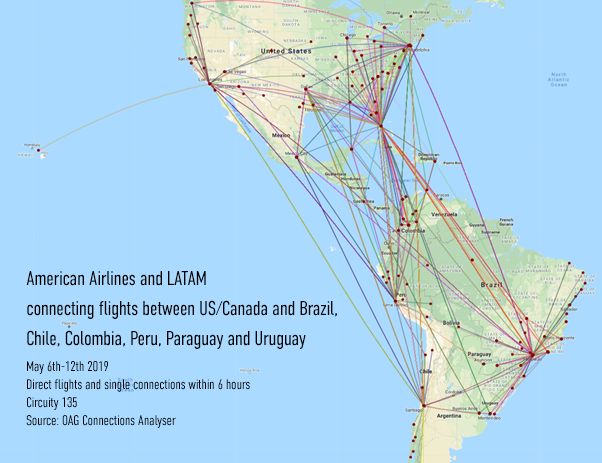 American and LATAM are not the only airlines looking at joint ventures in Latin America. United Airlines have been in talks with COPA and Avianca Holdings about a similar agreement which would enable connectivity between their complementary networks. Azul, in which United already owns a stake, may also be part of this.
While these business partnerships provide a much deeper level of engagement than an airline alliance, and the benefits are clear for the airlines, what does this mean for travellers?
The carriers claim there will be more choice for travellers and better connectivity, and it certainly looks like it will be easier to travel from anywhere in North America to anywhere in South America. The challenge for the regulators considering these ventures is whether consumers will benefit. Often such strategic moves lead to a reduction in competition and that almost always leads to higher fares for consumers. For this venture between American and LATAM to get over the line, both airline groups will have to satisfy their respective regulatory authorities that consumers really will benefit.