This summer marks the fourth summer since Japan and the Republic of China (Taiwan) signed an Open Skies agreement. At the time it was hailed by tourism bodies and academics as a breakthrough agreement. Three years on, how has it changed the options for flying between the two countries?

According to OAG airline schedules data, the number of flights this summer is up 38% on the summer of 2012, while the number of airline seats is up by 30%.

While the number of scheduled airlines operating between Japan and Taiwan is up by one, to 13, there has been some churn in the mix of carriers as Peach, AirAsia Japan, Scoot and Tigerair Asia each entered the market – AirAsia Japan morphed into Vanilla Air, and United Airlines and Vietnam Airlines pulled out.

Even if the number of operators is fairly stable the market is supporting many more routes. In the summer following the agreement the number of routes operated rose by 50% compared to the previous year but they have continued to rise and this summer a total of 27 routes will be operated by one carrier or another, five more than three years ago.
Scheduled Airline Frequencies (Two way) – Japan-Taiwan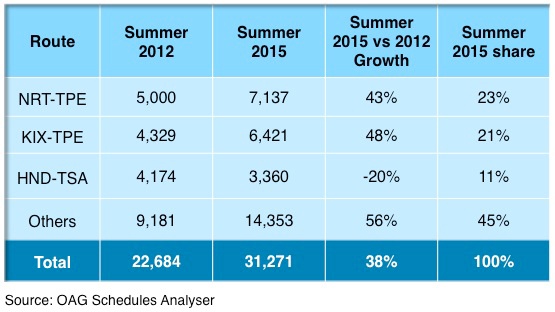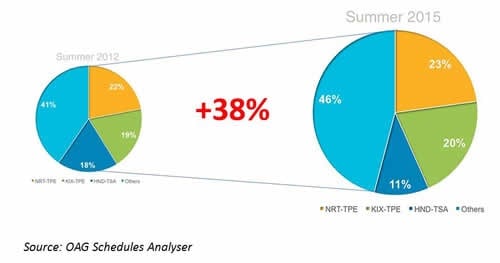 Unsurprisingly Tokyo and Taipei are key markets with NRT-TPE the largest, accounting for close to a quarter of all capacity however the non-capital markets have grown by over 100% from summer 2014.

EVA Airways is the carrier which has added the most capacity, with 39% of additional frequencies since Summer 2012 flying under their brand. The low cost carriers have also attacked the market and between them Vanilla Air and Peach Aviation have also contributed 39% of the additional flights and 16% of scheduled flights are now operated by low cost carriers. While the EVA strategy has been to widen the route network (now 14 for this summer), Vanilla Air has concentrated on NRT-TPE with a range of early morning and evening departures from NRT, and only recently adding KHH (Kaohsiung) -NRT, while Peach has concentrated on the Osaka market.

Back when the Open Skies agreement was announced there was at least one dissenting voice , saying that the market was already saturated between Tokyo and Taipei. That's proved not to be the case. With the opening earlier this month of the new low cost terminal at Narita the question will be how much more growth can this market support?