For as long as OAG has been tracking on-time performance (OTP), Japan's airports have performed well with OTP averaging 86% in 2016.
Comparison of OTP at a national level with other similarly strong domestic markets demonstrates just how good Japanese OTP is. Japan achieves better OTP than Brazil, Australia, the US and India, and in some of these markets the major airports are a long way from achieving world class levels of on-time performance. Atlanta, in the US, may be the exception.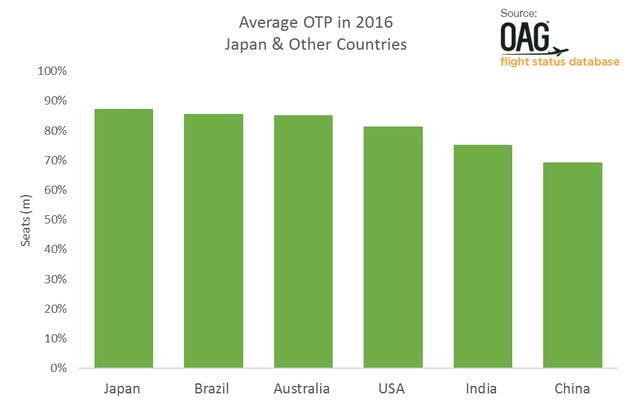 It should be of little surprise therefore that in OAG's recently published 2016 Punctuality League, Tokyo Haneda (HND) once again topped the Major Airports (over 20 million annual departing seats) ranking with annual OTP of 88%, especially given that 82% of flights from HND operate to other Japanese airports with a similar focus on getting flights away on time.
Aside from HND, there are a further eight airports in Japan which are operating above the national average for OTP.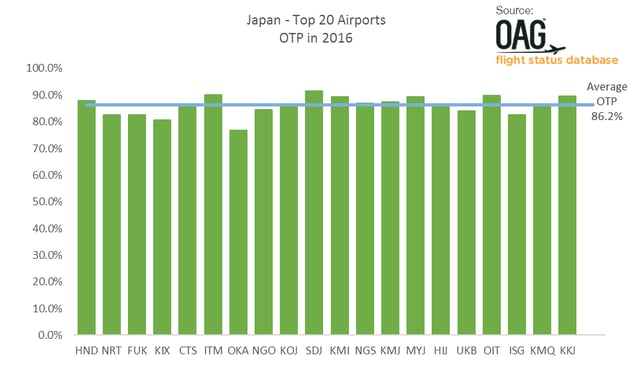 Does the schedule make a difference?
Considering OAG's recent insights in 'The Truth About Padding: Lifting the Lid on Airline OTP' , we looked at a few of Japan's top short haul flights in the second week of January 2017 to see how the scheduling compared with ten other high density routes of similar length elsewhere in the world. What we were looking for was whether there was any sign of Japanese airlines allowing more time for a flight than might be typical elsewhere.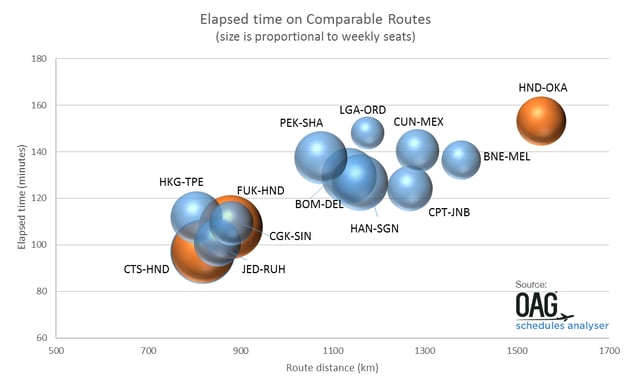 *for a larger image, click here*
What we see is that for the three routes we considered - Haneda to Sapporo, Fukuoka and Okinawa - the elapsed time for the flight schedule is consistent with the pattern for flight distance elsewhere and, if anything, may be slightly less than expected. There is no sign that in Japan schedules are built in such a way as to make high levels of on-time performance more probable. Japanese airlines and airports really are delivering superior performance for passengers in this important aspect of service.