With India Tourism the premier partner for World Travel Market this week, OAG has prepared a series of blogs about what is happening with India's aviation – and there's a lot to say. Our final blog post of our Incredible India week looks at the relationship between India and the Gulf States.
FRIEND OR FOE? – THE KEY ROLE OF GULF TRAFFIC AND AIRLINES IN INDIA'S AVIATION
With large flows of migrant workers travelling between India and the Gulf States, this is clearly a key air transport market for India but the Gulf hub airports are also important connecting points for India's burgeoning international air traffic. Over half of all international airline seats to and from India start or end in one of six Gulf countries – Bahrain, Kuwait, Oman, Qatar, Saudi Arabia, and the UAE, and a quarter of all India's international air transport bookings have a point of sale in these countries. With the known strength of the Gulf hubs and their airline brands, we consider how Indian aviation is faring in this key market.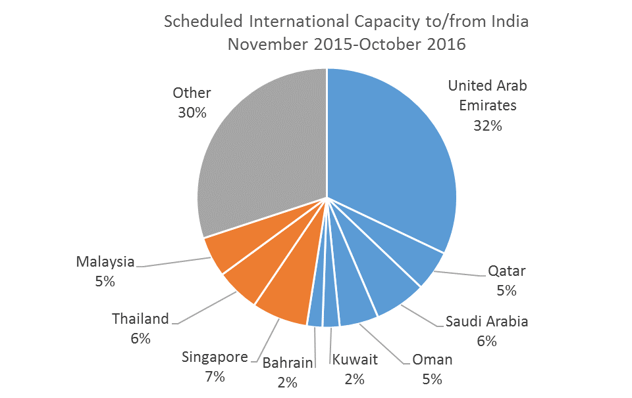 In the past 12 months, scheduled airlines operated flights with capacity for 36m seats between India and these Gulf countries. That is 52.5% of all Indian international capacity, although the Indian domestic capacity is almost twice the size of its international counterpart.
When it comes to airline traffic, 43% of all bookings in August, the latest month for which OAG Traffic Analyser data is available, were between India and the six Gulf States listed above. Two thirds of all international bookings were indirect and a third of indirect traffic was via a Gulf airport. While some of those passengers connecting in the Gulf may have also been travelling to a destination in the Gulf but this gives an indication of the scale and importance of traffic to and via the Gulf for India.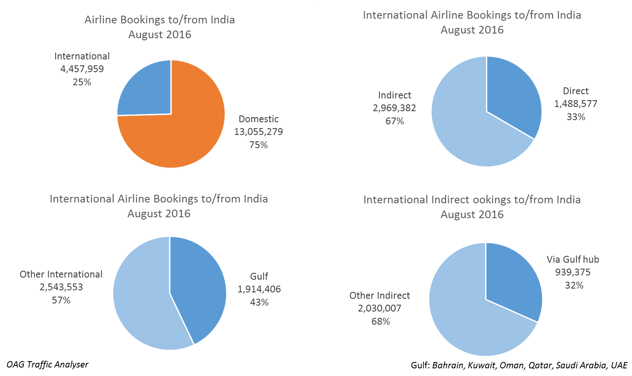 The volume of O&D bookings between India and the six Gulf countries was 1.9m in August, up 9.5% on August 2015 which itself was 16.2% more than in August 2014. Indian airlines carried 50% of total traffic and, through a period when the market has grown so strongly, has increased its market share from 47% in August 2015 and 44% in the August before that. So while it may be some time before Indian airports can compete with the hub capability of airports like Dubai they certainly appear to be holding their own for travel between India and the Gulf.
That concludes the end of our Incredible India week. For more insight analysis and reports, sign up to the OAG Blog and be the first to receive our blog posts written by aviation experts.