With India Tourism the premier partner for World Travel Market this week, OAG has prepared a series of blogs about what is happening with India's aviation – and there's a lot to say. Our next instalment of Incredible India examines just how connected India's biggest cities are.
HOW CONNECTED ARE SOME OF INDIA'S BIGGEST CITIES?
Delhi, Mumbai and Calcutta are India's largest conurbations and home to around 60 million people between them. Beyond these cities, however, there are a further six cities in India each with a population of between 5 and 10 million. That's more than any of Europe's capital cities except for Paris and London. In total a further 47 million people reside in these six cities.
Clearly these cities are of a size that they should be global players but just how well connected are they when it comes to international air services? When compared to other cities with populations of 5-10m, even Delhi and Mumbai Airports have international air services to relatively few destinations.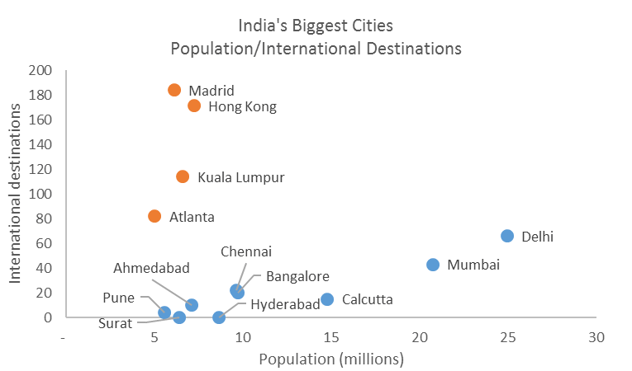 For instance, Bangalore has international air services to just 20 destinations. However, this is unlikely to change radically any time soon. A look at the top 20 unserved markets from Bangalore shows that 10 of the top unserved destinations are in North America, two are in Australia, four in Europe and the others, except for Bahrain, can all be considered long-haul. The single largest unserved destination, New York's JFK Airport, had traffic of 3,342 in August, hardly enough to support direct air services.
Stay tuned for another instalment on Incredible India week tomorrow. To ensure you'll see the next one as soon as it is out, sign up to our blog below.