With India Tourism the premier partner for World Travel Market this week, OAG has prepared a series of blogs about what is happening with India's aviation – and there's a lot to say. Next up, a question of India's biggest airports, can they keep up with demand?
CAPACITY CRUNCH: CAN INDIA'S BIGGEST AIRPORTS KEEP UP WITH DEMAND?
India's Top 10 airports are experiencing unprecedented growth. These airports handle over three quarters of all of India's capacity and, with the exception of Mumbai (BOM), each one has seen double digit growth in the most recent 12-month period, and several grew capacity by more than 20%. Even BOM which managed growth of 8%, added more than 2 million seats to and from the airport.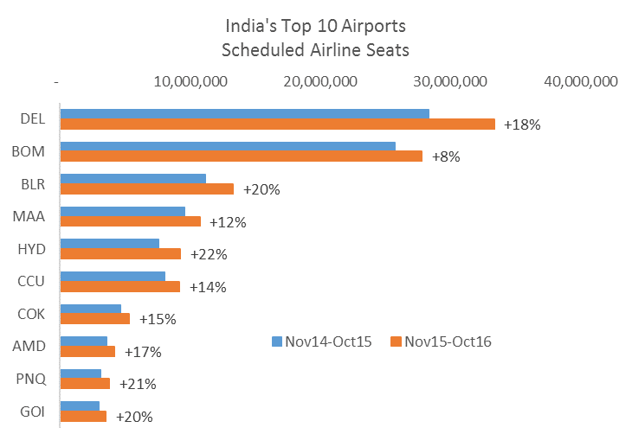 India's largest airport, Delhi (DEL), has seen capacity double in the last 10 years, reaching 68.5m in 2016. The range of destinations served from DEL has grown by nearly a quarter, and the average seats per movement have increased from 166 to 181. On-time performance at the airport has averaged 74% through 2016.
With India expected to become the world's third largest aviation market by 2026 (IATA), the current pace of growth is unlikely to diminish.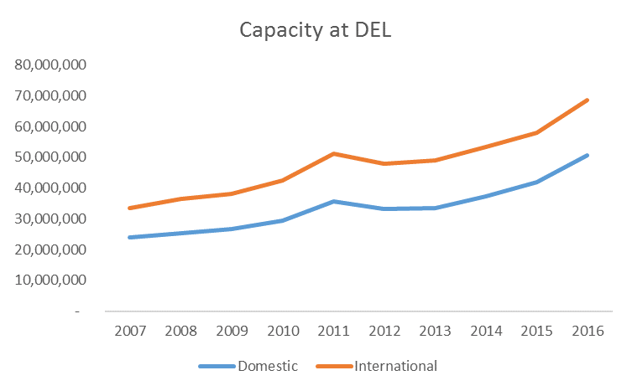 With a focus on regional connectivity, amidst the Indian government's stated desire to connect the unconnected and serve the unserved, it is likely that much of this new regional connectivity will serve India's main hubs, putting more pressure on India's biggest airports. CAPA estimated earlier this year that India will need almost 50 new airports to be built in the next 10-15 years to meet projected demand.
Stay tuned for another instalment on Incredible India week tomorrow. To ensure you'll see the next one as soon as it is out, sign up to our blog below.