The last seven days have felt like things are beginning to get back to some degree of normality. Airlines are once again recruiting for cabin staff, new routes are being announced, more countries are being removed from restricted travel lists around the world and even I've escaped the UK! The IATA AGM last week was naturally cautious in tone and, given the industry losses in the last two years, why would anyone expect otherwise and of course, commitments were made on sustainability. So, all good news then…
Global airline capacity has, for the second consecutive week, increased with another 740,000 seats added back to weekly capacity, taking us to 79.3 million seats a week, still some 30% below where we were two years ago. Ironically the two largest markets in the world, the United States and China added back nearly 900,000 seats this week, and yet both continue to remain virtually closed to international travel. The United States seems confused as to when to reopen, with the 31st of November a most likely date given their current confusion, whilst China remains focussed on looking inwards rather than over the wall. It seems strange that the world economy is kicking back into life without either superpower leading the international recovery, it has been a very strange couple of years.
Throughout the summer, airlines have been adjusting capacity on a weekly basis; since around July, we have seen regularly up to 13 million seats being dropped by airlines on a rolling forward three-month basis.
Airline Schedule Volatility in Europe: Finally Some Stability
This week only 3.2 million seats were dropped through to the end of 2021, suggesting that airlines are increasingly confident in the recovery, which in turn makes our assessment of total capacity for the year of around 3.9 billion look spot on - at least for today!
Chart 1 – Scheduled Airline Capacity by Month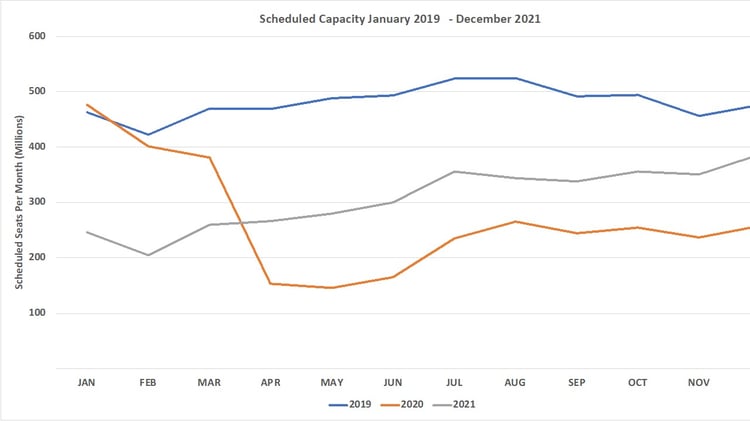 Source: OAG Analyser
A combination of capacity growth in both China and Japan this week resulted in the North East Asia region recording a 3.5% increase in capacity, and once again closing the gap on North America, although realistically securing number one position remains unlikely without international capacity returning. Most regions are showing slight declines week on week, which reflects the seasonal changes as the IATA summer season concludes in the next two weeks.
South East Asia and the Southwest Pacific remain stranded adrift from every other region in the world now with less than 30% of their normal capacity levels. The announcement of Singapore Airlines expanding their Vaccinated Travel Lane's (VTL) and most of the region now removed from the UK's "red list" should lead to more capacity being added back into the market over the coming weeks but there is still a long road ahead.
Another regional market that will undoubtedly benefit from the UK's adjusted travel list will be Southern Africa, where a huge amount of pent-up demand exists. With the region generally a winter sun market from Northern Europe, the changes in travel restrictions are ideally timed to support that seasonal demand and with British Airways bringing back their A380 fleet, Johannesburg will once again be a market for such services.
Table 1– Scheduled Airline Capacity by Region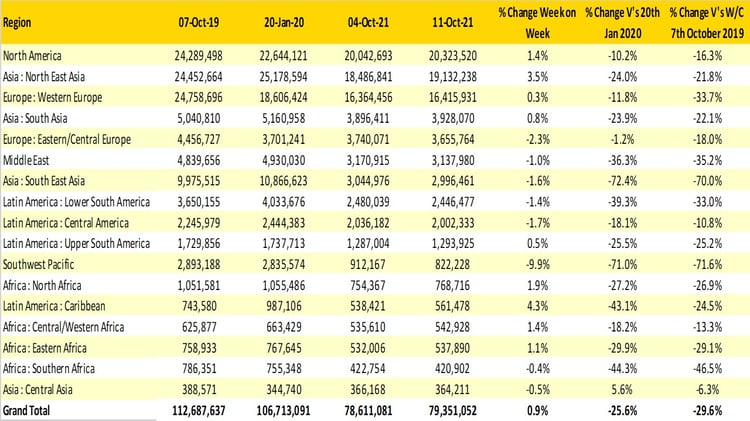 Source: OAG Analyser
The top twenty country list has an increasingly familiar feel with many of the world's established aviation markets reappearing. Unfortunately, and by no means forgotten, are markets such as Australia, Thailand, and Malaysia, all three markets will at some point return to the listing, although probably not before the first quarter of 2022 at the earliest.
Greece remains the closest country market to their 2019 capacity levels with a small 2.3% reduction. The market, and particularly the Island destinations, clearly benefitted from an 'open access' approach to the European Summer Season but will, in the next few weeks, see capacity fall away as capacity is shifted to other Winter Sun destinations such as the Canary Islands and perhaps even more exotic long-haul markets.
Table 2- Scheduled Capacity, Top 20 Country Markets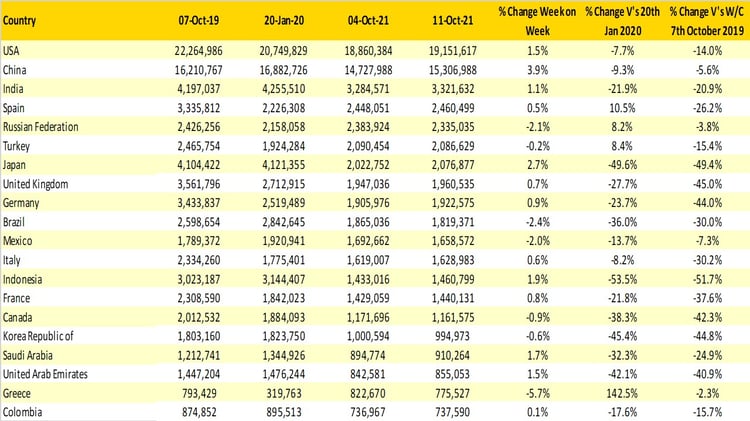 Source: OAG Analyser
The reducing number of schedule changes made at short notice is reflected across the top twenty airlines, where week on week there have been minor adjustments in capacity rather than wholesales changes that have been a common pattern through the year. The largest movers this week are all in China where more domestic capacity has once again been added back; quite how the market will shape up once international services are once again permitted will be interesting, will those domestic seats be converted into international capacity? Most probably!
On another note of positivity, over half of the top ten airlines in the world this week are operating more than 90% of their 2019 capacity, and those carriers are across a number of markets: from Ryanair in Europe, Air China in North East Asia and American Airlines in the United States. Demand for those seats remains soft, but we are, from many different angles, heading in the right direction as the global recovery continues.
Table 3 – Top 20 Scheduled Airlines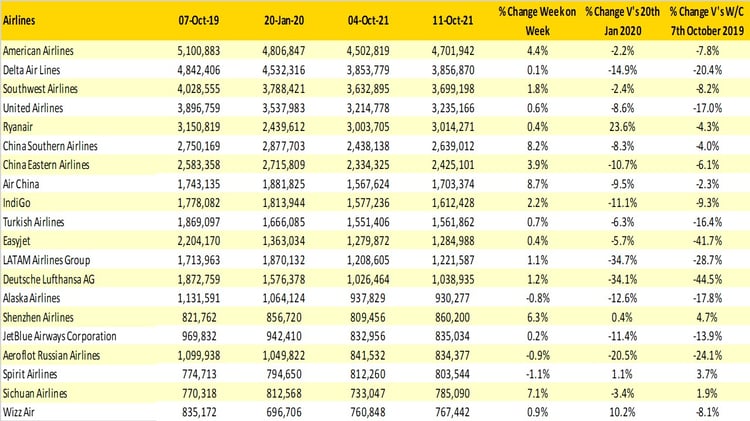 So, an optimistic week for the industry and a much-needed one, especially as the world's airlines and airports are meeting in Milan to discuss new network opportunities and the reintroduction of scheduled services. Such networking events are crucial to the recovery and the rebuilding of air services around the world with the hope of many new services resulting from the event.
Further optimism comes from new airlines launching scheduled services in the next few weeks, and indeed, new routes launching at the start of the winter season. And of course, someone has been sufficiently optimistic about the market recovery to purchase Air India; so, if someone wants to do that, things must be looking up for everyone!

Stay safe everyone.