When Jet Fuel Prices Surge
In May 2022 news outlets covered the story of Nigerian airlines announcing the cancellation of all domestic flights due to the increased cost of jet fuel. A spokesperson for the Airline Operators of Nigeria was quoted as saying "No airline in the world can absorb this kind of sudden shock from such an astronomical rise over a short period".
Nigerian airlines explained they had been cancelling flights as a result of jet fuel shortages. Although Nigeria is a major fuel producer, jet fuel typically gets exported. The announcement got the attention the airlines were seeking but in the end no schedule changes made their way into the OAG data platform.
The cost of aviation fuel started to rise sharply after Russia's invasion of Ukraine in February. By the second week of May 2022 the IATA jet fuel monitor showed that jet fuel prices had gone over USD 176 per barrel, 11.6% more than a month earlier. This put the price at almost 150% more than the previous year although there were significant variations by region. Jet fuel prices were highest in North America which accounts for 39% of global usage and where the price hit USD 200 per barrel. The IATA estimate for the impact of the high fuel prices on the 2022 fuel bill for airlines stood at USD115 billion.
Re-introduction of Fuel Surcharges
Over the years jet fuel prices rise and fall. As a major cost component for airlines, and one priced in US dollars, this can have a significant impact on airline costs and profitability. At times of surging fuel prices one response by airlines has been to impose fuel surcharges on top of the base fares for flights. The sudden increase in the price of jet fuel in the first quarter of 2022 triggered the reintroduction of fuel surcharges by a number of airlines. The first were seen to impose fuel surcharges in March, effectively adding this element to the price of an airfare.
The table shown below takes a selection of flights from around the world and shows the proportion of the airfare which can be attributed to the fuel surcharge.
The highest fuel surcharges make up as much as 26% of the fare on the market as if evident on some of the transatlantic fares shown. Surcharges on long haul flights both to Europe and Asia from the UAE are almost as high.
However, not all airlines or routes have fuel surcharges and it seems that fuel surcharges are much more likely to be applied to international flights rather than domestic flights, North American flights rather than Asian flights, and longer flights rather than shorter flights.
There were no fuel surcharges imposed on the domestic US flights we examined. Neither were there surcharges on Nigerian domestic flights although international air services form Lagos to both Casablanca and Addis Ababa have fuel surcharges of 17% and 9%, respectively.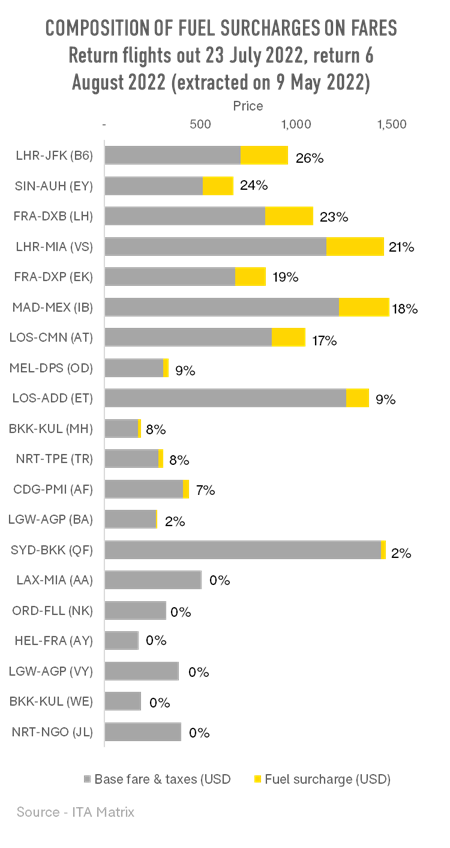 Examples of Fuel Surcharges
The table lists fares for a number of routes, extracted from ITA Matrix on Monday 9th May. All fares are for a flight taken on 23rd July, with a return flight two weeks later on 6th August. Fares are shown in US dollars and the fuel surcharge component has been extracted.
Different countries take a different approach to fuel surcharges, or what is sometimes referred to as a 'carrier-imposed surcharge'. Some countries have banned them altogether, such as Philippines and Brazil, while others have tried to ban them but have subsequently brought them back. Japan is an example of this.
Fuel Surcharges and Japan
Once upon a time they were banned in Japan but in 2017 they were allowed again but there was a cap on what could be charged, which was initially set at USD80. As pressure grew, the cap has moved up and may no longer exist. Japan Airlines publishes its fuel surcharges online and for April and May 2022 they range from a low of JPY1,800 (USD 14) for short international flights to a high of JPY 20,200 (USD 157) for the longest flights. It appears that every two months they are revised based on the price of jet fuel and, with rising fuel prices, they will increase to between JPY 4,100 (USD32) and JPY 36,800 (USD 285) for June and July.
Impact on Fares and Demand
The new higher fuel surcharges from Japan are interesting because in general where we see the highest fuel surcharges are on routes that can bear them. In other words, airlines can successfully impose fuel surcharges where demand is sufficiently high that the effective increase in fares will not put off all travellers. We know that there has been pent-up demand for travel between Europe and the US given the closures on either side of the transatlantic over a prolonged period of time, and it is unsurprising therefore that airlines feel able to market fares which are substantially higher due to the fuel surcharge.
Japan, however, has not seen demand recover, and especially not in international markets which remain closed for international tourists despite over 80% of the Japanese population being vaccinated. Some non-tourism international travel is taking place but it is limited and international capacity from Japan remains at 84% below where it was in May 2019.
The argument about demand influencing where fuel surcharges are imposed holds true on routes other than the transatlantic. The Europe-United Arab Emirates market has seen demand recover strongly and also has high levels of surcharges. Similarly, travel between the United Arab Emirates and Singapore, now also permitted for vaccinated travellers, has seen high levels of fuel surcharge. In the example above for an Etihad flight, 24% of the total return fare is fuel surcharge.
What Should We Expect for Fuel Surcharges for the Rest of the Year?
Almost certainly we will see more surcharges and the levies may rise. Partly this is a function of rising demand for air travel as recovery gets underway, and therefore more demand for jet fuel, but it is also a result of supply-side issues. Refineries, which haven't needed to produce quantities of jet fuel that they used to before the pandemic, now need to increase production in an environment where there are competing calls on their capacity. While fuel surcharges are not welcomed by passengers, they remain largely hidden as travellers are presented with the all-in price. But for airlines, fuel surcharges are an effective means to address the sharp increase in jet fuel prices that has happened this year and, rather than face yet more challenges to their financial recovery, allow them to offset the extra cost and help them return to financial health.
---
Recommended: