At the start of 2015 four out of five flights leaving from and arriving at the world's top airports were on-time. Is this good enough?
OAG's on-time performance data for January 2015 showed that on average 79.2% of flights at the 100 airports with the most flights were on time. These airports each operated over 7,400 flights in the month, or a daily average of 239 flights. The largest of them operated almost 70,000 flights in the month, more than 2,250 average daily flights.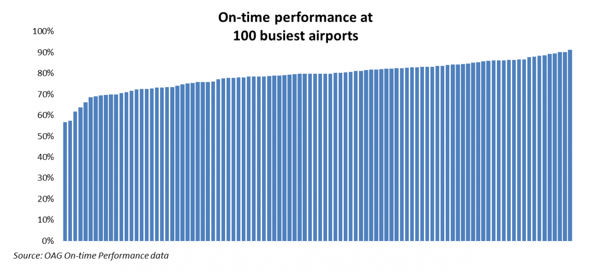 At the bottom end of performance, one airport managed on-time performance of just 57% and there were 10 of the 100 airports with on-time performance of less than 60%. In other words two out of every five flights were delayed by more than 15 minutes.
At the other end of the scale, the airport with the highest on-time performance averaged 91% but only three of the top 100 airports succeeded in getting more than nine in ten flights away on time or arriving on time.
Is it time to be asking if this is good enough?