---
From its origins as a Scandinavian low-cost carrier more than 10 years ago, Norwegian has grown steadily at 10% each year since 2010 and stretched its wings in late 2015 to include long haul operations. Flights doubled between 2010 and 2018 and seat capacity reached 46m in 2018, up from just 18.4m million in 2010.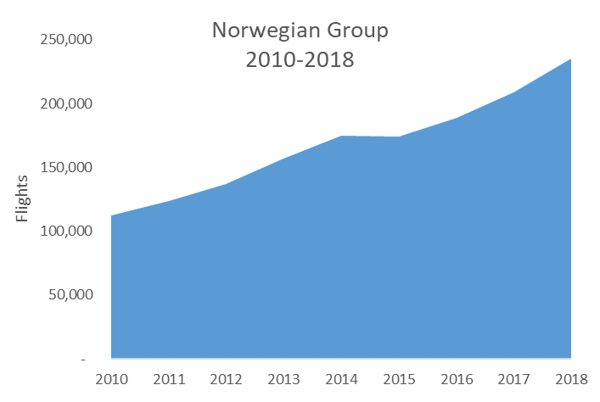 Source: OAG Schedules Analyser
Whilst Norwegian's short-haul European business still accounts for just over 80% of its capacity, this core part of the airline is not growing. Intra-European capacity fell by 11% this summer, with capacity reductions across some key markets including the Norwegian, Swedish and Spanish domestic markets and, overall, the carrier's Summer 2019 capacity was down by 6% on last summer.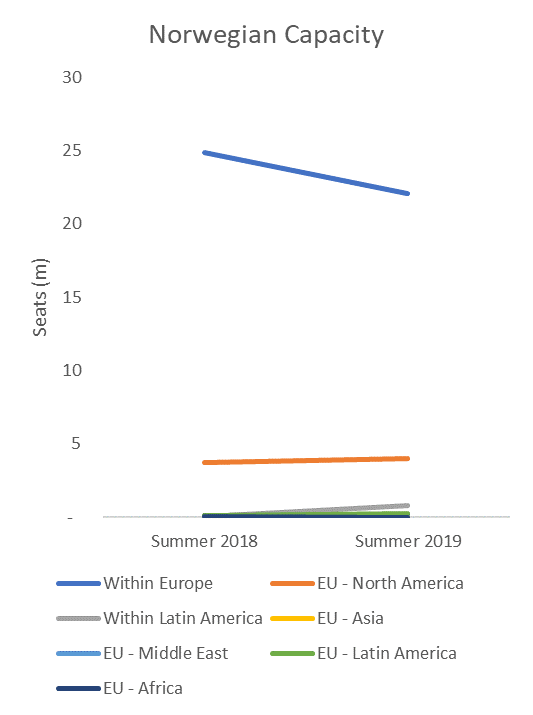 Source: OAG Schedules Analyser
Average fares for the 12 months to June 2019 show an interesting picture. When we compare Norwegian's average fares against the European average for travel within Western Europe, Norwegian's average fares track consistently around 30% lower than the European figure. Whilst this might be good news for consumers it is not such good news for investors.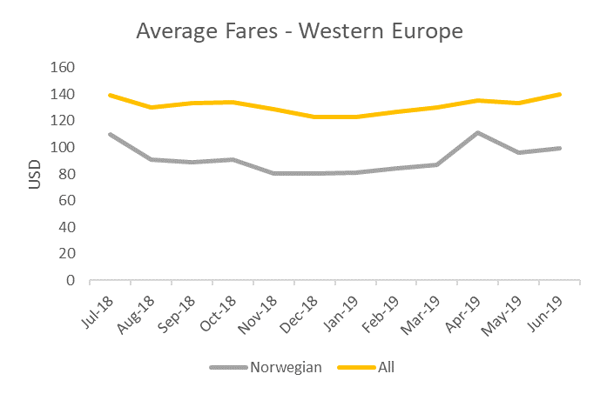 Source: OAG Traffic Analyser
There is some growth taking place in other markets, however, with capacity having more than doubled this summer on Norwegian's Latin America routes which currently operate from London Gatwick. In addition to increased capacity on the existing Argentina route which goes into Buenos Aires, Gatwick has also benefited from a new Brazil service to Rio which launched in Summer 2019.
Clearly believing Latin America offers potential for growth Norwegian Air Argentina has also got off the ground in the last year, and the carrier operated just over 800,000 seats in Argentina's domestic market this summer. The start of these routes in Argentina represent the achievement of a long held ambition by Norwegian, and they have signalled their intention to operate services between Argentina and Brazil in future, and potentially beyond.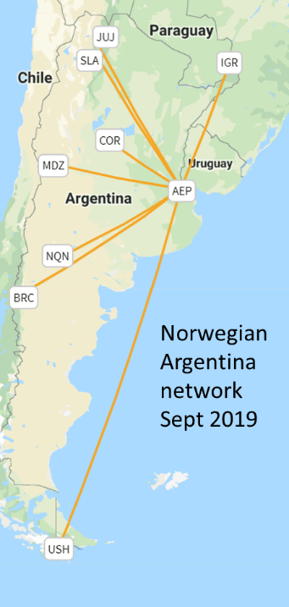 Source: OAG Mapper
Whilst Latin America is growing in importance for Norwegian, North America is Norwegian's biggest market outside of Europe, with 15% of their capacity deployed on routes there. Whilst this market has been growing with 8% more seats this summer.
Source: OAG Schedules Analyser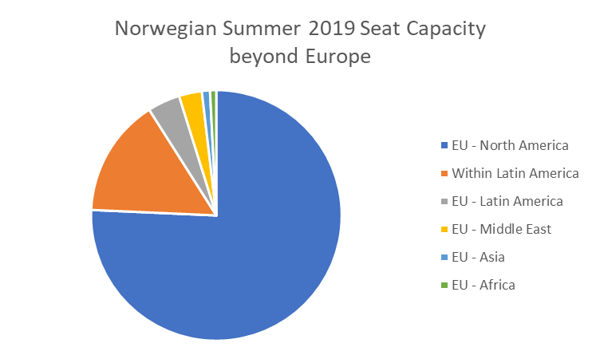 Source: OAG Schedules Analyser
Norwegian's largest European source market for their North American routes is the UK which has seen capacity trimmed back, with the cancellation of some of the regional UK services such as Edinburgh and Belfast routes to New York Stewart and Providence. There is some growth in the UK at a route level, namely on the transatlantic market between Gatwick and New York and also to Florida, but not enough to offset the route cancellations listed above. Ireland too has seen cancellation of the Shannon and Cork routes to Providence and reductions in frequency on the Dublin North American routes and announced in August that all Irish transatlantic routes would be cancelled from September.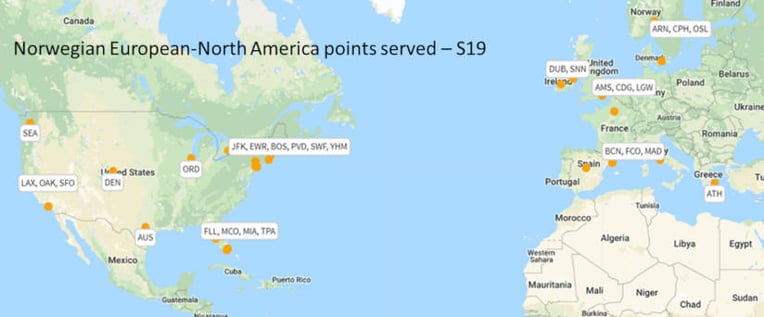 Source: OAG Mapper
Questions were raised when these routes were launched about how sustainable they were, particularly outside of the summer months. What may have made the final decision for Norwegian was the grounding of the 737MAX which was the aircraft that made these routes work. With little sign of the 737MAX getting back into service any time soon, and although they have carried on since then with replacement aircraft it seems Norwegian made the pragmatic decision to withdraw before the winter rather than carry on with half empty aircraft, particularly with the added uncertainty that Brexit may bring.
Fare comparisons for Norwegian's European – North American routes display a similar picture to their European network, a consistent tracking below the average in the marketplace albeit a bit lower – averaging 36% below the market. At the most extreme, Norwegian fares in February were more than 50% lower than the average. If the end result of this was a significant increase in market share, then a 'pile em high, sell em cheap' strategy might be the answer. In the competitive transatlantic market Norwegian has managed to grow their passenger market share from 3% in 2016/17 to 8% today, but the route cancellations and degree of churn in routes suggest that it's not all plain sailing.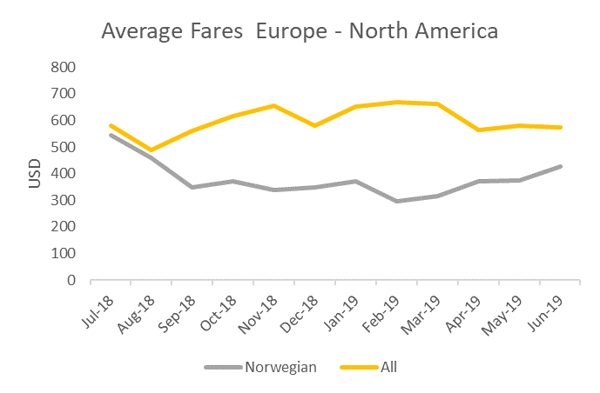 Source: OAG Traffic Analyser
Whether Brexit is the driver or not, Norwegian appear to have moved some of their European -North American capacity south, with strong growth from their bases in Spain, France and Italy. North American capacity was also down this summer from Norway, Sweden and Denmark.
They will undoubtedly be hoping that these markets deliver better results than their Northern counterparts!