Although global capacity remains broadly flat week-on-week with some 62.1 million seats scheduled, a slight decline on last week it has been a busy week in terms of market sentiment and expectations for the Summer Season. Whilst the US domestic market continues to grow, and passenger throughput as measured by the US TSA hovers around 65% of 2019 levels the rest of the world seems to be struggling once again.
Portugal made the UK's "Green List" as did those major markets of Tristan de Cunha, the Falklands, and South Sandwich Islands. Much of Europe continues to struggle with both low vaccination levels and an aversion to jabs in some countries. Australians have realised that they are now in isolation from the rest of the world at least until 2022. Singapore and Hong Kong's bubble is expected to burst before being blown (again). Tokyo has imposed more restrictions whilst running an Olympic event trial. India continues to fight another Covid-19 wave with a national lockdown under consideration. And Manchester City still can't win the Premier League.
Quite how any airline can plan against such a backdrop is a challenge. Option one is to place too much capacity on sale, take bookings, and then have to refund that cash with heavy admin costs to draw criticism from all corners. Option two is to place capacity on sale too late and miss the pent-up demand for travel, missing that rapid injection of cash, drawing another form of criticism from shareholders. Airline CEOs just can't win in that situation. That may explain why 4.7 million more seats have been withdrawn for sale in May compared to last week and some 6.2 million for June. Some airlines are just planning for the next two to three weeks as uncertainty in the recovery and "an abundance of caution" in some areas bangs another nail in some airline's chances of recovery.
Chart 1 - Scheduled Airline Capacity by Month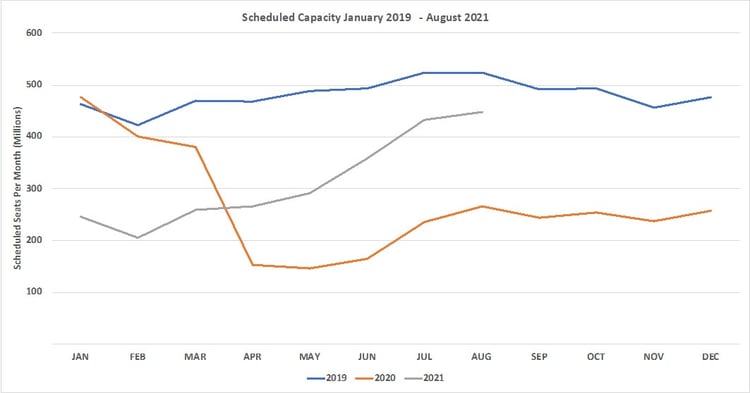 Source: OAG
Compared to January 2020 over 40% of capacity remains grounded and in Western Europe as we enter the peak Summer Season some 70% of capacity remains grounded with South East Asia now at similar levels of airline capacity reduction.
In the last seven days capacity in South East Asia has fallen back by over 22% although this hides some interesting movements by country market; Thailand reports a 43% increase in capacity whilst both Vietnam and Indonesia report large capacity cuts. Although slightly further forward, Thai International have filed some direct flights from Europe to Phuket for the later part of the summer season as they hope to take advantage of the reopening of the popular leisure destination.
Western Europe was expecting a 6% increase in capacity this week with much of that additional capacity coming from France and Turkey although the latest travel restrictions in Turkey may result in that capacity being lower than planned. Peeking over the fence to next week, scheduled capacity from the UK was expected to rise from the current 381k to 672k; however, latest announcements from the Government put paid to that. As IATA's latest Director General, Willie Walsh noted on Friday the UK Government's latest step forward "is very disappointing and frankly not worth commenting on" - well said Willie!
IATA Director General Willie Walsh on UK 'Green Light' destinations:

"Its very disappointing and frankly not worth commenting on." 😒@grantshapps @BorisJohnson

— IATA (@IATA) May 7, 2021
The continued strength of the North American market hides two very different country pictures. The United States with some 16.3 million seats are at 78% of their pre-Covid capacity levels whilst Canada is languishing at just 20% of pre-pandemic levels as they struggle to find a way out of their own Covid-19 crisis.
Table 1 - Scheduled Airline Capacity by Region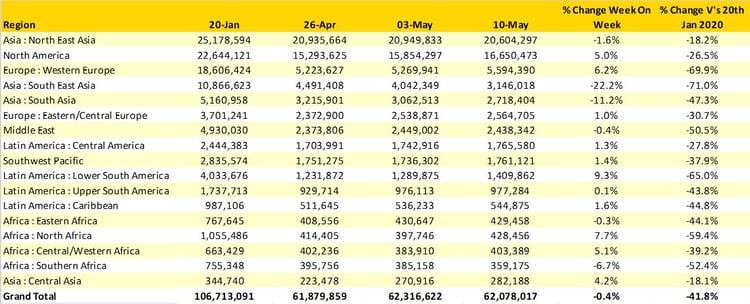 Source: OAG
China's total market capacity is slightly above pre-pandemic levels albeit with the vast majority of that traffic being allocated to domestic services. Typically, domestic networks are less profitable than those that have a major international element and the long-term sustainability of such networks for privately owned airlines will continue to be challenging. Of course, for airlines with a considerable proportion of state ownership that issue goes away!
The United States is now within 5% of China's capacity levels and if those weeks' growth patterns are replicated next week could replace China as the largest aviation market in the world and normal service will have been resumed. The closing of the gap may result in another spurt of capacity growth in China this week, stranger things have happened!
Both France and Brazil report double-digit growth in capacity week-on-week. In France an additional 121,000 seats a week has allowed them to jump ahead of Turkey in the top twenty while Brazil with a very similar capacity growth once again breaks through the one million seats a week mark; the first time since late March.
Table 2 - Scheduled Capacity, Top 20 Country Markets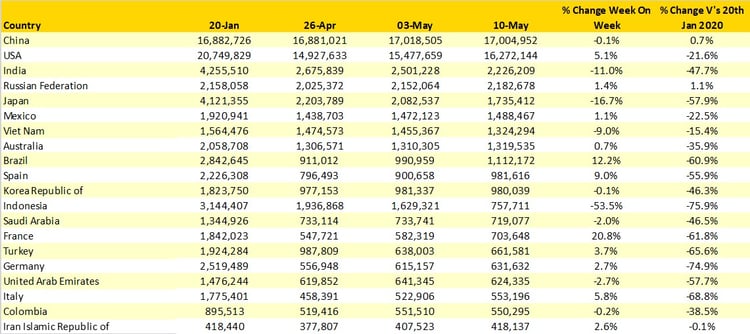 Source: OAG
There is no change in the top 10 global airlines when measured by capacity, American Airlines are if anything stretching their lead on Delta Air Lines whilst Southwest Airlines are catching up with the second-placed carrier. The biggest shout-out is amongst the top 20 airlines where Frontier Airlines have taken 20th position in the charts; there is probably a quip there around new frontiers I guess.
Table 3 - Top 10 Airlines

Source: OAG
Last week we noted that the next three weeks would be seasonal defining for the IATA Summer Season; well one week down; two to go…. The lack of clarity that airlines are receiving from their respective authorities is so frustrating and self-defeating when travellers can find loopholes in transit points with extended stopovers in Lisbon now on the agenda for anyone in South America or Southern Africa heading to the United Kingdom. Creative football fans following Chelsea or Manchester City will have to wait and see how and if they can find various ways to watch the Champions League final in a few weeks. Both of those are just a few examples of how easy it is for travellers to find alternate solutions to lockdowns or being placed on a red list.
Perhaps it might just be easier for everyone and indeed economically cheaper if every country takes a more practical approach to re-opening international travel. Now that would be a sign of leadership!
Stay safe everyone.