Before the pandemic disrupted the global tourism market, France was the most popular destination for global tourism, attracting 90 million international visitors in 2019. France's tourism product is strong, with everything from culture to cuisine and beaches to mountains. The diverse range of attractions and activities on offer across the country is undoubtedly part of its enduring appeal. Let's take a look at how summer 2023 has been shaping up for France in airline capacity terms.
Where Are Visitors To France Coming From?
International tourist arrivals had recovered to 66.6 million international visitors by 2022. It will undoubtedly be a relief to everyone in the tourism ecosystem across France to hear that capacity across many of the major country markets operating to France is above 2019 levels this summer. Twelve of the Top 20 largest country markets are recording growth this August, most notably Greece, Portugal, Tunisia, Turkiye, Morocco and Algeria.

Each of these countries is seeing double digit growth on summer 2019 with Algeria, Morocco and Tunisia largely driven by strong VFR (visiting friends and relatives) links which date back to France's colonial presence in Africa.
In particular, Greece and Portugal have seen the largest airline capacity increases; both recording almost 90,000 additional seats this August compared to August 2019. Greece, of course, is a popular tourism destination itself and it could be that some of the growth (between France and Greece) is being driven by outbound travel demand.
When analysing the specific locations seeing strong airline capacity growth, Heraklion in Crete is the largest, with an increase of 27,000 seats this month - from cities right across France - compared to August 2019 . Whilst Athens is the next largest for growth with an increase of 11,000 seats this August compared to August 2019, most of which is from Paris.
Similarly, Portugal has recorded strong growth this summer, particularly when we look at Paris to Porto and Lisbon. Both of these Portuguese cities have become popular choices for weekend city breaks so the balance between whether this growth is being driven by French tourists travelling for short breaks versus Portuguese visitors coming to Paris is likely to be evenly matched. With almost 100,000 additional seats this August versus 2019, the airlines driving growth are Transavia, easyJet and Ryanair – undoubtedly tapping into budget conscious travellers in the post-Covid era. Back in 2019, Portugal's national carrier, TAP Air Portugal operated 24% of seats between Portugal and France, today, this has fallen to 17.5%.
Chinese Travelers Are Yet to Return
Against this backdrop of strong growth remains an obvious gap. Notable by their absence are Chinese tourists. Capacity between France and China remains down by almost two thirds compared to August 2019 despite a relaxation in March 2023 which allowed group travel to France to recommence.
Before the pandemic, there were 12 routes operating between a number of cities in China and France, mostly bringing Chinese tourists to the world's most popular tourist destination. Back in August 2019, Chinese airlines provided 62% of capacity on these routes and that share remains very similar today, although the volumes are much lower. Only 5 of the 12 routes that previously operated currently fly, with the majority of capacity (83%) concentrated on two of China's biggest cities, Beijing and Shanghai.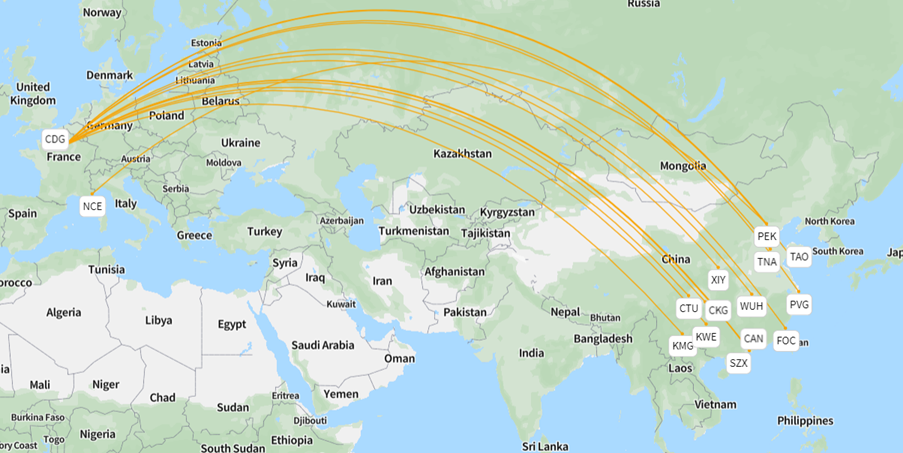 France - China Routes in 2019
With a slower than expected recovery thus far this year from this key inbound market, France will be hoping that its ability to showcase the country on the global Olympic stage next summer will ensure that it remains high on the travel bucket lists of Chinese tourists for many years to come.
Closer to home, it seems the enduring appeal of France as a holiday destination continues unabated and if this summer is anything to go by, France will be expecting next year to bring more than gold medals.

---
Recommended: