Seven airports in Florida are amongst the fastest growing in North America. From large to small, airports across the state are recording strong growth, mostly driven by low-cost carrier growth. Orlando (MCO), Tampa (TPA) and Fort Lauderdale (FLL) all made it into the Top 10 fastest growing category for Major Airports (those which handle more than 1% of total airline seats) in OAG's recent North America's Airport Leaders 2019 report. All three recorded growth of between 6-7% in the 12 months to May 2019, making these three airports the top 3 fastest growing major airports in the region.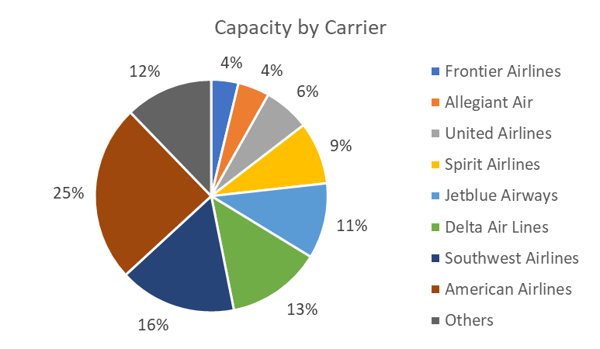 Across all of Florida's airports 8 carriers provide 88% of all seats. American Airlines provides the biggest share, with 19% of all seats. However, they are not the fastest growing, adding just 344,000 seats in the 12 months to May 2019, compared to the previous year.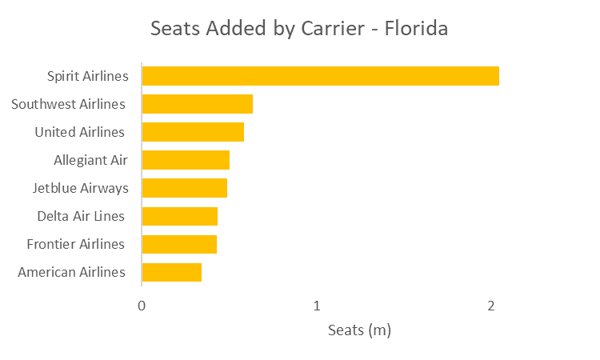 The fastest growing in Florida is Spirit Airlines, which added three times more seats than any other carrier. In the last 12 months Spirit Airlines has grown their share of Florida capacity from 7% last year to 9% with the addition of 2m seats. So where are all these seats going?
Nearly half of Spirit's new capacity has been added at Orlando (MCO) taking their seat capacity for the last 12 months to just over 3m. Spirit Airlines accounts for almost half of all new capacity at the airport.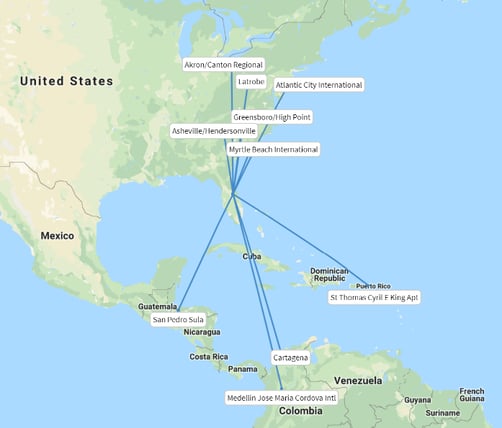 Of the 911,000 seats added, 61% were to existing services, with the remaining 39% on new routes. Spirit's MCO network is extensive, serving 43 destinations across North and South America. On 10 of these routes, Spirit are the only operator, a key factor in driving profitability.
Fort Lauderdale (FLL) is Spirit's biggest base in Florida, with 4.7m seats in the last 12 months. They are the second biggest operator at FLL, after JetBlue, and are growing fast, with 16% more seats this year. They operate to 61 destinations and seven of these are new this year.
Overall, 32% of new Spirit capacity has gone into Fort Lauderdale and 44% into Orlando. A further 14% of the 2 million new departing seats have been placed in the Tampa (TPA) market, leaving 5% each for Southwest Florida Airport (RSW) and Jacksonville (JAX).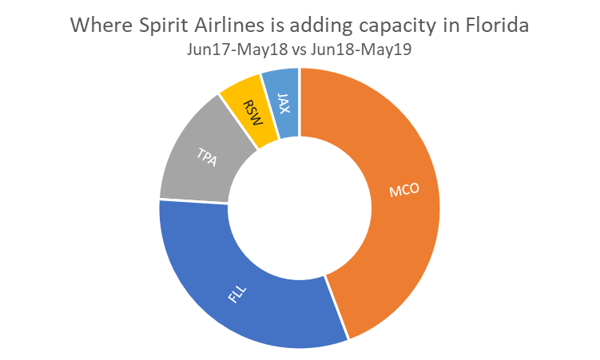 The move to expand in Florida is all part of the new Spirit strategy. As competition has been hotting up in the large hub markets where Spirit has been used to operating, competitors have been better able to compete on price, Spirit is seeking new ways to grow. Florida is a strong year-round leisure market, where Spirit's unbundled fares have strong appeal. So far, it looks like the strategy is working.
Download the full report here