With Beijing airspace set to be closed for 3 hours next month as part of the military parade to mark the 70th anniversary of the end of World World II, we look at the potential impact on scheduled flights to / from Beijing Capital International Airport.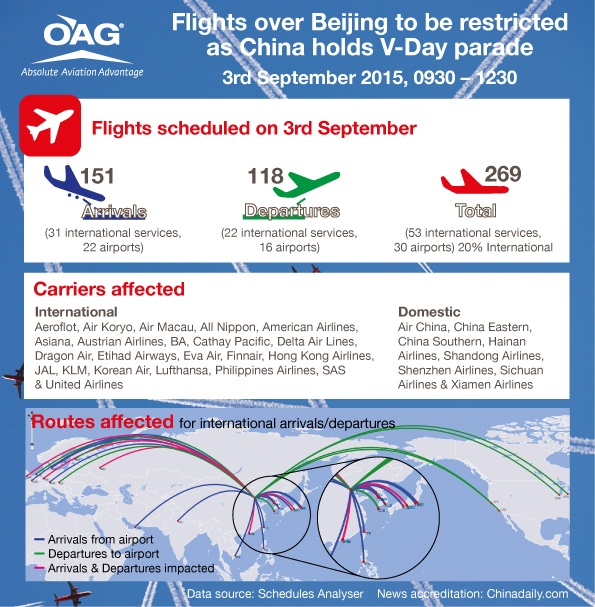 With a total of 269 scheduled flights during the closure period (09:30 – 12:30, Thursday 3 September) there will be significant impacts on airlines and airports worldwide. 20% of these flights are international with several being long-haul flights to the US or Europe. There are 22 international and eight Chinese carriers affected by the planned closure.
If the closure does go ahead on this scale, there will also be delays and cancellations for flights either side of the closure period, widening the impact.
In some cases airlines will likely cancel service however there will be a clear knock-on effect to wider scheduling plans as well as rebooking of passengers already confirmed on affected flights. Simply re-timing flights to operate outside of the closure period will be far from easy given how congested Beijing Capital International Airport already is and even if airlines can re-time services, the cost implications will be significant.
Time will tell how airlines react or plan for the closure – while the parade will certainly be an impressive sight, the impact to commercial aviation could be costly.