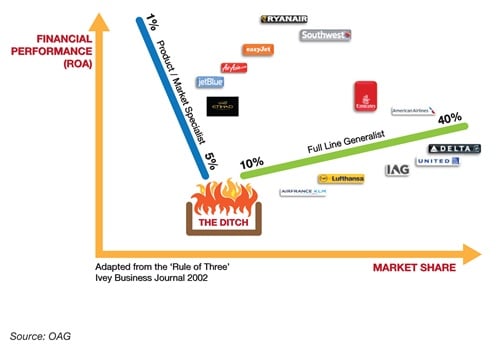 In March 2015, US carriers presented a case for unfair competition from some of the Gulf-based airlines, most recently releasing a cache of financial data this week supporting their claims. All of which suggests, is the fight for global markets stepping up a notch?
Having taken domestic airline capacity under control and with airlines' stocks close to five-year highs, US carriers are starting to look overseas for their future growth. In less than 20 years, Emirates has made the transition from niche player to full-service generalist and the Middle East has seen the greatest increase in airline seat capacity of any region over the last two decades. Is this what has got the US carriers spooked?
Today, over half of global airline seats are provided by members of one airline alliance or another. However, with increasing competitive pressure, at what point will the merits of alliance membership be outweighed by the need for flexibility and selective strategic partnerships? Some airlines have focussed on their alliance membership as a conduit of international strategy and may have taken their eye off the market. Interestingly, the case being made against the Gulf carriers doesn't recognise the use of alliances as part of the international strategy of US carriers.
With the 'Rule of Three' applying to many industries including aviation, should we expect further changes in the various alliances, strategic partnerships and carrier relations such as the emergence of three dominant carriers in mature aviation markets? Only time will tell but some form of change is looking increasingly likely.
Click here to download OAG's full report on The Fight for Global Markets: Is three the magic number?