The world of aviation has always been about movement, connection, and evolution. Today's traveler expectations have transformed, heavily influenced by the turbulence of the pandemic. Frequent cancellations, shifting flight schedules, and evolving travel restrictions have amplified the demand for flexibility in travel bookings. Moreover, with the rise of environmental consciousness, options like CO2 offsetting and the availability of convenient services like cancellation insurance have become the norm rather than the exception.
At the same time, we also live in a world where consumers can buy anything with a single click on platforms like Amazon. In this evolving landscape, the traditional airline retail experience seeks rejuvenation to match the pace.
As we look into the future of the airline experience, it's becoming clear that it's not just about convenience anymore. Other industries have progressively raised the bar for customer expectations. In response, airlines are navigating this shift, aspiring to provide a more seamless and advanced booking experience.
Our extensive OAG Airline Transition Tech Report delves into these transformative shifts. Labeled as the transition from "Old to New," it's clear this isn't merely a trend but a crucial strategic evolution towards a more sophisticated travel paradigm.
Below are three illustrative data charts from our report, these visuals not only depict the trajectory of tech innovations but also underscore the pressing need for and the inescapable nature of this transformative journey.
1. The Role of Ancillaries: More Than Just Add-Ons
As a result of technological progress and changing traveler preferences, the aviation industry has witnessed a steady rise in its ancillary businesses.
What began as simple add-ons mostly offered by low-cost carriers has matured over the last decade into a cornerstone of the financial landscape for many airlines.
The potency of ancillaries was on full display in 2022. A record was set, with ancillaries contributing an astonishing 15% of total revenue for airlines.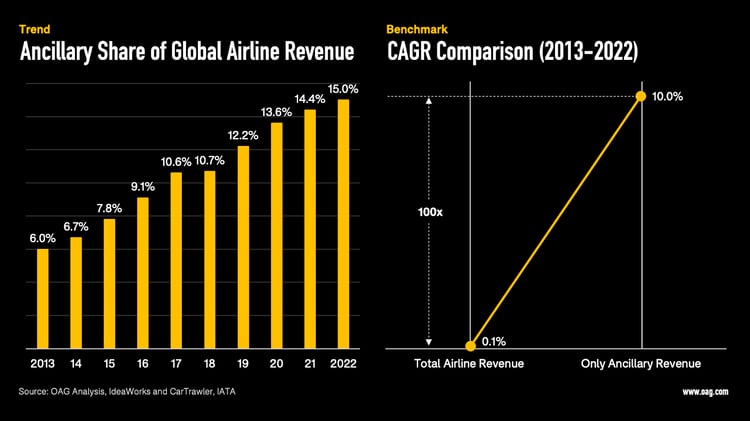 Direct channels, such as an airline's official website, have given airlines more control over their offerings.
Furthermore, with the introduction of NDC, the promise of tailored experiences for travelers has come closer to reality. The future of distribution promises to deliver a refined, personalized touch to each customer, effectively revolutionizing how airlines engage with their patrons.
2. Virtual Interlining: Reshaping Airline Inventory and Expanding Travel Choices
The aviation industry, traditionally characterized by formal network collaborations and partnerships, is undergoing a transformation with the advent of Virtual Interlining.
A brainchild of innovative platforms like Kiwi.com and Dohop, this model first made waves in the early 2010s. Instead of relying on time-honored interline and codeshare agreements, Virtual Interlining hinges on groundbreaking technology and fresh, entrepreneurial strategies.
This strategic shift is doing more than just shaking up airline inventory management. It's also unlocking a new world of options for today's travelers. More flexible, convenient, and, most importantly, cheaper flight options are now at passengers' fingertips, aligning perfectly with the demands of our fast-paced, convenience-oriented consumer era.
Our data models reveal a significant surge in self-connecting passengers in recent years.
These are travelers actively choosing to book connecting flights across different airlines, without traditional interlining. From a modest 55 million travelers making such choices six years ago, 2022 saw this number leap to an impressive 179 million.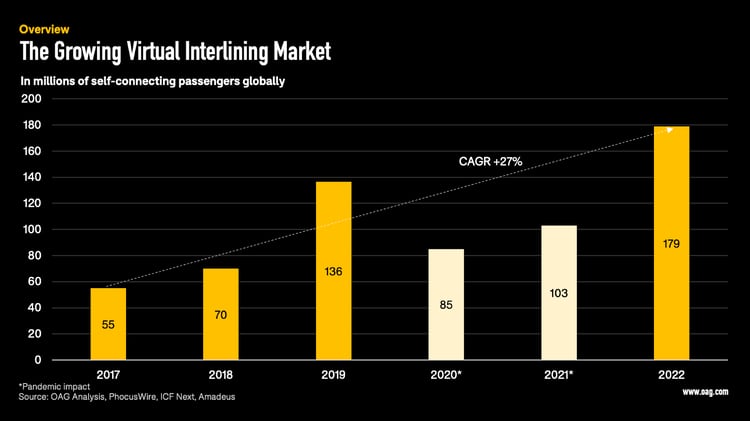 The figures underscore a clear shift in passenger behavior and preference, pointing towards a more flexible future for air travel.
3. Payment Processes: The Unseen Barrier in Airline Retail
When it comes to booking travel, there exists a curious phenomenon unique to airlines: astonishingly high booking abandonment rates.
While other e-commerce sectors consistently convert more interested shoppers into buyers, airlines see potential passengers frequently leaving their carts behind. One primary reason can be traced back to the way airlines manage payments and customer experience, which often exist as siloed departments.
The tangible fallout of this separation is evident in the alarming abandonment rates on airline websites close to 80%, sometimes even touching a staggering 90%. It paints a picture of a missed connection between what a customer wants and what the booking process delivers.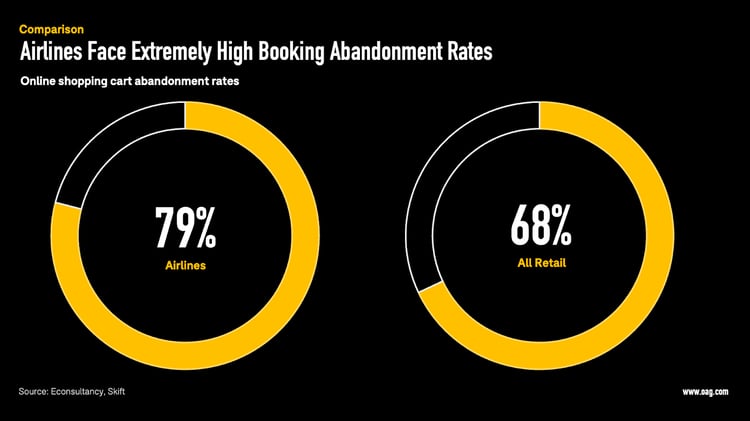 But the silver lining here is the immense opportunity that lies ahead.
Airlines, by enhancing the retail payment experience, especially through direct channels, can not only mitigate this dropout but also unlock a wealth of potential revenue.
The broader travel industry seems to have recognized the goldmine that is payments.
According to recent survey data, a whopping majority of travel businesses, over 80% to be exact, view fintech and payments as a top-tier investment priority.
Curious about the future of travel payment solutions and how they might transform the airline booking experience?
Take a deep dive into this topic in our comprehensive Airline Transition Report.
DOWNLOAD YOUR COPY OF THE TRAVEL TECH 2023 REPORT 👇
This article was originally published on the World Aviation Festival here.