Dohop's Story
Dohop are on a mission to revolutionize travel connectivity. Founded in 2004 as a travel search engine, the Icelandic-based travel tech provider has grown from strength to strength. A trailblazer of self-connections, it found its feet as the low-cost carrier (LCC) market took off and hasn't stopped since.
For over 15 years, they have worked alongside airlines to develop solutions that enable both LCCs and full-service carriers alike to expand their networks and revenues. Going further than just air-to-air connectivity, Dohop also supports intermodal connectivity, and powers connections for over 50 airlines globally.
With a strong belief that airline partnerships are critical for innovation and growth and their positive impact far-reaching, improving the range of choices and implicitly making distant travel dreams a reality is at the top of the priority list.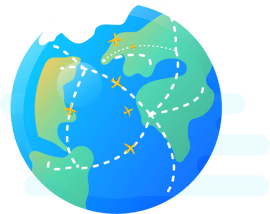 The significant loss of city-pair connectivity since the pandemic has meant airlines have grown even more receptive to partnerships and virtual interlining - gaining agility, diversifying offerings, and emerging stronger.
Dohop is expanding its development capabilities to address the unprecedented demand, and central to those solutions is reliable flight information data.
Why Dohop Chose OAG
"We chose OAG because of their data completeness and accuracy compared to other providers. OAG schedule data is critical for our operations, without it we would not be able to create connections for our partners. OAG has been a dependable partner and several teams within Dohop rely on OAG every day."
"Alongside providing high-quality, trustworthy data, the OAG team is highly responsive. The people at OAG are a pleasure to work with and always happy to support us when we need it. We recommend OAG!"
Dohop recently complimented their data feed with access to OAG's suite of analytical tools. Confidence in data quality, ease of use and report building structure means Dohop have a reliable single source of flight data across all parts of their business.
How Dohop Uses Flight Data From OAG