Earlier in our blog series this week we looked at how the low-cost sector is growing in Japan. Today we look at the dynamics at play in the domestic market overall given that the same rate of growth taking place on international routes is not replicated in Japan's domestic market.
A look at the top airlines operating gives a clue to why this might be. All Nippon Airways is the largest domestic carrier, followed by Japan Airlines. Between the two, they operate 72% of all scheduled seats in Japan. However, the low-cost carriers which have some degree of equity stake by All Nippon Holdings, include Skymark, Peach Aviation, Solaseed and Vanilla Air, and make up a further 10% of capacity. Jetstar Japan, which Japan Airlines has some equity in, operates another 4% of capacity. This means that 86% of all scheduled airline seats in the domestic market are operated by an airline which is wholly or partly owned by one of two airline groups.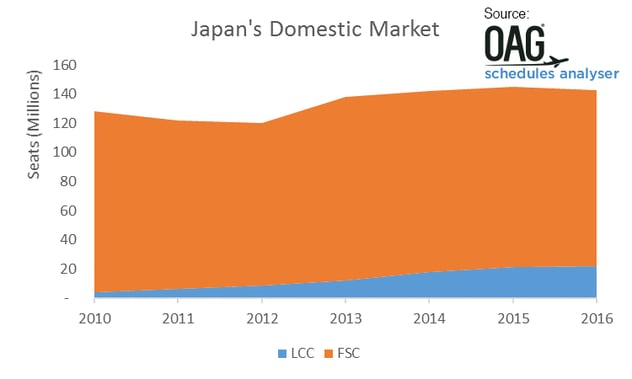 Domestic seats peaked in 2015 at more than 145 million but 2016 witnessed a 2% decline in capacity attributable to the combination of modest growth in the relatively small low-cost sector (2%) with a modest reduction - also 2% - in the much larger full service airline sector. Where low cost growth typically tends to stimulate the market, as has been observed in numerous other markets, this is clearly not the case for travel within the mature Japanese market.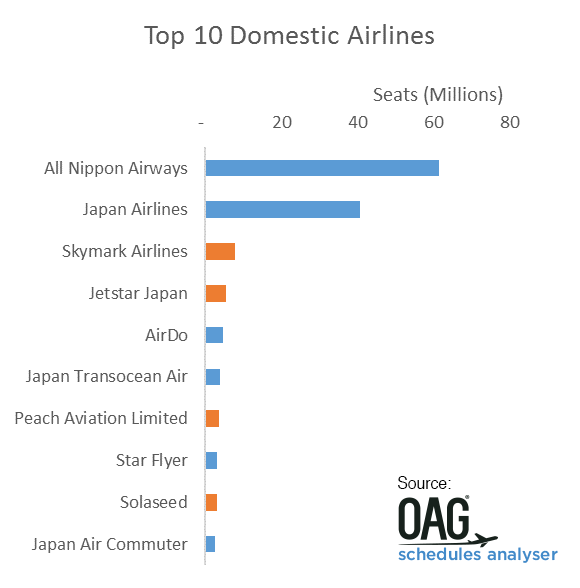 The Top 10 domestic routes make up 39% of all domestic capacity and nine of them include Tokyo's Haneda Airport, demonstrating just how important Haneda is to aviation in Japan. LCCs have yet to make their mark on these big routes operating just 11% of seats on the Top 10 routes, below the country wide domestic LCC penetration rate of 15%. Not all LCCs operate at Haneda though; Peach and Jetstar Japan use Tokyo Narita to serve the Tokyo market.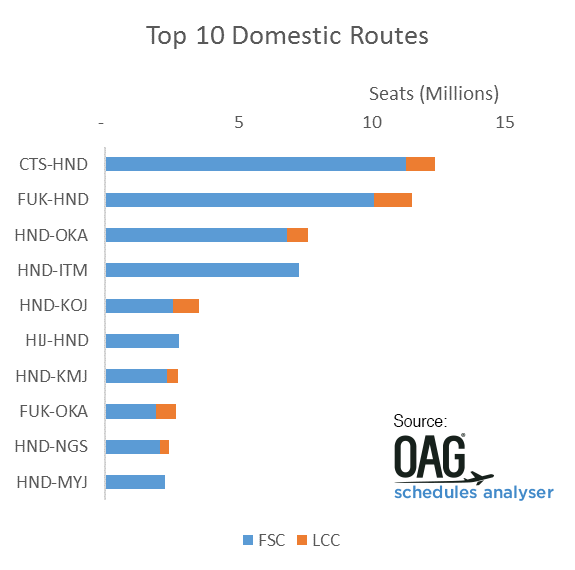 The position at Japan's Top 10 airports for domestic capacity is more mixed. Across the Top 10, the LCC share of domestic capacity averages 22% but this masks a broad range. Haneda is at the lower end of the scale, with just 8% of domestic LCC seats, whilst Narita has 72%. It could be argued that this is slightly misleading as both of Tokyo's airports operate at different ends of the spectrum with Haneda serving mainly Japan's domestic market, and Narita serving international routes, however it's more that this reflects the distinctive evolution of LCCs in Japan.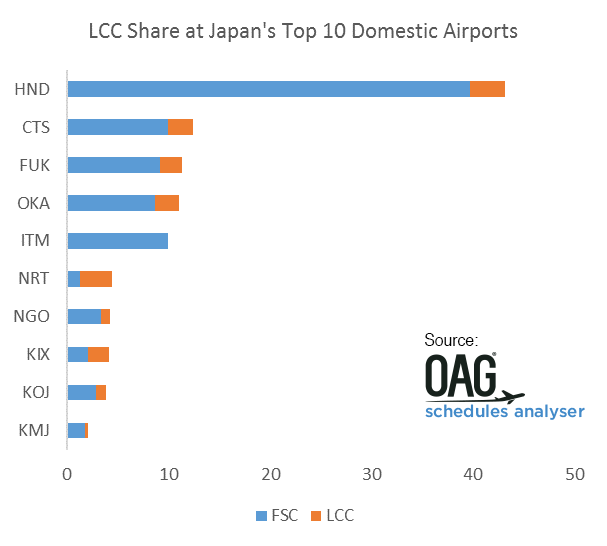 Jetstar Japan has their biggest base at Narita, operating 44% of the airport's domestic capacity, and is the third largest carrier overall with 9% of total capacity.
Peach Aviation has their biggest base in Kansai (KIX) where they are the dominant carrier. They operate 35% of domestic seats and 14% of the overall airport capacity.
Not all of Japan's LCCs have such a strong focus on the domestic market. Only Skymark and Solaseed have exclusively domestic operations; all the others have varying degrees of presence in Japan's international market.
For the meantime, the domestic market in Japan will remain to be led and influenced by JAL and ANA, and it won't be changing any time soon.