This week, we're taking a look at some of the biggest domestic markets and how their recovery is faring. Around mid 2020, the realisation that domestic markets would lead recovery from the impacts of COVID came to the fore, particularly as country after country closed its borders to international travel. There are some markets like the US and China which pre-COVID saw the majority of capacity operate domestically and whilst international connectivity is important strategically and sometimes politically, it's not the driver of the aviation industry in those markets. For others however, like the UK – an island nation – the share of capacity that operates domestically is small and international aviation is essential for facilitating trade, tourism and other important economic activities. A year on from the beginning of the COVID crisis, we look at how resilient or otherwise the biggest domestic markets really are.
But first we need to look back to how things were. The Top 20 largest aviation markets in the world in 2019 collectively accounted for 75% of global capacity. The USA was the largest with over 1.1bn seats in 2019 and China was close behind with 836m. There is then a large gap between these two markets and the rest, with Japan operating 214m seats in 2019, and Malaysia ranked 20th with 71m seats.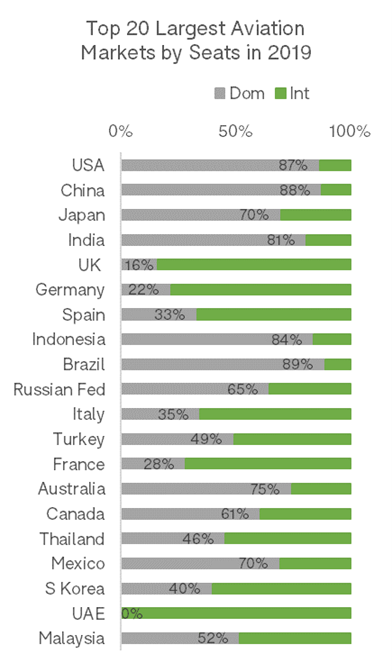 Of the Top 20 largest markets, Brazil had the highest share of capacity operating domestically, with 89% of capacity allocated to routes within Brazil. The USA, China, India and Indonesia are not far behind with similarly high percentages of domestic capacity, unsurprising given the landmass and geography of each of these countries. The countries with least reliance on domestic travel are the UAE where capacity is entirely international, the UK which only had 16% of total capacity operating domestically and Germany, close behind with only 22% domestic capacity. France, Italy and Spain were operating at around one third domestic capacity. This reliance on international connectivity in European countries illustrates just why Europe collectively has seen air capacity stall in the COVID era and recovery falter.
So how does capacity in those very large domestic markets look currently? China is the only one which has seen positive growth in capacity compared to the previous year. From August to October 2020 it seemed as if China's domestic market was well on the way to recovery, with capacity reaching +11% in October 2020 compared to 2019, aided by carriers having plenty of aircraft to redeploy from international flying to service domestic routes. This recovery began to slow down following the national Golden Week holidays and capacity has been declining since, falling to -3% in January 2021. In the last week, China's domestic capacity has fallen much further, down to -26% below the previous week, as people are asked not to travel between provinces this Lunar New Year.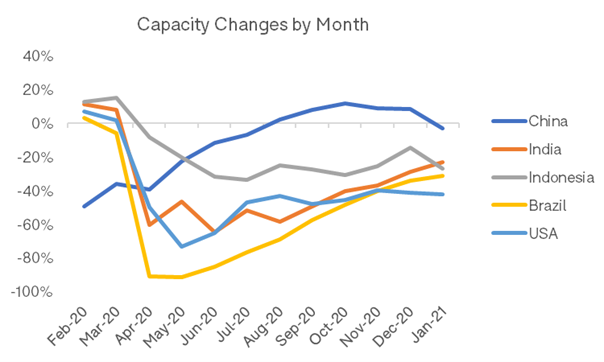 The other four large domestic markets are all currently sitting at a similar level of capacity reduction of around 30% below 2019 levels, although have each taken different trajectories to that point. Indonesia has fared best domestically, with capacity falling to 'only' 65% of 2019 levels at its lowest point. The other three saw more dramatic reductions, with Brazil at one point seeing less than 10% of its previous level of domestic capacity in operation back in April 2020. Recovery has been steady for Brazil, although fears of a second wave in Latin America as the summer season comes to an end there may slow things down again.
The US and India have seen bumps on the road to recovery, with capacity coming back in and out again over 2020 as carriers attempted to predict when domestic demand might recover. The USA's journey has been less volatile, and since late Summer 2020, carriers seem to have gauged the right level of capacity for current demand – helped of course by the financial support provided under the CARES Act -with capacity sitting at around 58% of 2019 levels. India's domestic market seems to have stabilised now after a few hiccups, with capacity reaching just 25% below 2019 by January 2021.
Aside from China which has already reached recovery and seems set to do so again once domestic travel is unconstrained again, the question that remains is what will unlock the remaining third of capacity that is not currently travelling in these domestic markets? We know that there is an appetite for leisure travel and that domestically, this is taking place across each of these countries, particularly as outbound international travel is not yet on the cards for most of these countries in any meaningful way.
Some part of the domestic market may not come back until international travel returns as the two are linked with passengers connecting domestically from their origin point to a main international hub and then travelling onto their final destination. This is evident in China particularly where travellers still typically route via Beijing, Shanghai or Guangzhou from other cities in China on their way out of China to a third country.
Similarly, the coastal US hubs of New York, Los Angeles and Miami act in this way to route passengers onto their international destinations. This international outbound travel is not happening on any sort of scale currently, meaning the domestic legs typically will not be flying either. Whilst there is an expectation that domestic leisure travel will plug some of the gaps in 2021, it's unlikely in some markets to fully compensate for the loss in domestic to international travel, or indeed for those inbound travellers arriving into vast countries like the US or Australia and then travelling around the country by air.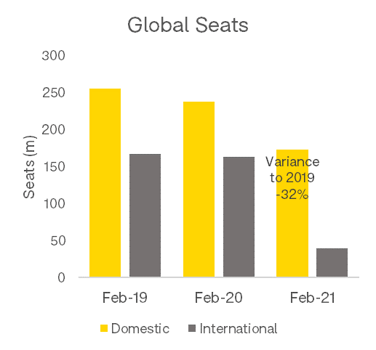 Domestic air travel is not out of the woods yet. While domestic flying has provided some measure of refuge for airlines and airports in countries where there have historically been large domestic markets, the global trend in recent months has been to see domestic capacity decline. When compared to February 2019, global domestic capacity is still 32% below February 2019 levels. It would appear that travellers everywhere have decided to stay put for a while, and hunker down until the current storm passes.
There are multiple reasons why fewer people are flying domestically, among them being questions of safety, domestic movement restrictions and work-from-home policies. Thankfully, programmes of vaccination are being rolled out in many of these countries with the USA making most progress in terms of vaccine doses administered per 100 people. As the number of those vaccinated rise, and COVID-19 cases fall, domestic air travel should be able to pick up although there remains a question mark around corporate travel.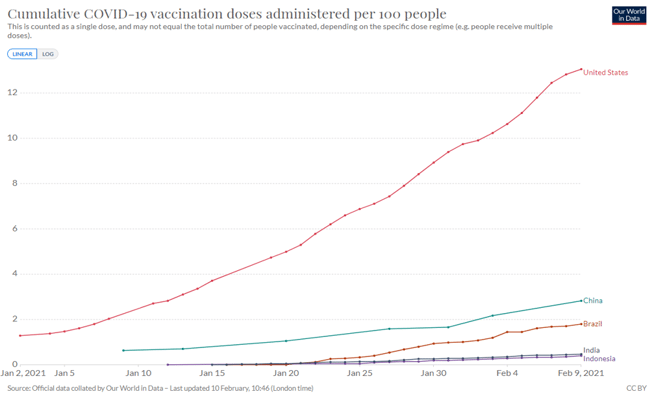 Over the past year, businesses have rightly limited travel for work-related activities as they have a duty of care to employees, but going forward many face-to-face meetings – especially internal meetings and conference events - may be permanently replaced by virtual meetings. There have been well publicised reports of major companies recognising the cost of business travel which has disappeared as a cost item in 2020 and it wouldn't be surprising if they found reasons – perhaps in the name of being more sustainable – for keeping those costs from returning.