What The Gulf Carriers Mean for US Airline Networks
The recent complaint from the big three US airlines about unfair competition from Gulf-based carriers has generated plenty of headlines. The basis of the complaint was subsidies but at OAG, we thought we'd look at what the Gulf carriers are delivering to US airline networks in terms of feed traffic at gateway airports. Many passengers travelling between the Gulf or Indian Sub-Continent and the US require domestic air connections in the US which the Gulf carriers are unable to provide. The numbers may be surprising. In 2014, Gulf carriers delivered nearly three quarters of a million passengers to US carrier networks.
Bear in mind that Emirates, Qatar Airways and Etihad carry plenty of passengers across the Atlantic to the US but the scale of their operations is a fraction of the US carriers. In June 2015, Emirates, Qatar Airways and Etihad are operating around 600,000 seats on transatlantic routes of which 95% are between the Middle East and North America and the remainder between Europe and North America. This compares to over 3m seats operated by the big three US carriers between North America and Europe but only 108,000 seats between North America and the Middle East.
The US carriers have a massive potential advantage on the transatlantic but without good connections and effective alliance relationships at European hub airports, their ability to serve the Middle East and Indian Subcontinent market is likely to be less competitive than service from or via a Gulf hub.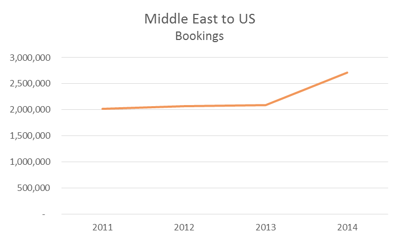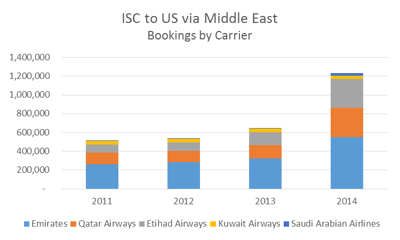 Source: OAG Traffic Analyser
The bottom line – they're missing out. The market for air travel from the Middle East and Indian subcontinent to the US has been growing rapidly. Data from OAG Traffic Analyser shows there were 2.7m passengers from the Middle East in 2014, up 30% from 2013 and there were 1.3m passengers from the ISC, up 94% in a year. So what do the Gulf carrier air services deliver to US airline domestic networks? In 2014 close to three quarters of a million (730,743) passengers arrived in the US having flown on Emirates, Qatar Airways or Etihad from a Gulf hub airport, or a point behind it and took a connecting flight on a US airline. This equates to 2,000 passengers daily. Of these, 62% connected to American Airlines/US Airways and 42% of the total connected from Qatar Airways to American Airlines/US Airways.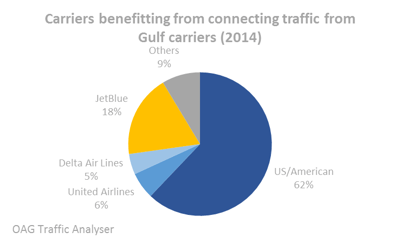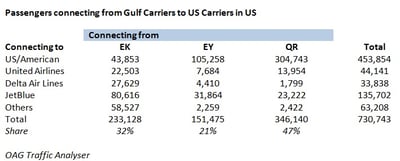 It would seem that Open Skies and increased service from the Gulf carriers to North America has both created new market demand and there are benefits for both the Gulf carriers and the US majors. So whilst there is a valid discussion taking place, for now the current arrangement is delivering some value all round.