---
With the opening of Daxing Airport in November 2019, Beijing takes a step towards membership of an exclusive club, that is, those cities which manage to sustain two or more major airports. Whilst multi-airport systems are not uncommon in large metropolitan areas, usually around capital cities – like London, Paris, Moscow and Seoul - there are currently just 5 cities in the world which have two airports both handling over 50 million seats in a year.
These cities are Bangkok (with Bangkok Suvarnabhumi and Bangkok Don Mueang airports), London (Heathrow and Gatwick), New York (New York JFK and Newark), Shanghai (Pudong and Hongqiao) and Tokyo (Haneda and Narita). In each of these cities there is a primary hub airport and a secondary airport which while categorised here as major, is still smaller than the primary one. The reality is that in many parts of the world these secondary airports would be dominant – that is to say they are only secondary because of the existence of the primary airports.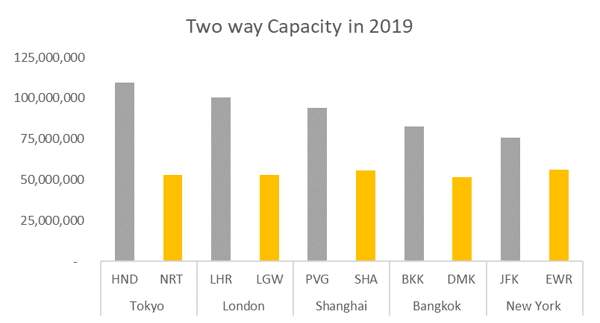 Source: OAG Schedules Analyser
So how do they compare?
So, what, if anything, do these cities have in common? They all have large metropolitan populations around them. Each of them has a ratio of 4 or more seats per head of population. London punches well above its weight with over 10 seats per head of population, reflecting partly the UK's location and island status.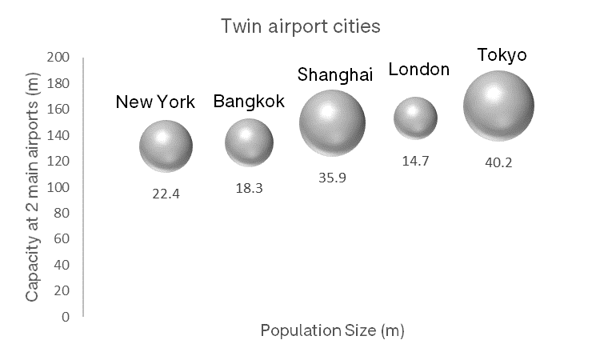 Source: OAG Schedules Analyser & Citypopulation.de
In all cases, there is a primary hub airport which is bigger than the secondary airport. Three of the cities are capital cities, but that is not the case for New York and Shanghai, but both these cities benefit from location and act as access points to the United States and China respectively.
Policy or Market Driven?
For some of the cities the development of their secondary airports has evolved with the development of a market segment, such as low cost, particularly in the case of London and Bangkok where London Gatwick (LGW) and Bangkok Don Mueang (DMK) are dominated by LCCs. At country level in Thailand and the UK, LCC's operate almost half of all seats so this is not surprising.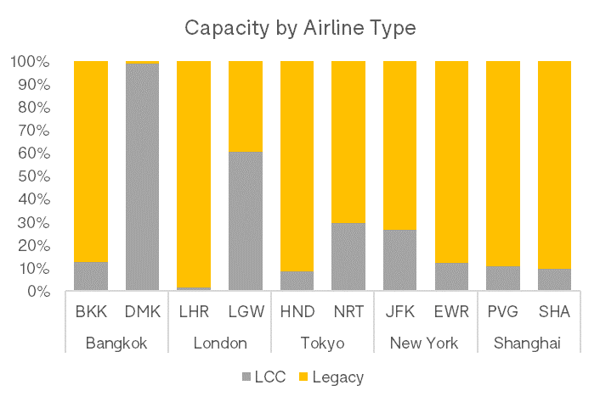 Source: OAG Schedules Analyser
Whilst overall LCC share in Japan is still low at 22%, Tokyo Narita (NRT) is seeing faster than average growth in LCC share, with a rise from 29% of capacity operated by LCCs in 2018 to 42% in 2019. Shanghai has yet to see this shift with LCCs not having penetrated the market in China to the same extent as other markets – LCC capacity across China accounts for just 11% of the total market.
In the US, LCC penetration nationally is higher at 29% but New York's biggest airports still act as important hubs for the big US carriers, so this has made it harder for LCCs to secure a bigger presence. This is apparent at New York's Newark airport, where United still operates nearly two thirds of all capacity. At New York JFK, Delta Air Lines are the majority carrier with 28% of seats, but JetBlue is not too far behind with 23% of seats.
At both Tokyo and Shanghai, it's clear that the focus is different, with policy having driven the development of their two biggest airports. In Tokyo's downtown airport, Haneda (HND) has long been the designated domestic airport with 8 of out of 10 flights operating within Japan. Narita (NRT), on the other hand has just 18% of its capacity operating domestically and international carriers have historically been allocated slots at Narita.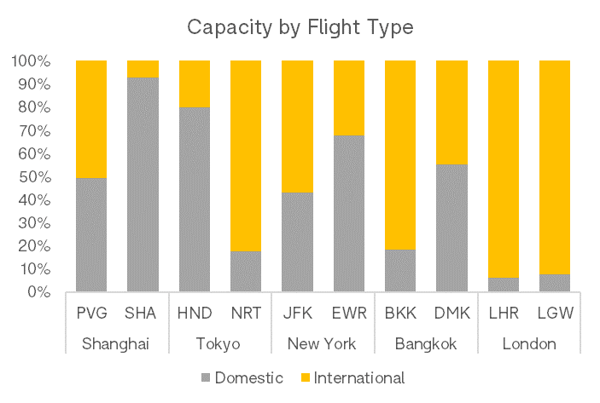 Source: OAG Schedules Analyser
This is set to change in 2020 however with the addition of 50 new international daily slots at Tokyo Haneda (HND). In an ideal world where a city has two major airports with capacity split in this way, passengers would be able to transit from the domestic airport to the international one with ease, but geography makes this difficult in practice in Tokyo and other cities where, typically, journey times between airports is around 1 hour 30 minutes.
In Shanghai, policy also drives the allocation of operations to the airports, but a slightly different picture emerges. There is a clear domestic priority for Shanghai Hongqiao (SHA) with almost all capacity there operating within China and Shanghai Pudong (PVG) is the designated international airport. Shanghai Pudong (PVG) however also has a considerable domestic network, with 49% of seats operating domestically.
Like Tokyo, the journey time between Shanghai's two airports makes connecting difficult but an express metro is planned to open in 2024 which would cut the journey time to under 40 minutes.
Route Overlap?
Whilst we've considered whether the airports in these cities are more focused on one segment of the market than another, we haven't reviewed to what degree there is route overlap and potential competition between the two main airports in these cities.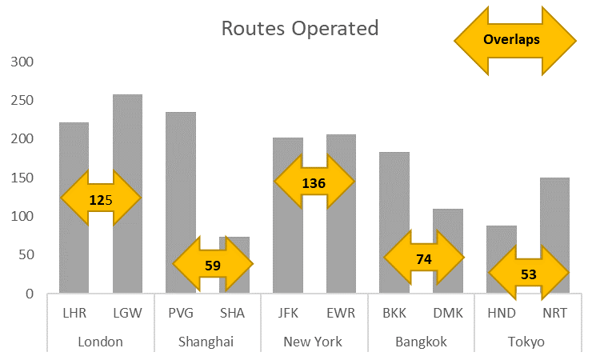 Source: OAG Schedules Analyser
New York has the highest degree of overlap where 67% of all routes operated from each airport are duplicated, reflecting undoubtedly the presence of two of the big three US majors, Delta Air Lines and United Airlines. Overlap is high in London too with 125 routes served from both London Heathrow and London Gatwick, just over 50% of all routes. In those cities where the airports have a more defined role, such as Shanghai and Tokyo, the degree of overlap is much smaller, but the route network from one of the airports is also smaller. In Shanghai's case it's Shanghai Hongqiao where there are only 74 routes which operate very high frequency domestic sectors. In Tokyo, the same applies at Tokyo Haneda where high frequency domestic routes mean that the route network is smaller than some of its peers.
At London Gatwick there are more routes operating than from London Heathrow but neither airport has a big domestic market. In Gatwick's case it's due to the profile of the airport – London Gatwick (LGW) has a high share of LCCs which operate short haul sectors to many destinations, whilst London Heathrow has more long-haul seats to fewer routes.
Who is waiting in the wings?
Like any exclusive club, there will always a queue of potential members waiting to join. Paris Orly (ORY) and Istanbul (SAW) Sabiha Gokcen airports are both secondary airports that are operating 39 and 42 million annual seats respectively whilst Moscow Domodedovo (DME) and Seoul Gimpo (GMP) are secondary airports are lower at between 28-31 million seats but are catching up.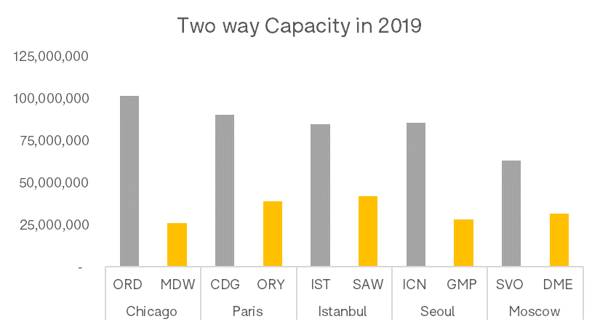 Source: OAG Schedules Analyser
Other cities are taking a different approach to managing airport city development. Beijing is an example in opting to construct a brand-new secondary airport, Daxing (PKX), which ultimately may become the primary airport. Istanbul too has recently built a brand-new airport but for now all airlines using Istanbul's original primary airport, Ataturk, have moved to the new site and it is Sabiha Gokcen (SAW) which is the secondary airport.
Looking into the future it seems that it won't be long before the membership of this exclusive club expands as some of the above airports continue to grow. We should also expect to see the rise of cities with three or more major airports soon. New York is well on the way towards this with the city's third airport, La Guardia, reaching 39 million seats this year and London Stansted is not far behind with 32 million seats. More airports mean more choice for passengers which was only be a good thing.