Industry Breaks Through 70 million Capacity Per Week
The airline industry has always been a 27/7 occupation and sadly two carriers ceased trading over the weekend as the impact of Covid-19 continues to damage carriers of all sizes. Whilst Stobbart Air and Air Antwerp are not particularly large, another 700 plus professionals have lost their jobs and travellers continue to be frustrated by the inconsistencies of regulators decision making. And although sometimes it is hard to feel sorry for British Airways, bringing back staff in preparation for a summer season and then having to furlough those staff as elected representatives of the UK Government backtrack on their previous policies and decisions, not funny at all.
The announcement that the UK & US are forming a task force headed by the UK's minister of transport but not reporting before July will have frustrated every airline operating across the Atlantic where some US$5.4 billion of revenue is at risk in the next two months; actually, it's not at risk, it's probably lost now. Still the good news is the weekend was lovely and representatives of the G7 once again ignored the issues of international lockdowns at their BBQ and celebrated with a Red Arrows flypast. Is this a spitting image show I'm living through?
Another 19.6 million seats have been withdrawn for sale by airlines through to the end of July; some of those are just airlines finally reflecting what they intend to operate rather than what they could operate. But a significant proportion are also further cuts in response to the combination of lockdowns and travel restrictions not being eased as promised; still what difference will a summer season make to the airline industry……. the whole difference is the answer!
This week is ground breaking though, the first week in 2021 when global capacity was above 70 million seats, a 3.7% increase in weekly capacity.
Chart 1 – Scheduled Airline Capacity by Month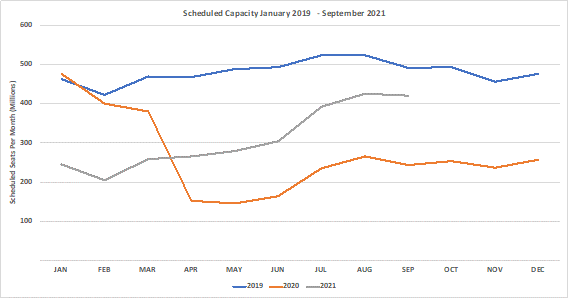 This week sees week-on-week growth in every region, the first time that this has happened for a long time and perhaps gives us cause for optimism in the coming weeks. In absolute terms, Western Europe is the largest growth region with 1.1 million extra seats added week-on-week and a percentage increase of 12.6%. However, in percentage terms, North Africa can look forward to a good week with 20% more capacity although in absolute terms that is around one-twelfth of Western Europe's growth; the important thing is that it is growing again!
The regional market that remains further away from its pre-pandemic levels is Southeast Asia with just one-third of its normal capacity being operated and some major country markets in a worse position than the regional average. In recent weeks carriers in the region have made strategic changes that include converting to pure cargo services for the foreseeable future, running less than 5% of their normal network and turning to selling flights to nowhere to generate revenues.
Table 1– Scheduled Airline Capacity by Region

There is one change in the top twenty markets, Greece moves into 19th position with an increase in weekly capacity of some 118,000 seats and Vietnam drops to 21st with just over 100,000 fewer seats this week.
India once again breaks back through the 2 million seats a week mark with 13% growth week on week, although that is still some 52% below the pre-pandemic levels. Domestic capacity accounts for all of the recovery and now accounts for 93% of all seats compared to 82% at the beginning of 2020.
All of the major European markets report double-digit growth week-on-week including the United Kingdom which is a bit of a surprise given the state of lockdown and restrictions on travel, perhaps people are no longer listening to all the advice. Spain moves ahead of Japan in the top twenty listing and both Germany and France breakthrough the one million seats a week threshold and will likely stay above that point as long as no further lockdowns are enforced.
Table 2- Scheduled Capacity, Top 20 Country Markets

With the exception of Southwest Airlines, all other carriers in the top 10 airline listing added a bit more capacity this week. Some 677 airlines filed schedules this week, the ten largest airlines in the world will operate some 25.3 million seats or 35% of all capacity; simply put less than 2% of airlines produce over a third of global capacity!
Table 3- Top 10 Airlines

With the summer season now close to its peak weeks there are some signs of a capacity recovery in Western Europe as sun destinations once again fill with tourist, second homeowners and non-compliant UK travellers! The sense of inconsistency is crazy, as one traveller from Ireland noted this week, they require proof of a negative test to enter a departure hall but can then walk straight into the United Kingdom; work that one out!
Stay safe everyone.