---
The grounding of the B737Max continues and the commercial damage for airline operators appears to be increasing as the loss of capacity is now at its highest during the peak summer season for many operators. But just how large is the damage and what is the current status?
Using our latest analytics tools, we tracked back to mid-February and compared the schedules filed then against the latest schedules filed for all B737Max operators and the numbers are staggering.
41 Million and counting….
In the table below we have outlined the original planned capacity for selected operators and compared that to the current planned B737 Max operation; in essence a "before and after" assessment of the grounding.
Table 1 – Selected Scheduled Airline B737 Max Grounding Impact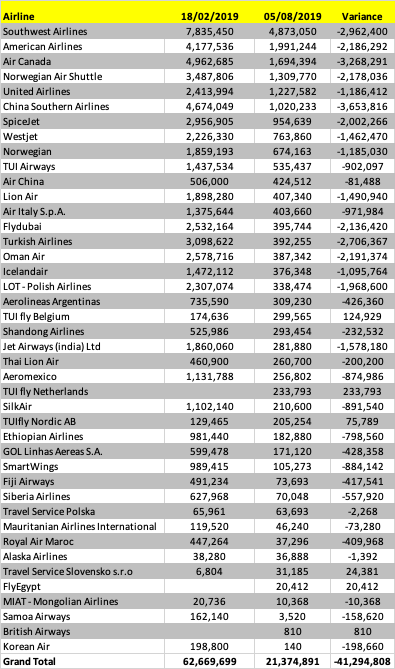 Source: OAG Schedules Analyser
For every carrier there appears to be a significant reduction in capacity offered, much of which would have been assumed in the original planning of the carriers for this financial year. Last minute schedule adjustments are we know challenging for any carrier, but the scale of the B737 Max grounding has been very disruptive for many.
China Southern are the largest carrier impacted with a loss of some 3.8 million seats whilst American Airlines have lost close to 2 million seats. Indeed, across five major North American airlines some 11 million seats have been dropped from sales compared to the schedules filed in mid-February.
Many carriers have of course made operational adjustments, continued to operate aircraft with perhaps lower levels of capacity and incurred significant additional cost as part of that recovery programme. Accountants will of course be keeping a very close eye on every expense incurred as a result of the grounding as they prepare a series of claims for the inconvenience caused.
November Scheduling Dilemma
The introduction of the winter schedules for many airlines in the last week of October normally results in a slight seasonal reduction in capacity, at least until early in the new year. Just as importantly that date is a key planning milestone for many carriers and at the moment a number of airlines continue to show B737 Max services from the end of October as they are yet to finalise and adjust their schedules.
For many airlines contingency plans will already have been put in place and a realistic return to service of the aircraft by that date as speculation continues on when the aircraft will be able to re-enter commercial operations. Of course, for the airlines in any subsequent compensation claim publishing scheduled services from November onwards certainly doesn't harm their case.
Chart 1- Planned B737 Max Capacity By Week Selected Scheduled Airlines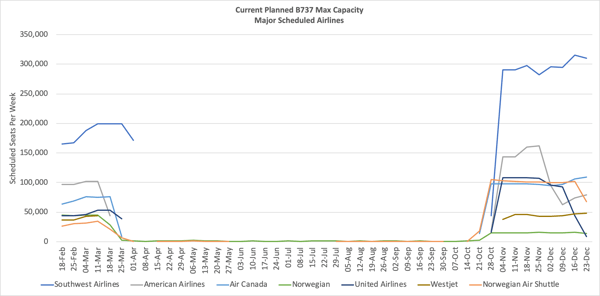 Source: OAG Schedules Analyser
Calculating the cost
The cost of the B737 Max grounding will of course vary from airline to airline. Some carriers may have had a higher dependency on Max flying, some may have had quicker and cheaper access to alternate aircraft, and some may perhaps have been able to mitigate some of their cost. Alongside the cost there will also be a loss of revenue for many airlines, some of whom may have sold more cheaper advanced purchase capacity based on B737 Max capacity and then found themselves unable to revenue manage their flights as originally intended.
Using a notional US$100 for the combined impact of additional costs; both direct and indirect and the loss of revenue then for the airlines affected the impact of the lost capacity could be running towards US$ 4 Billion and that assumes a November reintroduction which looks increasingly unlikely. When the expected profit for the airline industry in 2019 is some US$ 28 billion losing such a some will inevitably hit that expectation; especially when some of the world's most profitable carriers are impacted.