The Long-Haul Routes Which European Secondary Airports Could Lose
40%. 50%. 60%. Industry commentators are simply guessing when it comes to the fraction of airline routes and networks that we will see back by the end of the year. What we do know is that they will inevitably be reduced. They will be smaller because there will be fewer passenger flying for some time, and airlines will scale back networks in response to lower demand.
As we have already seen, some airlines such as Turkish Airlines with its domestic route network, are choosing to come back with a full range of destinations but reduced frequency. In contrast, others intend to operate a scaled back network but maintain frequency on the routes they do operate, the model we are seeing with Qatar at Doha. Either way, many airports – and especially secondary airports - will see the number of destinations which can be reached from them reduced. While the news has been filled with stories about the challenges for airlines, the coming months will be just as challenging for airports as they work hard to retain air services, connectivity and airline customers.
Long haul routes - status symbols for secondary airports
For Europe's secondary airports winning long haul routes has often been a symbol of success, of gaining traction as a global player. New long-haul routes, in particular, have been something to shout about in the media, and something to show other airlines that the airport is worthy of consideration, and even something to boost their profile with the local community. But they can also be among the most vulnerable routes when the going gets tough at these second-tier airports. These routes may support connecting traffic but most likely connecting passengers will be connecting at the other end of the route. The secondary airport will still be the point of origin or destination. If the local market cannot support sufficient traffic volumes and adequate yields, in more normal circumstances there would be plenty of other route where the airline could deploy the aircraft but these days they might be as likely to ground the asset.
So, what are the prospects for long-haul services at some of these airports? Broadly, there are three patterns for long-haul services at secondary airports in Europe.
Safe and sound
First there are airports like Geneva (GVA) and Athens (ATH) which have a network mostly where just one carrier operates each route. Airlines have each market to themselves and the lack of competition allows for higher yields and stable demand.
AIR SERVICES ON ROUTES OVER 3,000KM AT SELECTED SECONDARY EUROPEAN AIRPORTS – 2019

ATH

BRU

DUS

GVA

HAM

HEL

MAN

NCE

STN

STR

TXL

Destinations

14

55

43

19

15

57

62

8

9

8

19

Airlines

18

71

79

20

33

83

103

10

15

20

44

Average airlines per destination

1.3

1.3

1.8

1.1

2.2

1.5

1.7

1.3

1.7

2.5

2.3
A look at the routes which were operated from GVA last year with a range of over 3000km shows there were 19 such routes but only one, the route to Hurghada, was operated by more than one airline. Swiss flew to New York JFK, while United operated to Newark (EWR) and Washington (IAD). There were plenty of flights to the Middle East but each route had a sole operator; Emirates to Dubai (DXB), Etihad to Abu Dhabi (AUH), Saudi Arabian Airlines to Jeddah, and so on.
Similarly, at ATH, of 14 long haul routes operated in 2019 only 4 had multiple airlines and these were all to North America.
While a number of these routes may have ceased temporarily while we wait out the COVID-19 pandemic, many have continued to operate throughout and one planned start-up appears to have gone ahead; at GVA the planned Ethiopian Airlines non-stop from Addis Ababa (ADD) which was due to commence service from 1st July 2020 appears still scheduled to fly this month.
This shows that these routes, and this pattern of having one airline on each route, is fundamentally sound and these are the second tier airports which may see least disruption to their networks.
Geneva Airport long-haul route network in 2019 (>3,000km)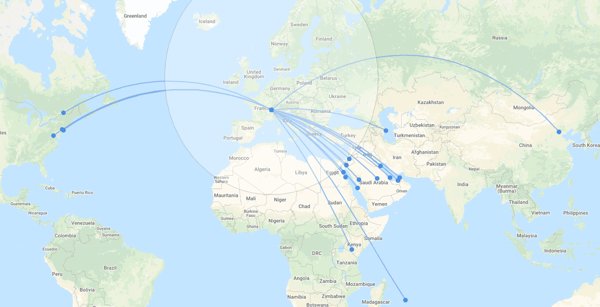 Scheduled flights from HAM to a selection of sun destinations in 2019

FUE

HRG

LPA

TFS

Condor Flugdienst

185

260

149

177

Corendon Airlines Europe

12

Eurowings

71

45

49

FlexFlight ApS

32

Germania

7

Norwegian

138

116

Ryanair

89

TUIfly

59

25

46

29
Holiday breaks
A second group of Tier 2 European airports are those like Hamburg (HAM) where many of the 15 long haul destinations available in 2019 were aimed at sun seekers. Sure, the airport also has had flights to Dubai and Newark too, but most of the longer haul destinations are places such as Fuerteventura in the Canary Islands which has seen nine different scheduled airlines operate from HAM at some point since 2016. Many of these leisure destinations have a history of multiple airlines offering seasonal or low frequency services, and a lot of churn. Stuttgart (STR) has a similar long-haul airline and destination profile.
As long as passenger demand returns, which it will in time, these airports will continue to serve a catchment area which wants to get away to the sun. Services will come and go, change frequencies and operate seasonally, but demand will remain.
Risky business
The third group of secondary airports are those with perhaps most to be concerned about. We'd put the likes of Manchester (MAN), Brussels (BRU), Helsinki (HEL), Berlin (TXL), Dusseldorf (DUS) and Stansted (STN) in this category. It isn't that they will lose a large number of services but that air services they have worked hard to win may be jeopardised and the path to recover them may take years.
Take Manchester, for instance. The airport worked extremely hard to build a convincing business case for a China service and won the Beijing service operated by Hainan in 2016. With Hainan Airlines struggling at the start of the year, the Beijing operation has not been in service since February. The daily Cathay Pacific flight to Hong Kong initially reduced frequency and then stopped in April although the Singapore Airlines service which stopped operating in March has resumed flights this month.
Unfortunately for Manchester, it would be surprising if these airlines were not reviewing long haul destinations. Manchester is, after all, a secondary airport and there are already flights operated to the larger airports in the UK. Combine this pattern with airlines needing to preserve cash and to ensure all operations make a network contribution, and some airline failures, and secondary airports will inevitably see some long-haul services axed.
What else could be at risk? At Stansted, the double daily Emirates service stopped in March and has yet to resume. With other London airports served from Dubai, will this be another more permanent casualty?
Helsinki has also lost its Dubai service for the moment. Is it secure? For Helsinki more of a problem may be the possible loss of Norwegian's air services. The airline advised OAG that it wouldn't be returning until well into December, almost 6 months away.
For Dusseldorf the Bangkok operation only really got going in 2019. Is that at risk?
Brussels has managed to retain its African operations through the pandemic – a Brussels airlines flight to Hurghada, an Ethiopian Airlines flight to Addis Ababa and a RwandAir service to Kigali – but, like Manchester, has seen Hainan Airlines flights to Shanghai and Shenzhen cease, at least for now.
Can long-haul routes be a priority?
These airports will need to work hard to retain all their long-haul operations but in all likelihood they'll be fighting harder to ensure their short-haul and regional services are maintained in the face of aggressive market re-positioning by low cost European airlines. Long haul destinations may feel like a distraction for the foreseeable future but once lost they may never come back.