What we mean by an Aviation Recovery
As we get towards the end of 2021 and almost two years since the world has been living with Covid-19, across the aviation industry we've continued to talk about recovery in terms of air travel returning to pre-pandemic levels. Specifically, we tend to reference 2019, the last full year of air travel unaffected by this virus. With air travel growing year-on-year until then, 2019 is the high watermark in air travel, the year when global airline capacity and passenger numbers peaked.
But is the use of 2019 as a benchmark for what we mean by recovery still valid, or should we be lowering our sights?
It's already fairly clear that patterns of corporate and government travel are likely to be permanently affected by the switch to virtual meetings and home working over the past 20 months or so. Sure, some business travel will come back as the value of face-to-face meetings to close deals and build working relationships has not gone away, but some may never return. If this is the case, we already know that 'recovery' should be quantified as 2019 volumes of traffic less a share of business travel. If business travel shrinks by, say, 20% and would have accounted for 15% of all trips by air, then we are looking at a 3% reduction in overall air travel.
But there's more. What about the unvaccinated populations which, even when international air travel can return, will be excluded from flying due to the travel restrictions in place.
Who are the unvaccinated?
Considering children and young people first. On the whole, vaccines have not yet been approved for children of 12 years old and under but it seems that most countries are allowing children in this age group to fly as long as they are accompanied by a vaccinated adult, although, as with all things covid, the rules vary country-by-country and week-by-week. Most countries have rolled out vaccination programmes with priority given to older people and so vaccinations among young people, or those aged between 13 and 17 specifically, are lagging behind the general population but will likely catch up to overall vaccination rates in time. In the meantime, it is not uncommon for those aged between 13 and 17 who fly to be required to quarantine for between 7 and 10 days. So there will be a portion of the leisure market consisting of families with young in this age bracket who will, at least for now, be unable to holiday abroad.
Then there are the adults choosing to avoid the vaccine. A minority of these will be avoiding it for medical reasons but it's likely the majority are simply choosing not to have the vaccine. Data about the progress of national Covid-19 vaccination programmes, such as that provided by Our World in Data, shown below, shows a levelling off in the take up of vaccinations at somewhere between 70% and 90% of those eligible to have the vaccine, leaving between 10% and 30% unvaccinated. Given the proportion of the population who are eligible excludes children of 12 and under, who make up around 15% of the typical population, there may be as many as 8% and 24% of total populations who are choosing not to be vaccinated and may therefore rule themselves out of international air travel for the foreseeable future. While it's possible, of course, that some of these people were not people who were flying internationally before the pandemic, many will have been.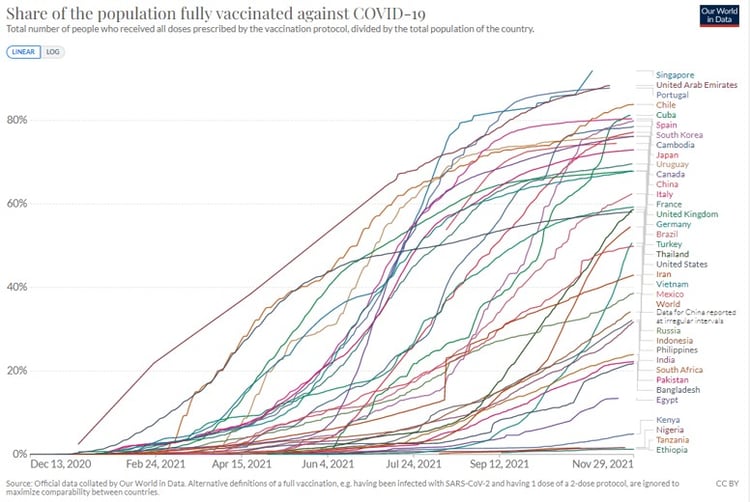 Source: Our World in Data
What is the impact if the unvaccinated can't fly?
Data from OAG's Traffic Analyser shows that international passengers made up 42% of all passengers boarding planes in 2019. So, assuming, that between 8% and 24% of potential international air travellers are ruling themselves out of future flying because they haven't been vaccinated this amounts to a potential additional loss of between 3% and 10% of the market.
Global Air Passengers 2019
O&D Passengers (billions)
Share
Domestic
2.15
58%
International
1.55
42%
Total
3.70
100%
Source: OAG Traffic Analyzer
Time to recalibrate recovery
Over time, many of the difficulties of travelling internationally with children and young people will resolve as vaccine rollout continues. What may not resolve so fast is the refusal to get vaccinated by a minority of the population. Equally, it is hard to see a time in the short to medium term when governments will not require proof of vaccination of those passing through their borders.
The consequence will be that the need for proof of vaccination will likely act as a constraint on international air travel for some years. If 'recovery' is to be a return to 2019 levels of air travel, it might be further out than we've been telling ourselves. The alternative is to recalibrate what we mean by recovery to something well short of 2019 volumes, perhaps somewhere between 6% and 13% fewer total air travellers, which allows for a permanent loss of business traffic and an adjustment for the loss of unvaccinated travellers.