With India Tourism the premier partner for World Travel Market this week, OAG has prepared a series of blogs about what is happening with India's aviation – and there's a lot to say. It doesn't seem so long since our 2015 report, An End to Boom and bust for Indian Aviation?, reflected on the rollercoaster journey that saw various airlines come and go and asked if the bubble that was growth in the domestic market might burst. The good news for those promoting India's tourism product this week is that the airline industry in India appears to be thriving.
TWO VERSIONS OF REGIONAL CONNECTIVITY – INDIGO IS THE WINNER
In October, the Indian government launched its Regional Connectivity Scheme. A bit like "Public Service Obligations" (PSO's) in Europe, the scheme encourages airlines to operate routes which may not be commercially viable without support. The aim is laudable given the government's desire to extend affordable air travel to those living outside India's main urban areas; it's long been recognised that aviation in India hasn't lived up to its potential although that may be changing. Domestic airline bookings grew by 20% in the 12 months to August 2016 compared to the previous 12-month period. The government's plans to enhance regional connectivity were in the news but the real story about regional connectivity may be in the growth of the IndiGo network over the past few years.
The carrier is predominantly a domestic airline with 96% of its capacity offered between Indian airports. Capacity grew by 25% in the past twelve months and by 24% in the previous twelve months.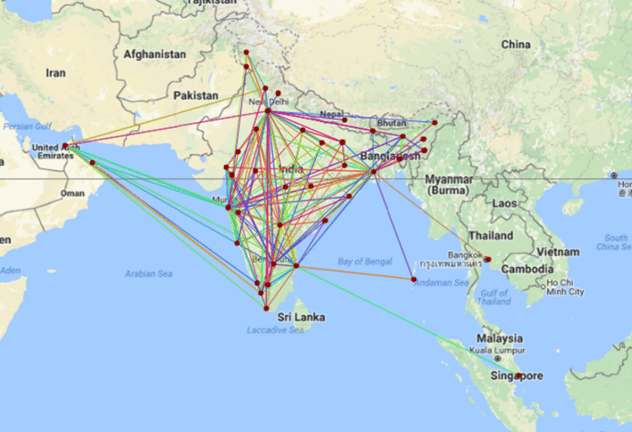 The IndiGo network focuses on four key airports – DEL, BOM, BLR and CCU – with half of all seats operating to or from these airports. India's single largest route, BOM-DEL sees IndiGo aircraft shuttle back and forth around 26 times each day.
With its single aircraft type business model – the airline operates only A320's – and a further 250 A320 NEOs on order, the airline keeps operations simple and branding strong, albeit quirky.
There's a word of caution however. For an airline that has built its reputation on its on-time performance, OAG's flight status data is showing IndiGo on-time performance level pegging with Jet Airways at 78% this year. The carrier will need to work to ensure that its OTP can remain compatible with such sustained growth.
Stay tuned for another instalment on Incredible India week tomorrow. To ensure you'll see the next one as soon as it is out, sign up to our blog below.