Temperatures weren't the only thing on the rise in July. Prices on everything from food to fuel are going up, just as consumers are taking their long-awaited summer vacations. While this year's trips may be more expensive than usual, it hasn't stopped the wave of consumers eager to spend – or the wave of tech investments, travel brands are making to ease travelers' experiences.
Augmented reality is taking off within travel, and according to PhocusWire, Southwest Airlines has jumped on the trend with a new partnership with mapping specialist FlightPath3D. As part of the new partnership, Southwest passengers will be able to experience their destination with virtual reality videos as part of the inflight moving map, in addition to a series of mobile-friendly video travel guides. Using data to rank attractions and match user preferences, the "Destination Reels" allow passengers to explore their destination based on their interests, for a more personalized, virtual experience. The new technology also helps bridge the gap between travelers' onboard entertainment experience and the social, mobile content delivered to users via Instagram or TikTok. In addition to its partnership with Delta, FlightPath3D has also recently signed deals to provide its technology to China Airlines and Lufthansa, expanding the realm of traveler experiences before they even disembark their flight.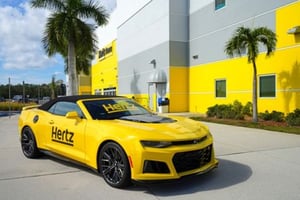 On the whole, today's travel technology is working towards a common goal: creating a modern mobility ecosystem. Among the travel brands working to make that goal a reality is Hertz, whose fleet of Hertz, Dollar and Thrifty rental cars will be 100% connected by the end of the year. The news, as reported by PYMNTS, is that Hertz is not only bringing its entire fleet into the cloud, but is already realizing the move's financial benefits. The data from connected cars gives the company insights like a car's location, the charge level of its battery, and even alerts like engine warning signs. The company has seen benefits with telematics-equipped cars like improved data monitoring, more accurate fuel measurements, and reduced theft. An example provided by Hertz CEO Stephen Scherr notes that repossession recovery times are reduced by 50% on connected vehicles, which translates to roughly $1,600 saved per month. The company plans to explore additional features to leverage telematics data as they expand the program, and are looking at pursuing digitization elsewhere as well. With demand for rental cars on the rise due to the continued growth of leisure, corporate, and ridesharing travel, the company's future technological growth will likely chart a path for other travel transportation brands to follow.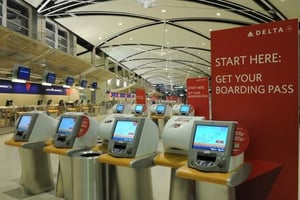 The pandemic saw a dramatic increase in the adoption of digital identity technology, which largely served to reduce close-contact interactions at highly trafficked areas such as airports. Though there are plenty of applications for biometric technology - in both the present and near future - Delta passengers at Detroit Metropolitan Airport can now benefit from a hyper-individual use for the technology. As reported by The Washington Post, Delta recently introduced a "Parallel Reality" system at its Detroit Metropolitan terminal, where travelers can access their individual flight information on a shared overhead screen based on a scan of their boarding pass - or their face. Multiple passengers could be looking at the same board at the same moment, but only they will be able to see their personal details. The technology solves one of the most common airport inconveniences - having to scan a large screen for a tiny row that's specific to your flight information, among a crowd of other travelers doing the same. According to Delta, feedback on the display screens has been positive thus far, and Delta plans to expand uses for digital identity technology at other airports including Atlanta, Los Angeles, and New York's LaGuardia. Expect to see increased usage of advanced technology for personalizing small aspects of the traveler experience in the coming months.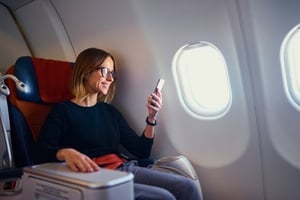 As our 2022 traveler sentiment survey indicates, businesses travel is coming back in a big way. Eighty-nine percent of business travelers expect to be back on the road (or in the sky) this year, compared to only 38% who traveled for business in 2021. Welcoming them back will be a new wave of futuristic, business-travel-specific tech advancements, as reported in this piece by Business Traveler USA. Listing a slate of new innovations whose adoption were rapidly accelerated by the pandemic, the broad trend among the noted technological upgrades is blending the line between leisure and business through convenience. Boom and Aerospace are noted as examples of supersonic passenger airplane startups, whose vision of the future is one where the trip between Tokyo and Seattle could take as little as 4.5 hours, significantly reducing some of the most frequented executive travel routes. Self-driving automobiles, currently being piloted by automobile and tech manufacturers including Google and General Motors, eliminate the hassle of finding transportation in international destinations. Robotics is also a growing market for business travel, with artificial intelligence able to automate the tedious tasks associated with trip planning like booking a hotel or switching plane tickets. Eliminating the hassles of trip planning makes it easier for business travelers to focus on their professional obligations– and perhaps eke out a few moments of leisure time.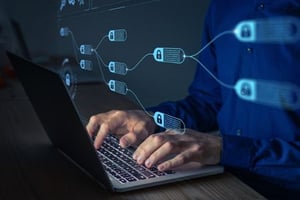 One of the biggest up-and-coming advancements for travel technology lies in blockchain. Among the latest use cases for the technology is travel insurance, as identified in a new piece from Travel Weekly. Often associated with cryptocurrencies like Bitcoin, blockchain technology is at its core an irrefutable ledger that records transactions and tracks assets. Blockchain is not only a highly secure method of storing and recording data, but one that can be easily shared between multiple parties, making it a cost-effective way to track information. Within the travelsphere, blockchain is being used for insurance products to automatically issue policies and execute payouts for flight delays and cancellations.
German blockchain startup Etherisc recently launched FlightDelay, a solution that recognizes delays and automates policies and payouts on some 8o airlines without any human verification. Because data on flight delays and cancellations are readily available, like OAG's Flight Info Direct, there's a natural fit for a technology that can automate payments with a steady data stream. While regulatory roadblocks in the U.S. mean widespread adoption within insurance is still a few years away, we expect blockchain technology will be dominating headlines (and the travel industry) soon.