International capacity at China Southern Group airlines is growing at 12%, and with 35 long haul aircraft on order the Group is set for rapid long-haul expansion.
The China Southern group is the largest airline group in China, operating 208 million airline seats in the year to June 2018, which is 25% of total Chinese capacity. Comprising 6 significant airlines[1] with scheduled passenger operations, China Southern (CZ) is the largest and accounts for three in every five China Southern Group aircraft seats. Xiamen Airlines (MF) and Sichuan Airlines (3U) are the next largest with 18% and 16%, respectively, of group capacity. Hebei Airlines (NS), Chongqing Airlines (OQ) and Jiangxi Air (RY) make up the rest of the group.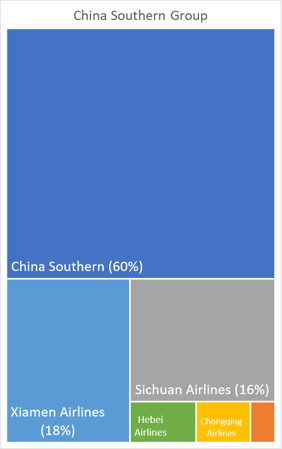 Source: OAG Schedules Analyser July 2017-June 2018
Guangzhou (CAN) is the main airport for the Group and is the main airport base for China Southern although it has a growing presence in Beijing (PEK) too with 39 routes operating from there (not including PEK-CAN). 44% of the China Southern group capacity operates from 10 airports.
The first chart shows the group position at its 10 biggest airports.

And then the capacity operated by China Southern Airlines at its top 10 biggest airports:

Source: OAG Schedules Analyser July 2017-June 2018
It's clear that China Southern is pursuing a dual hub strategy at its main hub in Guangzhou and its secondary hub in Beijing. The carrier will move to the new Daxing airport when it opens next year, giving it the opportunity to significantly expand its Beijing operations. With the biggest order book of the Chinese majors, undoubtedly some of the 20 A350's and 15 787's on order will be destined to expand China Southerns' international network from Beijing.
The China Southern Group's existing network is extensive, serving 246 destinations across China and beyond. There is little overlap amongst group carriers with Xiamen Airlines brings extensive coverage from its main base at Xiamen on the south east coast whilst Sichuan (currently only operating domestic routes) operates an extensive domestic network from Chengdu and increasingly Chongqing.
Airports served by China Southern Group International Routes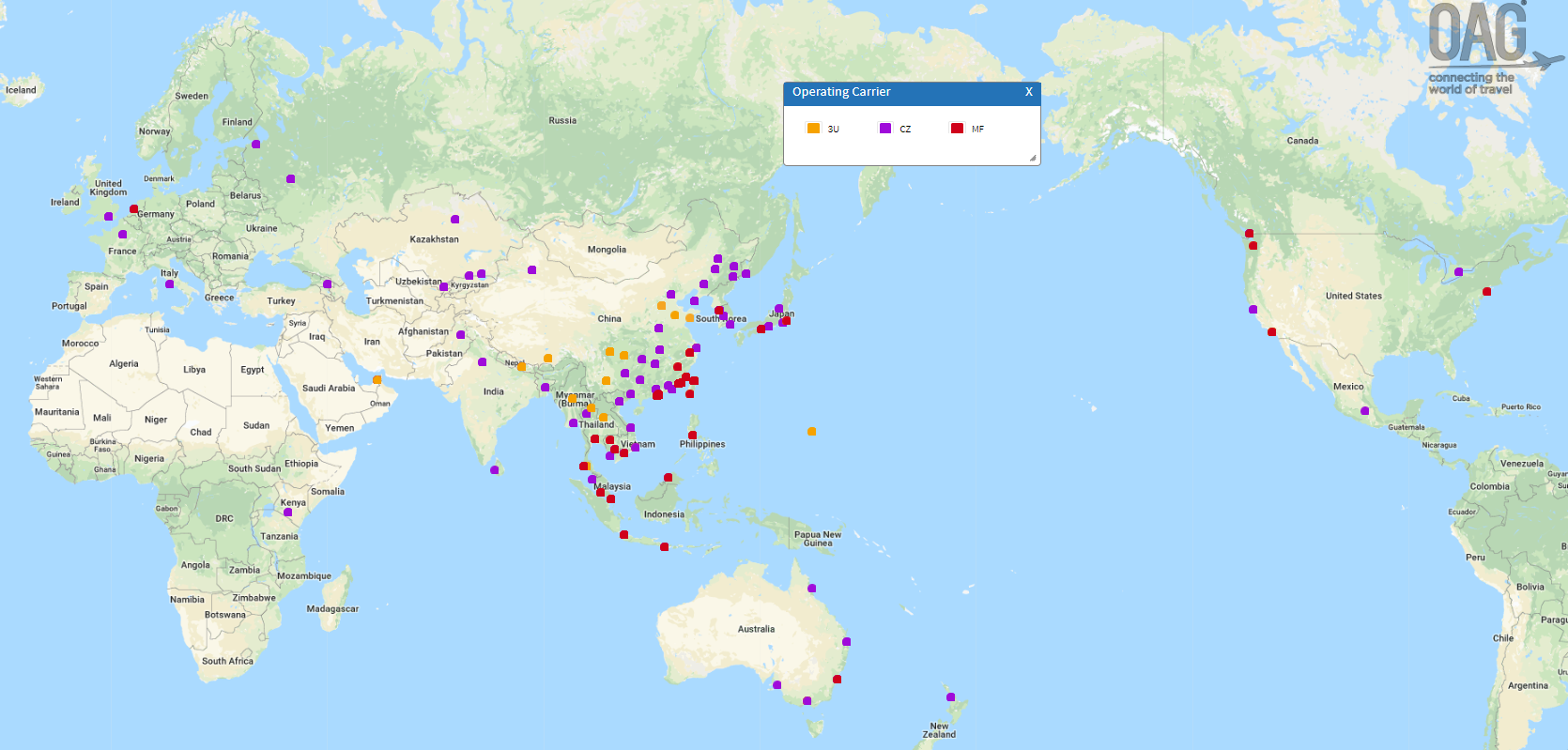 Source: OAG Mapper
Although in absolute terms domestic routes account for the majority (87%) of the group's capacity, international capacity is growing fastest with 12% more seats than last year. The map above shows China Southern serving just 9 destinations in Europe and North American and Xiamen Airlines just 4 long haul destinations. Clearly there is potential for both carriers to expand internationally beyond Asia and collectively the China Southern group looks set to realise these ambitions with 35 long haul aircraft on order.
[1] Carriers which the parent company has more than 50% ownership or equity stake in