Working alongside developers to provide them with customizable access to our data through their preferred platform has long been a goal at OAG. So, in a move to achieve this, we've expanded the reach of our API offering by integrating Flight Info API into the RapidAPI platform. Now, with high-quality flight status and schedules data readily available at the click of a button, you can test and build innovative systems and applications that are powered by the freshest flight data on the market.
Flight Info API
Before we explore the benefits of our partnership with RapidAPI, let's take a look at the product itself. Powered by Microsoft Azure and in the most modern format (RESTful JSON API), Flight Info API is a data delivery solution we created to give the entire travel ecosystem access to a variety of our aviation data sets.
An interrelated API of our core Schedules, Status, Historical, Seats and Connections datasets, Flight Info API gives you the tools to quickly and easily get the insights you need in just one call. See historical schedules back to January 2021 and future schedules up to two years in advance, benefit from near-real time flight status with an on-time performance indicator, trust in our global coverage from over 800 airlines and search by flight number, carrier code, departure/arrival date or airport code.
Why RapidAPI?
RapidAPI is the world's largest API hub. It's used by over three million developers to find, test, and connect to thousands of APIs - all with a single API key and dashboard. Its popularity with developers stems from the platform's facility to manage of all of your APIs in one place. As shown in the image below, RapidAPI's interface creates a collaborative display, combining all your APIs while also providing insights and metrics on your usage.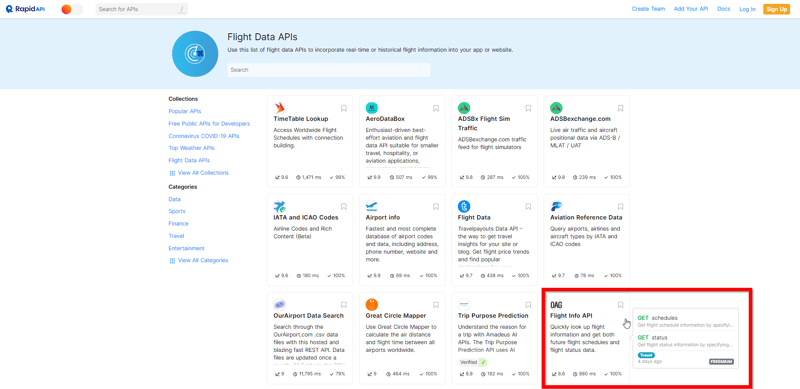 Together, we're helping developers and businesses alike access OAG's leading Flight Schedules and Status Data in their RapidAPI accounts, in just a few clicks. Integrating our data with RapidAPI gives you access to a Freemium account option, which provides 50 free hits per month for testing purposes. Once used, you can continue to look up flight information with our Pro and Ultra Accounts on a pay-as-you-go basis if required.
RapidAPI: The Key Benefits
Try before you buy - the freemium account option provides access to 50 free API hits. When you're ready, just choose the package you'd like to purchase and put in your card details.


Multiple programming languages such as Python, PHP, C# and more, meaning you can access our data no matter what language you prefer.


All your APIs in one place makes managing subscriptions, usage and billing simple and easy.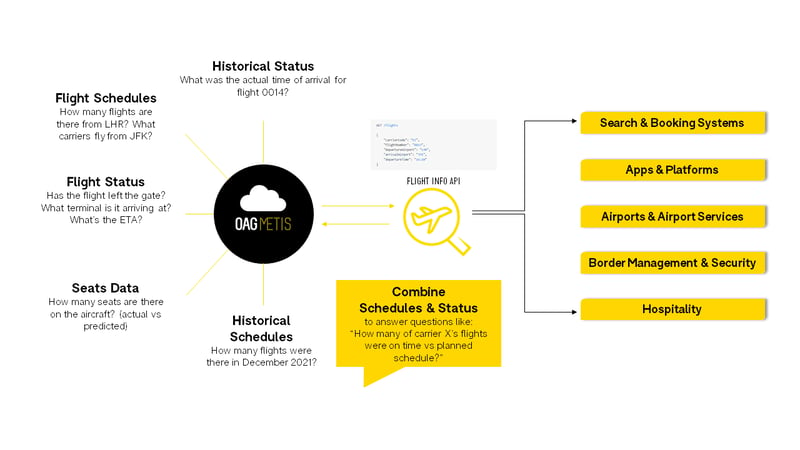 Power your systems and applications with the best flight data on the market, and sign up for one of our API packages today.