Network Planning as Usual for Airlines ... At Least for Now
It was always going to happen but after just one week of relatively little change in global airline capacity if feels like a trick is being played on the industry with the arrival of variant Omicron just before the year-end holidays. Stock markets panicked, airline shares plummeted, regulators applied new travel restrictions and airlines shrugged their shoulders and said, "here we go again". Both as an industry and from the wider health perspective we are so much better placed to deal with another Covid variant but that doesn't stop speculation, media hysteria and the resultant impact on an already damaged industry seeking to recover.
With Omicron only being announced late Thursday airlines have not reflected any schedule changes in their filings with OAG but are of course making short-term cancellations to schedules and will undoubtedly be working through the required changes this week. Perspective is everything, as we reported last week Southern Africa, with the greatest respect, is a very small part of the aviation market and its capacity from the region is largely self-contained with a select range of long-haul connections. Still, good news stories never sold newspapers.
Back to more mundane matters. Global airline capacity continues to be recovering with a few more million seats added back this week compared to last week, partly because of the United States operating a full seven-day schedule with Thanksgiving thankfully over and some more growth in markets such as China, Australia, and the United Kingdom. At 78.7 million seats this week capacity is still 25% below the same week in 2019 and 26% below the week of the 20th January when the pandemic began to gather momentum. Looking further forward to the end of February a further 13 million seats were removed by airlines around the world compared to last week's data which is around a 1% change in planned capacity which is a much lower rate of capacity change than we have seen in recent times; things are improving…honestly!
Chart 1 - Weekly Capacity Changes by Region, Forward Quarter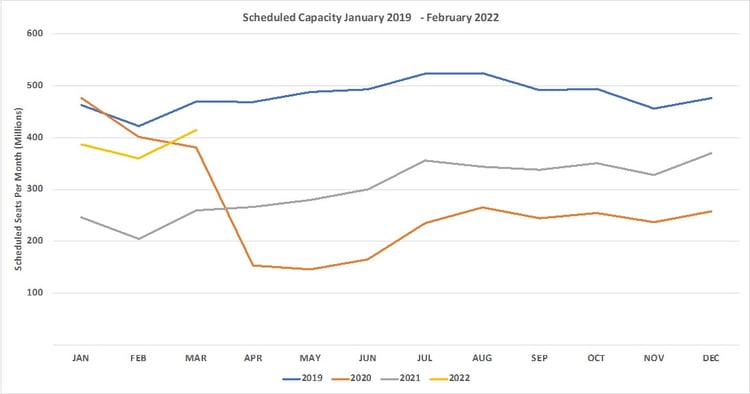 Source: OAG
The pace of change and responsiveness of capacity changes to Covid events is reflected in this week's data for both North East Asia and the Southwest Pacific reporting strong capacity growth and yet various events over the last few days will lead to inevitable capacity cuts next week. China has some new outbreaks that have resulted in airport capacity being cut, Shanghai reported three cases late last week amongst a population of some 26.3 million and in Australia both New South Wales and Victoria have imposed a 72-hour isolation requirement for international arrivals; that may well impact capacity.
In recent weeks capacity in Latin America has been recovering steadily. With some 2.2 million seats per week, Central America (-7%) is now the closest regional market to its pre-pandemic capacity levels and Upper South America (-11%) saw capacity increase by 5% week on week. In both cases, the absolute increases in capacity are small compared to the global headlines but once again highlight how every market around the world is being hit by the impact of Covid-19 both positively and negatively at different times and in many cases in the same week. For every negative angle to the data there is always a positive angle that can be found, sometimes, we just need to look a bit harder to find that angle!
Table 1 – Scheduled Airline Capacity by Region


Source: OAG
China added back another one million seats week on week as travel restrictions were eased in some cities although of course, that may drop again next week. At the beginning of the pandemic the Chinese market was some 20% smaller than the largest market, the United States, today they are some 30% smaller with no indication that the gap will close in the next twelve months, unless of course the US close their borders once again.
---
---
Amongst the table of top twenty countries rather like the Premier League there is an area of mid table mediocrity, the area where teams like Manchester United and Everton occupy, in the country table Germany has edged above Indonesia this week based on a slightly smaller decline in capacity than its South Asian rival. Such movements are rather like losing a game but only by one goal rather than two; you still lose but can find a positive in the negative…. that's always possible in data!
Table 2 - Scheduled Capacity, Top 20 Country Markets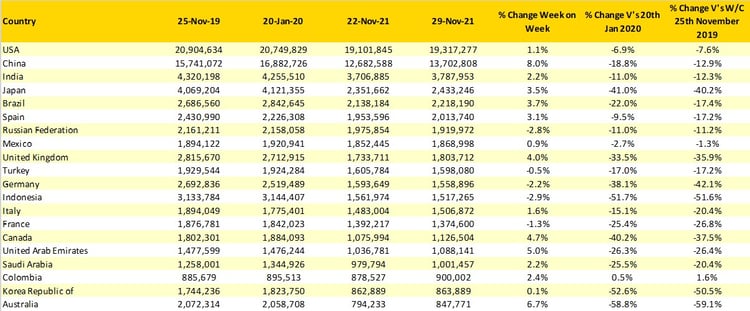 Source: OAG
We have noted in the past how the US legacy majors and their major low-cost competitors seem to be out of sync in capacity adjustments. This week, the "big three" all report capacity cuts, perhaps taking a bit of a rest post-Thanksgiving or more likely saving crew hours for later in December whilst the "big three – smaller and cheaper" low-cost carriers are reporting increases in capacity that take them back to similar levels of capacity as offered in the full week before the seasonal holiday.
The regional aspect of the latest Delta outbreak in Shanghai, remember just three confirmed cases, has resulted in China Eastern with a large presence in the city cutting capacity slightly whilst China Southern and Air China are once again putting capacity back into their respective base markets. Given that China Eastern are in the Skyteam Alliance along with Delta Air Lines it would of course be possible to report that Delta beats China Eastern…..but we wouldn't use such a headline.
Table 3 – Top 20 Scheduled Airlines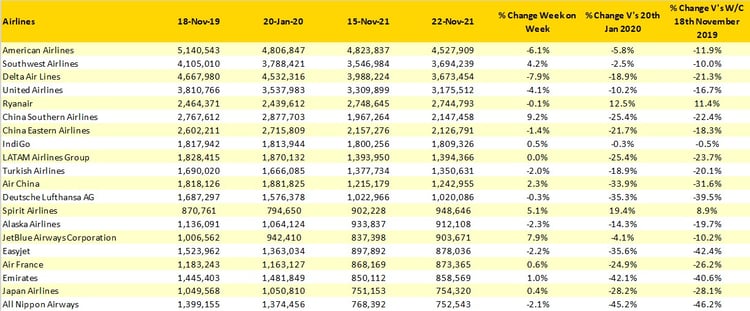 Source: OAG
Halfway through last week, it looked like we would struggle to have any valuable insights (indeed, if we ever do!) on this week's data but then along came Omicron and the aviation industry and travel once again become a global headline when in truth not much has really changed; at least so far. If anyone expected the recovery in global capacity to be a straight line from this point forward to a date in or around 2024 then they had either not read the script or were more likely optimistic Newcastle supporters. There will be bumps on the road ahead and the industry will recover, airlines are ready for those bumps and from experience travellers are flexible enough to work their way around travel restrictions. We just need regulators to remove any precautionary travel restrictions as quickly as they were applied over the weekend!
Stay safe everyone!

---
Recommended: