The overnight news of a new covid variant of concern, Omicron, discovered by scientists in Africa is clearly something that the aviation industry needs to be aware of. But, as famously said by Corporal Jones in Dad's Army, a great TV comedy, "Don't Panic". Airline stock prices have taken a dive this morning, but perhaps that is an overreaction, and if we put the whole situation into context then this is perhaps just one more bump in the road to recovery that we expected, so what is that context?
Limited Market Size
Firstly, Southern Africa is the second smallest regional market in the world with just over 450,000 seats a week, it accounts for less than half of one percent of all global activity. So in that context alone, whilst every market is important, this is a relatively contained market. That level of containment is further highlighted by the table below, which shows this week's capacity from Southern Africa to other regions of the world; over 80% of all seats are scheduled to operate within the region suggesting that perhaps the risk of spread to other regions of the world is less than the headline press would have us believe.
Table 1 – Scheduled Capacity from Southern Africa, W/C 22nd January 2021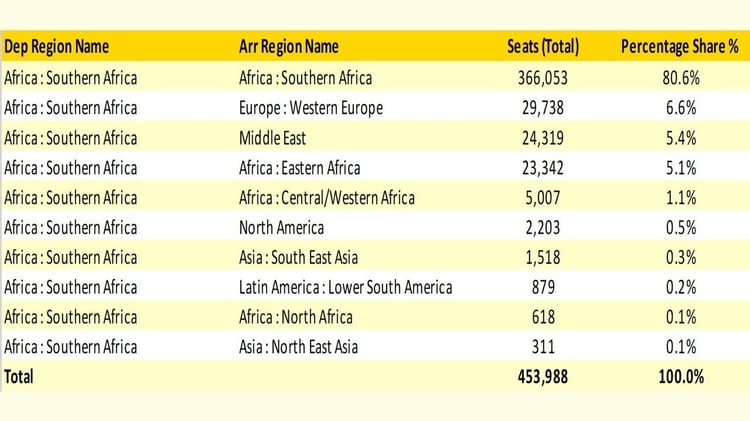 Source: OAG Schedules Analyzer
Indeed, of the 366,000 seats that are operating within Southern Africa 271,000, or 74%, are purely within South Africa and that offers a further level of comfort in tracking the emergence of this new variant.
Airline Stocks Getting Battered
It seems that the overnight news has battered airline stocks, with carriers thousands of miles away seeing their share prices fall significantly. IAG's share price is down by over 10%, Lufthansa's by a similar amount and EasyJet, who do not even operate to Southern Africa, by 9%. It seems like a bit of a disproportionate response. If we look at the largest overseas carriers outside of Southern Africa's planned capacity in January, then the region is just a small part of their networks.
For many of the European legacy carriers, Southern Africa is less than 2% of their total network capacity. So to see share prices dropping so dramatically looks like a hasty reaction at this moment in time; the price of oil fluctuates daily but doesn't cause such changes in valuation. Obviously for carriers such as Ethiopian Airlines, Kenya Airways and TAAG Angola Airlines, the situation is of more concern, especially with the connecting traffic that they historically carry, but it is still early days in the outbreak.
Table 2 – Major International Airlines Scheduled Share to Southern Africa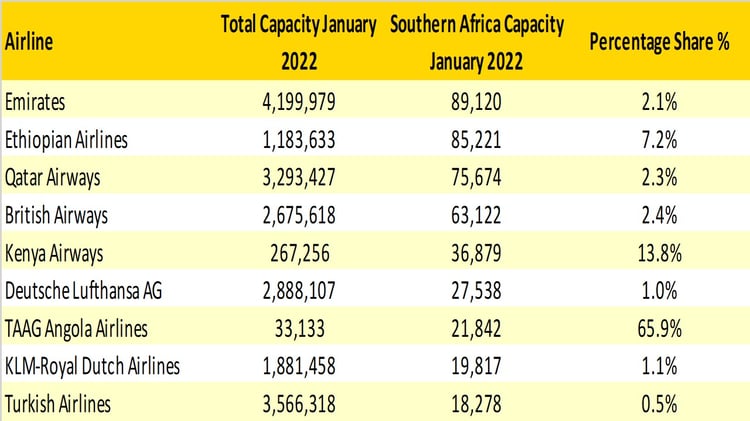 Source: OAG Schedules Analyzer
Tourism Season At Risk
Beyond the immediate panic perhaps the biggest and most frustrating part of the new variant is the potential damage to the peak summer season visitor market. For destinations such as Cape Town, who have been very successful in recent years at attracting new airlines, the impact on traveller confidence could be very damaging with the threat of a seven day or more quarantine for any returning travellers. Forward bookings for this coming season were reportedly very strong and travellers will be anxiously wondering how the situation develops in the next few days and weeks. Should there be more travel restrictions, then the whole peak season in Southern Africa could well be lost and that would result in a twelve-month loss of income for a sector that truly needs it.
Any new variant is rightly described as a cause for concern, but let's not forget we are now better placed than ever to handle new variants. Our knowledge of Covid-19 and its treatment improves every day, vaccination rates are improving all the time, some countries are even on their booster programmes and most importantly we now have ability to recognise new variants quicker than ever possible. So hopefully for Southern Africa, and indeed the wider aviation industry, this is simply one of a few expected bumps on the road to recovery.
Recommended: