JetBlue has finally reached a deal to buy Spirit Airlines after months of "will they, won't they" maneuvers back and forth. Together the combined entity will create the fifth largest airline in the United States, assuming they are granted regulatory approval.
What will this mean for the combined airline route network? OAG looks at their respective networks for the week of 8th August 2022.
Where Does JetBlue Fly Now?
New York based JetBlue had a 3.9% share of scheduled airline capacity from US airports in the week of 8th August 2022. The airline operated a total of 253 routes, mostly within the USA.
The route network demonstrates their base and focus in the US Eastern Seaboard with a concentration of flights ferrying passengers north and south.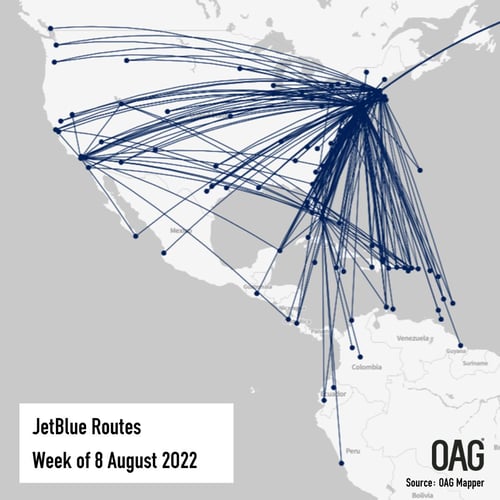 Where Does Spirit Airlines Fly Now?
The route network for Florida-based Spirit Airlines is, not surprisingly, more concentrated around the South East of the USA, but with a significant volume of airline routes flying east-west between the Atlantic and Pacific coasts. Spirit Airlines is operating slightly more routes this week.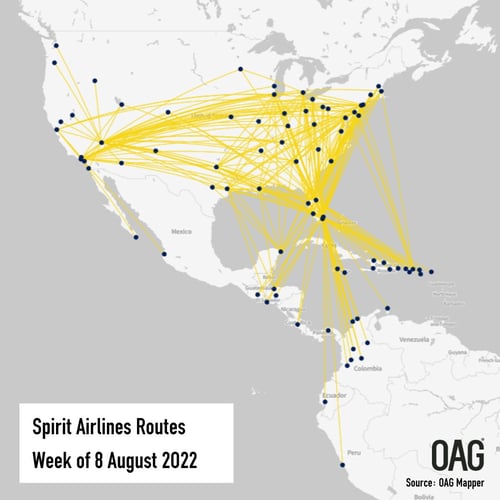 Spirit Airlines is 1% larger than JetBlue in terms of seats but operates 20% fewer frequencies with aircraft that have on average 184 seats, compared to 147 for JetBlue.
Where Are the Existing Route Overlaps?
Despite the size of their networks, there is very limited overlap between the airlines in terms of the airline routes they operate. Of the 474 routes that the two airlines fly, either one or both of them, only have 38 in common. Of these, the majority – 22 – are international routes. This leaves just 16 domestic routes where they currently compete. The largest of these is Las Vegas (LAS) to Los Angeles (LOS) but all of the big US airlines fly this route. JetBlue and Spirit Airlines together operate about 27% of capacity, at least for the week being considered here.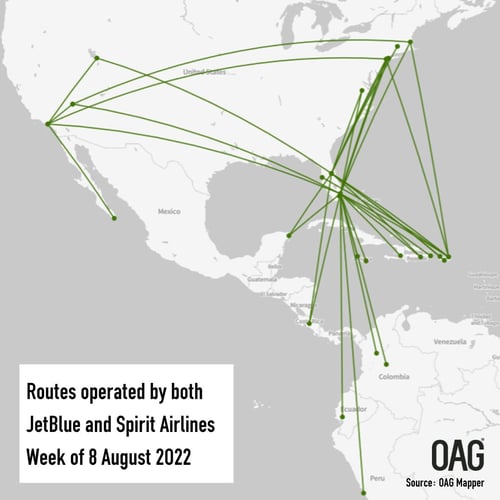 What Does This Do for Market Share?
Assuming there is little in the two route networks to slim down, given the limited scale of overlap, the combined entity will have 7.9% share of the market (seats), making it the fifth largest airline, and 60% larger than next nearest rival Alaska Airways.
Given that the four largest airlines operate over 3,000 routes between them, there are plenty of routes for the combined JetBlue/Spirit Airlines to consider flying, and use their scale to make their presence felt.
---