It's not been an easy recovery for easyJet. While the market recovery in Europe has been driven by low-cost airlines capitalising on pent-up demand, capacity discipline, and the strength of point-to-point routes, Luton's favourite low-cost carrier appeared to be behind the competitive curve. However, easyJet's first quarter results, released this week, indicate that their fortunes are set to improve and that perhaps capacity discipline works.
The Headline Results
The latest results report a reduction in losses to £133 million, compared to £213 last year (Q1 2022). This improvement in first quarter performance has been driven by higher load factors, increased passenger yields, higher ancillary revenues, and a profit from of £13 million from their holiday division 'easyJet holidays'.
January saw some record-breaking booking days and strong demand, especially from the UK, which makes the company expect to significantly reduce their first half-year losses compared to 2022 and, of course, with the summer coming an expectation to beat current market expectations.
There are of course the usual caveats and risks associated with any airline's performance but despite geo-political events, recessionary and cost of living pressures it looks like the airline is well placed. So, what's driving such a great set of results?
The Capacity Headlines
One of the striking points around easyJet's recovery and recent results is that capacity - or indeed, more importantly, market share - isn't everything. While some airlines may brag about capacity growth, the most important thing for any airline is to tightly match supply to demand. Since January 2019, easyJet have seen their capacity share fall against their immediate competitive grouping from 32.7% to 23.5%, during the last few years both Ryanair and Wizzair have taken delivery of new aircraft and perhaps more aggressively stimulated demand in the recovery period.
In normal circumstances, a business that witnesses its market share being eroded would be reason for concern. And indeed the low-cost airline operating model has always been built around the continued growth of the business to ensure that operating costs per ASK were kept low, one major airline CEO recently described such models as a "bubble waiting to burst" a comment perhaps made more out of admiration and frustration than reality. More important than the headline is, of course, the underlying detail, and it looks like the foundations are strong for easyJet.
Taking their ten largest bases in Europe easyJet have over 50% of capacity at four airports, whilst at Amsterdam, Paris Charles de Gaulle, and Lisbon capacity constraints are such that significant growth from any other carrier is unlikely in the coming years. Simply put - at all of easyJet's top ten bases (which interestingly account for 47% of their operation) the threat of any significant direct competitive threat is unlikely in the coming years; the airline's share and those airports' constraints mitigate such risk.
A comparison of the respective share of the three major low-cost airlines in Europe across the top ten airports shows that while easyJet has 47% of their capacity at those bases for Ryanair it is 34% and Wizzair 37%. The networks for Ryanair and Wizzair are slightly more fragmented, which can of course be seen as both an advantage as well as a potential weakness in operational efficiency. The counterargument is highlighted by easyJet having some 15% of capacity invested in London, changes to consumer confidence in a particular market or exchange rates that damage leisure demand would cause harm; if the UK tanked then easyJet would as well, but that doesn't seem to be happening.
Clever Network Growth
Running a point-to-point low-cost airline would seem to be easier than operating a complex legacy airline reliant on connecting traffic flows, and the impact that can have on aircraft utilisation. However, in truth, there is great complexity in running a low-cost carrier where the network can change significantly from a winter to summer programme.
As with any business offering new products, or in the case of airlines' new routes, it is an obvious means of both growing the business and retaining customer loyalty; for airlines, adding new destinations each year is crucial. Equally, there are some destinations that over time lose their popularity, we call it 'destination wear out' at OAG, to many it's just a loss of interest! Managing that 'network churn' is important, ensuring that the same levels of productivity are maintained and that all slots are used is a careful balancing act - and it seems that easyJet have got that sorted, at least for the summer.
easyJet will this summer operate some 913 routes which is exactly the same number as scheduled in summer 2022, but within that there is a degree of network churn. New routes have been added from all of the carriers' major bases with a notable focus on Lisbon where additional slots were secured this summer. Some seventeen new routes will be added from the Portuguese capital including Barcelona, Toulouse and Zurich. In total these new routes will see easyJet increase capacity at the airport by 53% compared to summer 2022 and consolidates their position as the second largest airline at Lisbon, ahead of Ryanair but trailing TAP Air Portugal by some distance.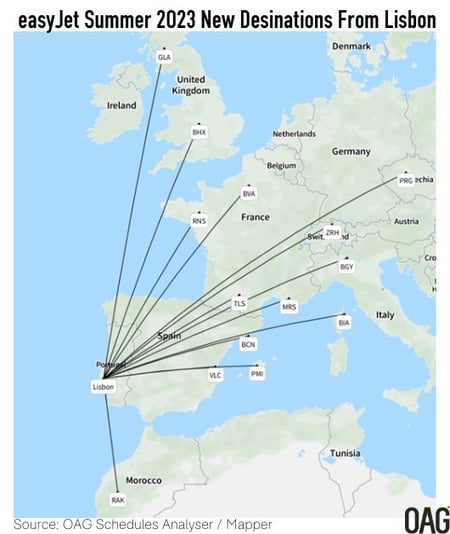 At London Gatwick, easyJet will this summer operate to some 115 destinations a reduction of one against the previous summer season but with some modest network churn; Cologne, Pristina and Luxembourg have been dropped whilst Ancona and Calvi have been added so less than 3% network churn which seems a sensible proportion. Interestingly capacity is also increasing at Gatwick with some 8 million seats scheduled, 6% more than last year with nearly 100% of that capacity increase being added to established routes from summer 2022.
---
---
It's Not the Seat But the Opportunity
Any low-cost airline will tell you that selling the seat is just the start of a sales opportunity; ancillary revenue streams are just as important as the ticket price. Generating revenues from advanced seat selection, speedy boarding, or colder queuing on an airbridge, hold and cabin baggage, are all part of the revenue equation. When every passenger generates £20.12 in ancillary revenue (a 36% improvement on the previous year) then easyjet either sold a lot of last minute Xmas perfume or maximised their other ancillary revenues very successfully last year.
Has the Industry Recovered?
easyJet are the first of a series of earning reports that will be made in the next few days across the European majors. Unlike nearly every other airline though, the financial year for easyJet starts in November so the airline carries the burden of a whole winter's performance into its yearly accounts. Most other airlines will be reporting their December traffic ahead and Q3 results so the narrative will be around how well they mitigated losses in a quarter where traditionally corporate demand is very strong. If those airlines report similar results to the US majors, then results will certainly be on the upside of expectations and the focus will be all about forward bookings for summer 2023.
The airline industry is as we know very marginal, but certainly the signs are good. Has the industry recovered? Probably not, but it's clearly heading in the right direction and travelling faster towards that recovery than was expected a few months ago. Indeed, a few more carriers will be profitable this year than anyone could have forecast, and that would be a real indication of the travel recovery being complete.
Here's hoping!
---
Recommended: