It's big news in Asia but hasn't really grabbed as many column inches in the rest of the world but this week's news that Korean Air will purchase Asiana Airlines for around US$1.6 billion is perhaps a pointer towards airline consolidation in other parts of the world.
In normal times Korean Air ranked 27th in 2019 and Asiana Airlines 40th. The consolidated airline would have ranked 16th; ahead of Cathay Pacific and slightly behind Air France in normal times; but these are not normal times hence the consolidation play. The two airlines operate to 141 cities of which 59 are operated by both carriers suggesting a high level of network duplication. The irony of the more successful carrier financially Asiana, being absorbed by a heavily loss making and debt burdened Korean Air is ironic, although it may say more about Kumho Asiana Group; the holding company's long-term assessment of the aviation market. But does it make sense?
Map: 1 – Combined Korean Air & Asiana Airlines International Networks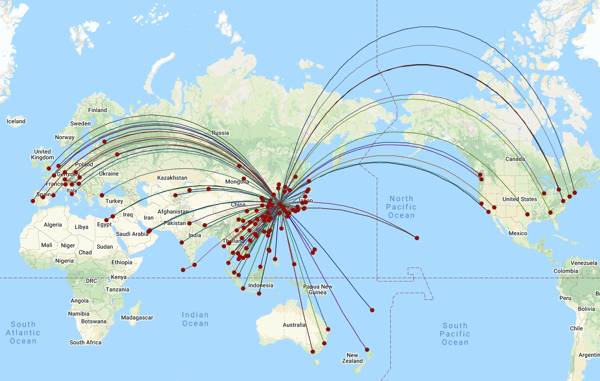 Source: OAG Schedules Analyzer
The Incheon Hub – Geography always wins. Opened in 2001 Incheon has always had the potential to become one of the major hub airports in the world but has perhaps been in part held back from achieving that objective with two moderately sized carriers with similar networks. Great circle routings allow Incheon to be one of the most effective transit points from the UK to Australia for instance with a circuitry of 101%; better than that offered via any Middle East hub with only Shanghai better.
With Incheon offering connectivity to some 44 cities in China through 2019 of which 34 were operated by either Korean Air or Asiana Airlines the scope for further expansion post Covid-19 into what is currently the world's largest market will provide opportunities to further position Incheon as a major global hub. Incheon will also benefit from the potential for a combined airline to reschedule some of the major international flows. In 2019, both airlines were operating services to destinations such as Frankfurt and Paris within two hours of each other and under a combined operation the possibilities of double daily, night and daylight services will improve connectivity.
Alliances Become Aligned – pre Covid-19 one of the great airport watches for 2020 and beyond looked like being in North East Asia with the opening of Beijing Daxing and opening of access to Tokyo Haneda for selected international services. Both developments were obvious threats to Incheon if the base airlines and alliances could organise themselves successful to exploit the opportunity. Both of those developments would have marginalised SkyTeam's presence in two highly valuable markets and a shared position at Incheon alongside the Star Alliance was not ideal. But things have changed.
Chart 1 - Adjusted Alliance Shares at Seoul Incheon Post Merger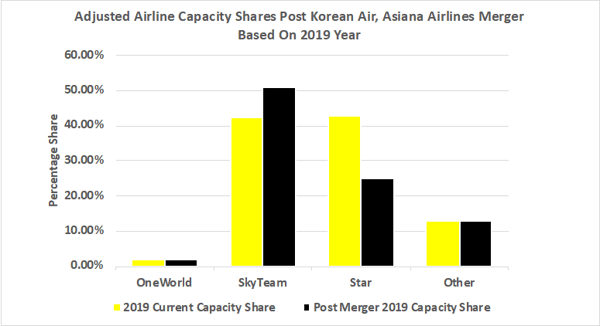 Source: OAG Schedules Analyzer
With Korean Air staying in Skyteam and overtime merging the Asiana Airlines network creates a powerful hub providing all Skyteam members with a larger access point into the whole of North East Asia. Suddenly from having a 33.6% capacity share in 2019, Skyteam will have a majority share of approximately 51.2% a position the alliance could only have dreamed of prior to the merger.
Fixing the Fleet – every airline in the world has been adjusting their fleet for the new normal and both Korean Air and Asiana have been working hard to right size their fleets to the new world order. Both carriers were A380 operators and collectively they currently have fourteen of the aircraft inactive and just one being operated by Korean Air to Los Angeles so easily replaceable by another long-haul aircraft. So lots of scope for runway view restaurants in the coming years.
Selecting the preferred long-haul twin engine fleet may present more of a challenge for the merged carrier; Asiana Airlines have a preference for the A350 whilst Korean Air are wedded to the B777 for much of their intercontinental network. Equally, for many carriers a mix of aircraft types and more importantly the flexibility to right size capacity to new market sizes will be an important factor in the recovery phase; the new Korean Air may just have struck lucky on that point.
Squeezing in the Cargo – one of the key elements in the proposed merger is in the cargo market. Few passenger scheduled airlines have continued to run dedicated cargo services, but, Korean Air and Asiana Airlines are two of those! Collectively the two carriers have established a leading market position with their dedicated fleets operating around the world with a mix of scheduled and charter services. For Korean Air, their cargo services effectively "saved" the airline in the Summer as Covid-19 PPE supplies were moved in vast quantities. Asiana enjoyed a similarly successful cargo summer and the two carriers will expect to see both revenue benefits and cost savings through the merger.
More To Come? – ultimately the new combined Korean Air merger is a big story on a quiet news day, but clearly more important for those in North East Asia. But is this perhaps the tip of a global consolidation iceberg; are others about to happen. Could Emirates and Etihad finally be a play, could Singapore Airlines acquire Malaysia Airlines; is there one final US consolidation in the tier two carriers and how many mid-size legacy European carriers would love an approach from someone; almost anyone!
Those consolidation plays could be very interesting, but as always; only time will tell.